How to Login WiFi repeater if forget password?
WiFi repeater or range extender device used to boost WiFi signal in a dark area where wifi router signal can't reach. Wireless repeater device needs to setup to repeat existing Wi-Fi signals. Settings up wifi repeater to connect with host router need to log in with default settings that are usually printed to box or user manual. What if forget login password after setup range extender device and want to make changes. You may be using D-Link range extender, TP-Link repeater, Netgear repeater or any brands. You can get difficulty to access wifi repeater in case of log in password forget.
This user guide helps you to login the WiFi repeater device if the password forgets or not working. Every wifi booster brands give a way to restore the configuration to factory mode so the device can re-access. The simple way to login wi-fi booster if forget IP address, Username or password is making a factory reset.
Way to Access Wi-Fi Repeater settings if password forgot
I am sure you are facing the login issue with your range extender device because you are reading this user manual. Surly this tutorial will help you to access device settings if you don't know default setting or forgotten.
Follow the steps to login a WiFi range extender device.
If you forget the WiFi password and unable to connect the Repeater signal follow the steps below.
Connect Repeater Device using Ethernet port with computer /Laptop LAN port.
Check the Default Login IP address and Password beside the repeater sticker or user manual.
How to Fix WiFi Signal issue using Old WiFi Router
Most common default Login settings
Default Login IP address: 192.168.0.1  , 194.168.1.1,  192.168.1.254, 192.168,2.1
Default username                Default login password
admin                                        admin
admin                                         password
admin                                       1234
admin                                      blank
You can try the above list for the default login username and password combination mostly used by many popular wireless manufacturers.
Computer LAN IP Address Settings
Go to LAN settings in PC/Laptop
Setup LAN IP Address to static mode and use LAN IP address of the same series of repeater IP Addresses.
EXP: if your repeater LAN IP address 192.168.0.1
Configure PC LAN IP – 192.168.0.10 or (from 2-254).
Login to Repeater Settings
Open Web browser and access login IP address https://192.168.0.1
If IP address configured with your repeater device within a few second you will get a login page asking username and password for login.
Use default login password and user name as printed to the user manual.
Try the above list of all combinations for username and password to login the device.
IF you still login password incorrect or not working for your range extender device you need to make a factory reset router.
How to Factory Reset WiFi Repeater Device?
Making the factory reset of wireless booster device can perform using hard reset and soft reset.
Hard reset means making the reset devices physically from the reset button available at the repeater device. If you forget IP Address, Login username and password then the only way to access router or repeater device is making reset using the reset button.
 Steps to Hard Reset WiFi range extender device
Power on Repeater device with adapter comes with box.
See the Small hole or a reset button.
Take a needle to press the reset button.
Press and hold the reset button 3-15 seconds depending on the Repeater model and brands.
Some devices work 3-5 seconds and some take 10-15 minutes to execute hard resetting.
Wait until booster device rebooting and restore to factory settings.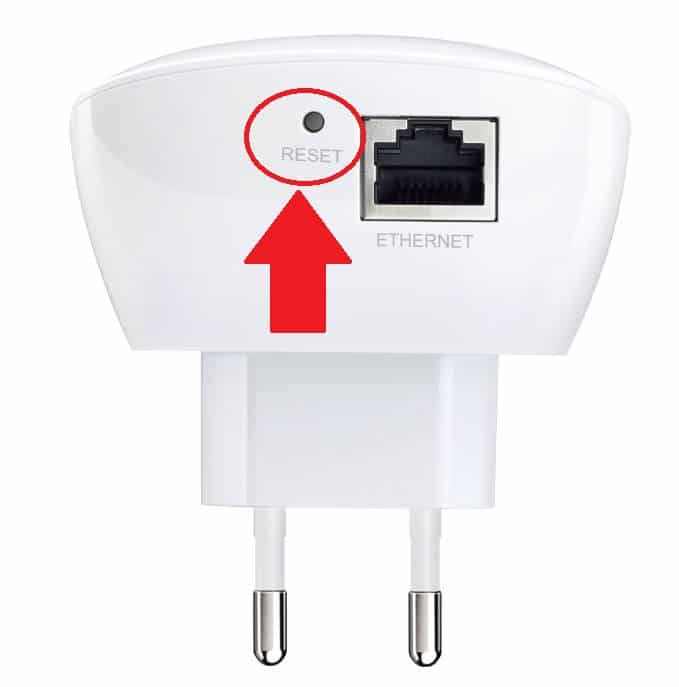 Note: Factory reset erases all the configuration of WiFi repeater and will disconnect from your host access points. Only make reset option if you know how to set up WiFi repeater again and you know the wifi passwords.
Soft Reset Range Extender device
If your repeater device miss- behaving or frequent disconnecting from Access point you can make a factory reset to setup again.
To factory rest Login Repeater device with the default IP address as given above steps.
Go to Settings- System Tools (in some models Administration or Maintenance option)
Press Factory Restore button
Confirm OK and wait until the repeater device restoring to factory settings and rebooting.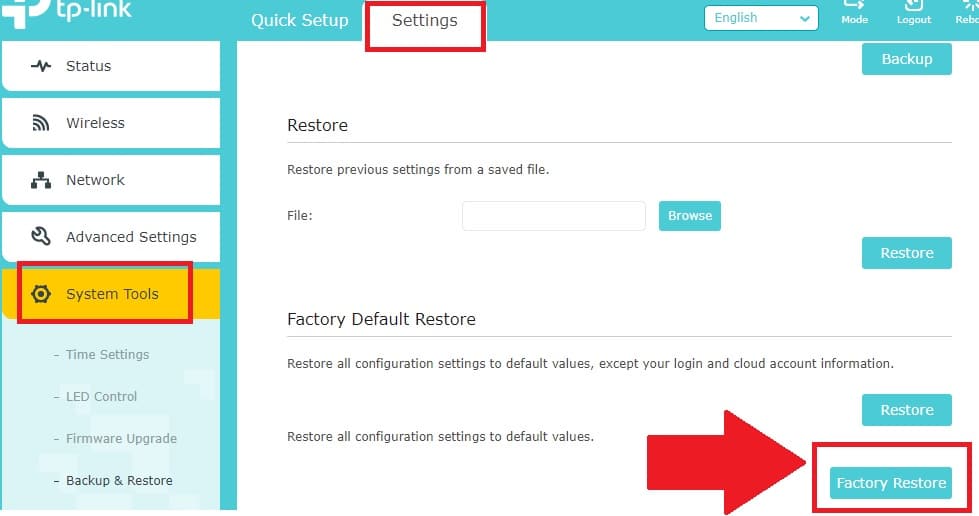 Only use the reset device if you are a technical person and you know all the settings details to configure Repeater device again.
Related Post