FiOS Quantum Gateway Router Login and Setup
Fios quantum gateway router setup and Login required to change wireless SSID network name and password to keep the network protected. Verizon FiOS-G1100 Default Router Login and other Quantum gateway router login steps are similar so you can use this user manual to access router any model Fios quantum router login. Default login IP Address and alternatively you can use login URL myfiosgateway.com which is also printed to router sticker. You need to connect Fios Gateway either wired LAN cable from Modem LAN port or Wireless SSID and password both available on router label for first time setup. For a Dual-band Quantum gateway modem, you can connect either 2.4Ghz or 5Ghz wireless as supported by your PC/Laptop or mobile device.
The first time setup Quantum gateway router required WAN internet settings provide by your service providers. To update wireless SSID and security key you can simply log in to your FiOS gateway from the browser and update wireless settings. Setting up the first time you can use an easy setup wizard to configure FIOS gateway which will assist you step by step. Follow steps to set up and login to Quantum gateway Router for the first time or update the wireless password.
Default Login Settings for Verizon FIOS Gateway
Before proceeding with the login steps get ready with the login credential for the FIOS router which you will find printed on the modem sticker. Default login IP address and URL same for all FiOS modem but login Password randomly changes so get default administrator login password for your modem first.
FIOS Gateway Login IP address – 192.168.1.1
OR
Default Login URL-  http://myfiosgateway.com
 Administrator Username- admin
Default Admin Password-   Find router sticker for a login password.
Steps to Login FIOS Gateway
To use default FIOS wireless SSID and password check default password printed to router sticker. Default Wifi name you can check on the wireless if your Laptop/Desktop r mobile support dual-band wireless you will get 2.4GHz and 5GHz SSID if its ingle band just use 2.4 GHz SSID.
After login route settings you have to access wireless settings to update the default FIOs SSID name and password to change it as per your choice.
Change Fios gateway router Wireless SSID and Key
Changing Wireless SSID and Password will keep your wifi internet always safe from unauthorized access so after certain time periods it's highly recommended to update the Wireless Network name and password.
Go to the Wireless Settings tab from the FIOS settings menu as shown below image.
Wireless Settings- Basic Security Settings
Tun Wireless On-
2.4Ghz Wireless-  ON                                5Ghz Wireless – ON
Change the SSID settings to any name or code you want
2.4 GHz SSID– FIOS-I5AL    5Ghz – FIOS-5AJl (change 2.4Ghz and 5Ghz WIFI name as per your choice)
Channel – 2.4GHz: Automatic 5 GHz:  Automatic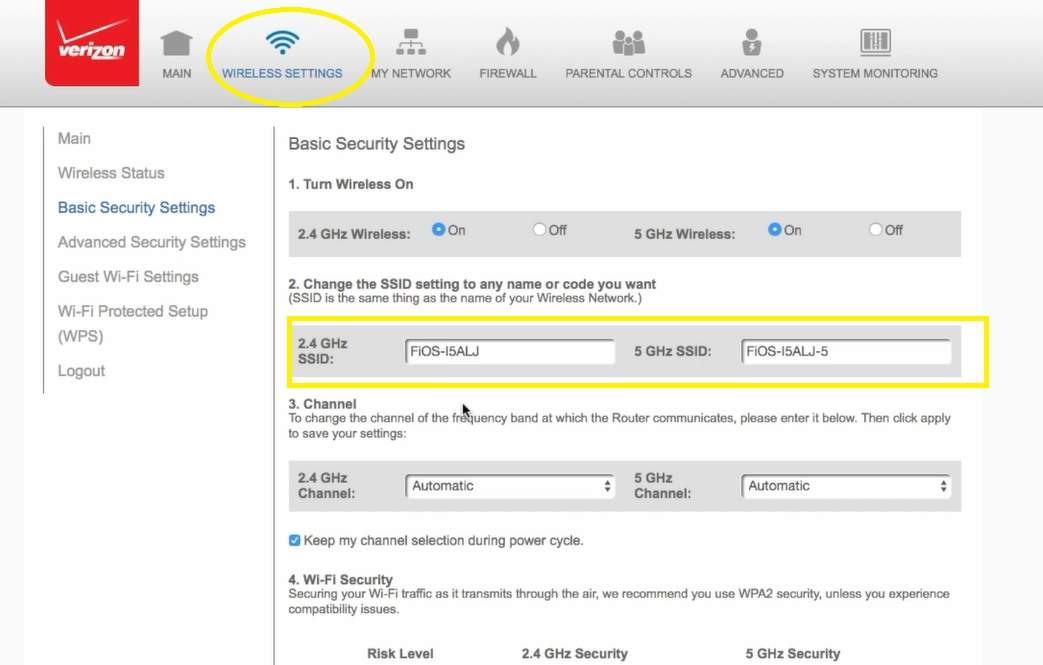 Wi-Fi Security – Change Default Security for 2.4Ghz and 5 GHz wireless networks as per your choice.
Tips: Avoid using personal information such as name, Date of birth, address, the phone number to WiFi security.
 Security Type- WPA/WPA2-PSK-AES
Authentication method – Wi-Fi Password
2.4 GHz Wi-Fi Password:  create a 2.4 GHz Security key
5 GHz Wi-Fi Password: create a 5 GHz Security key

Press Apply button to save settings. You might be disconnected from the router if using a WiFi connection.
Connect again and also update the Administrator login password to secure router access.
Change FIOS Gateway Administrator Login
Although FIOS Quantum admin login password is different for each model but default login password is printed to the router sticker so it should be changed during the first-time login.
Go to the Advanced tab from the top menu.
User Settings
Full name- John Doe (change your name)
Username (case sensitive)  – admin
Check the box  "set a new password"
New Password- create a new admin password here
Confirm password- Confirm the password again.
Permissions- Administrator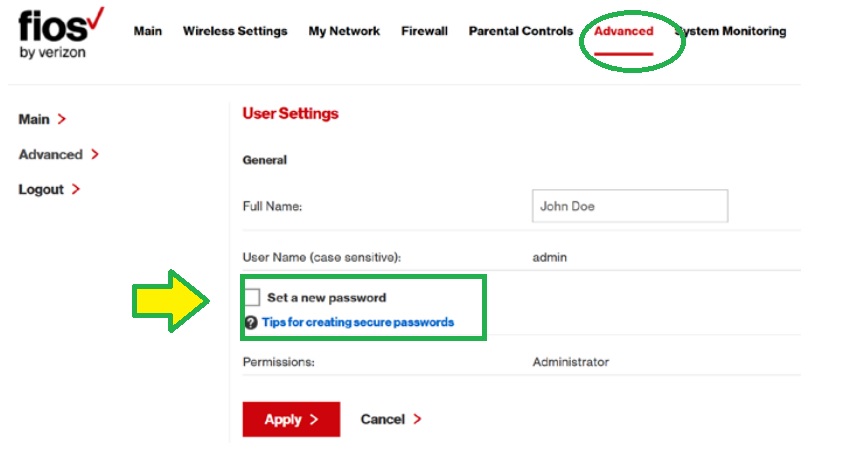 Press Apply button to save settings.
This is a basic configuration that is important to keep your network secure and problem-free. Apart from basic configuration, you can set up an extra security layer to your router with settings up Mac access list, Firewall, Content filtering, port forwarding, and other security settings.
If you trying to log in to the old FIOS gateway router and are unable to access the default login IP address or myfiosgateway down due to any reason you can factory restore your router using the reset button and setup from starting.
Related Post