Windstream Router Login User Guide
Windstream a leading telecom service provider like Comcast Xfinity, TWC, Centurylink, and others. Windstream provides data and voice service to end-user for home and business. Windstream router used to deliver internet at client end using Coaxial cable modem to provide end-user internet and voice connectivity. IF you are a Windstream internet subscriber and looking a simple manual to login Windstream router web interface to set up and manage settings then bookmark this article. Windstream used different brands of routers such as Actiontec T3200, -Sagem 2705, Sagem 4320, Sagem 1704N, and many others such as Arris, Motorola. You need to connect the router either wired or wireless to log in to the Windstream router web interface for manage wireless settings and other configurations.  As Windstream use a different manufacturing router so default Windstream IP address and username password printed to the router sticker for login in default mode.
Windstream Router Internet Activations steps
Before setting up the Windstream modem o router you need to activate your internet connection from your Windstream account with a user id and password.
Visit Windstream account login from https://www.windstream.com/mywin" and create a new account by providing the following information for first-time registration.
Billing Account Number
PIN Number "Which can be found on the Billing Invoice"
Zip Code
After login activates internet connection and once internet activation finishes you can proceed to login Windstream router to set up it from web browsers.
Default Login settings for Windstream Router
To login Windstream router you need the default Login IP address, username, and password that usually printed to the router sticker a quick user manual included with the box. However, you can get the default Windstream login detail given below.
Default Windstream ip address – 192.168.254.254
Windstream modem login default Username– admin
Windstream router default password – admin
Steps to access Windstream router interface
Toward access router web interface browser wired or wireless connection required from a computer or laptop or mobile device. for without WiFi cable modem you can only use an Ethernet port to connect you PC/laptop and if a router with wireless can use either wifi or wired. Follow the steps below to login into Windstream.
Use DC adapter to the router and turn ON.
Connect Internet Cat6 cable to WAN port if internetwork on Ethernet cable or if use ADSL line plug DSL line to DLS port.
Connect LAN Cat6 cable from router Ethernet port to computer/Laptop Port.
Use Default SSID or Password printed to router sticker for Wifi connections.
Go to Windows/Mac PC or Linux networks settings and make sure it's in DHCP mode to get IP address from the router DHCP server.
Once connection and LAN configuration complete follow further steps to access the web interface.
How to Fix WiFi Signal issue using Old WiFi Router
Login To Windstream Router
Open a web browser such as Chrome, Mozilla, Opera, or any other and access http://192.168.254.254 in the URL bar and wait to load the router login page.
You will get a router login page with a login username and password to authenticate the router the first time.
Use "admin" as username and password for the first-time login.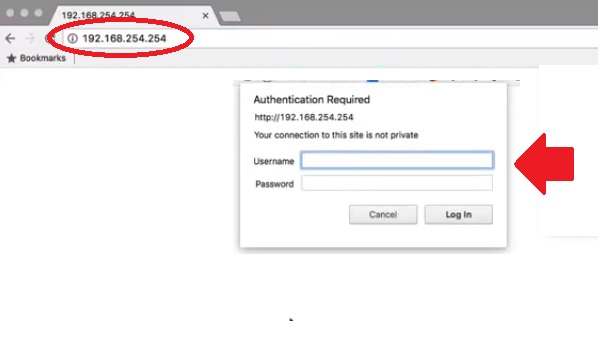 After login, you will get all router settings and dashboard to get detail of router current configurations. Update wireless SSID and password first to secure your internet from default settings.
Change Wireless SSID network name and Password
Windstream router pre-configured with default WiFI name and security key that detail also printed to router sticker so it is highly recommended to update wireless settings before using in the live network.
From the left side, the menu clicks on the Wireless option to access wireless settings.
wireless –Basic
Enable Wireless- By default it's enabled
SSID: WIN_TIM (change this default wifi name as per your choice new WIFI SSID you want to use for your wifi).
Country- select your country to comply with IT regulations.
Max clients – 50 (default is 50, you can change as per WiFi users number)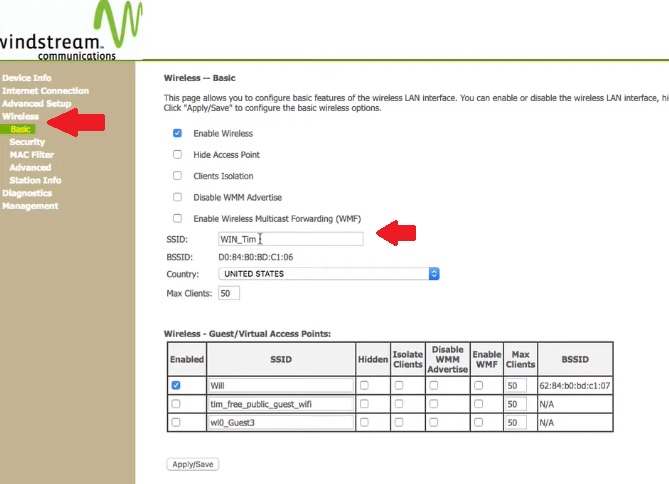 Enable Guest / Virtual Access Points – you can create Guest SSID names for visitors by enabling these options.
Apply/Save settings to update wireless name and password. Once saved you may disconnect if using the wireless connection to the login router. Connect again with a new name and old password and update wifi security.
Change Wireless Security
Wireless- Security
Manual select AP
Select SSID- Choose SSID from the list you want to create Wi-Fi password.
Network Authentication- WPA2/PSK
WPA Passphrase- Create a WIFI password for your wifi router.
Press Apply/Save button to confirm settings. Now your Wind stream router WiFI secured and updated.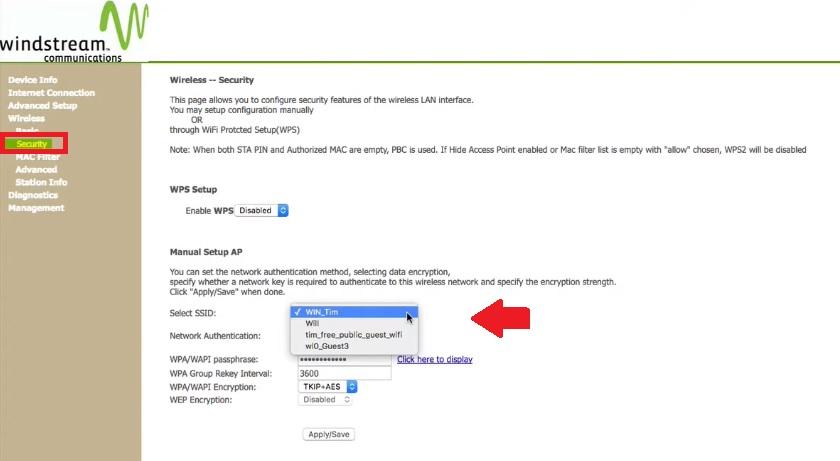 After Wireless settings also update Windstream router default login admin password to secure router web interface access.
Change Windstream Login Password
To update windstream admin password click the Management option from the left side menu.
Account User
Change Login Password
Old Password– admin (default)
New Password- create new password
Confirm password– Confirm new password
Press Apply and save settings and keep remember or write password in a safe place. Avoid writing passwords to router sticker.
If you getting an issue while login into the router or unable to access the web interface. Default IP address not working or taking a too long time to respond seems there is network configuration or connection issue. This problem also comes if router default login settings already changed with new settings.
You can reset the router using the reset button available near the Ethernet port and power socket. Press the reset button for a minimum of 3 seconds until the lights on the modem flash. The router will restore into factory default mode and you can follow the above steps to access the router.
Related Post