How to Resetting Att Router with or Without Reset button
Resetting Att router steps are similar to resetting other routers or cable modems such as Arris, Netgear, Motorola, or any other. There are many Att compatible modems and routers available for Att internet connection. If you are an AT&T Internet subscriber or your internet router or cable modem powered by AT&T U-Verse Router or any other brands such as Arris, 2Wire, BGW210, or pace5031NV. If you looking to Resetting ATT router or Cable modem because unable to log in due to forgetting the login password or you may face a performance issue with your modem due to running for a long time. There are two ways to reset your Att router a soft method or a hard method using the reset button.
Making ATT router factory reset will erase all configuration to factory mode so always be sure you are going to reset the router and you will lose internet connection until it setup again as per internet settings.
Although if you are facing random problems with your internet connection or unstable internet connectivity then you can try login your Att home gateway and try restarting the router using the soft method as well as can power OFF and ON again before resetting to default mode. If your Att router getting an internet unstable problem or Wifi keeps discounting and you can log in to the router web interface then you can download the configuration file before making At&T router reset to default.
How to Factory Reset AT&T router from Settings
Making At&T router resetting from software can use if the device is misbehaving or wireless unstable or getting no internet connection or frequent disconnection. You can reset the router from settings if you have login access of the router control panel. Before resetting's router to default mode make sure you have downloaded the configuration backup file to ensure it.
Default Router IP Address Username and Password All Brands
Connect ATT router using WiFi or Wired cable from a Computer or Laptop device.
Open router login page using http://192.168.1.1 or http://attwirelessinternet to the URL bar and wait to load Att login page.
Provide default ATT login username and password as printed on your router sticker. Att default login username and password is "attadmin" or if you already changed use the same to access settings.
After login into ATT gateway control panel now navigates settings to System options.
System- Configurations
Under configuration, you will get the option to download the configuration backup files as well as the restore option after resetting the router.
Use reset button to factory reset the Att router to restore into default settings mode.
You will ask to confirm to reset the router just press the OK button to confirm resetting att modem or router and setup again after restoring to factory settings.
This method is called soft reset ATT router if you can access settings but wants to restore settings to refresh it. If you forget your login password and are unable to access the ATT U-verse router due to an invalid login password then you have another way to reset ATT using the Reset button which is called the Hard reset process. Making hard reset att uverse will clear all configuration to default mode and you have setup it again as per internet settings.
How To How To Reset Att Wifi Router?
Reset att router using reset button is a faster way to restore factory settings and required to configure again as per your internet type or configurations. Making reset at&t modem or router using reset switch is a physical process so you have to be available near the router to access modem switch. Follow steps to reset att WiFi modem or router using the tiny reset button.
Connect the ATT router to the DC Power adapter and wait a few seconds until it boots properly.
Locate a small reset button near the Ethernet port or power socket.
Use a needle or paper clip to reset the Att router using the reset button.
Press and hold the reset button for 10-15 seconds and monitor Power and Ethernet LED lights.
ATT router will automatically reboot after executing the reset process and it take a few minutes.
Wait until the router resetting to default mode and the default IP address starts pining again.
Login Att route using default settings and restore a backup if you have downloaded configuration file before making router reset or use manual configuration as per your internet settings.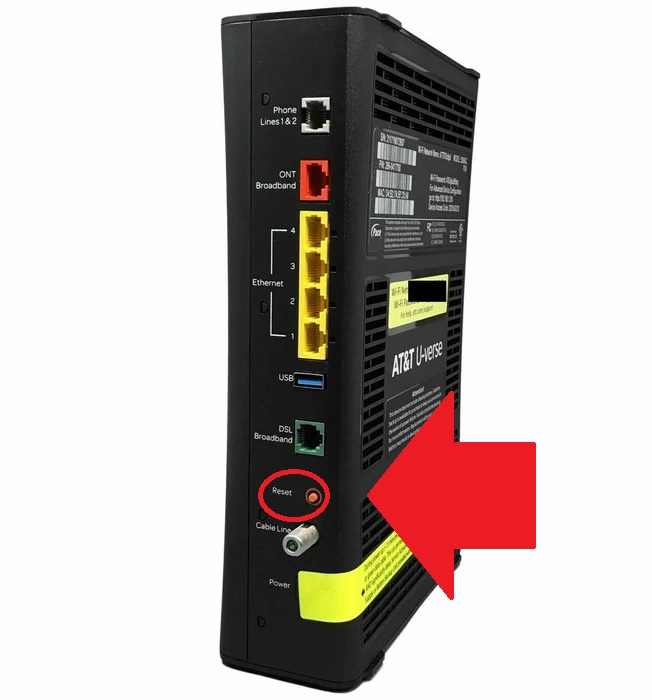 Both the reset method useful as per the situation so you can go through any of the ways to reset the AT&T uverse router if you are locked out or you may face internet instability in your ATT modem or router. If you still facing the same problem after making the router to default mode then you have to go with a replacement of the ATT router to fix the problem.
Related Post