Uniway Fiber ONT Modem Router Login
Using Uniway FTTH single port ONT or multiple Ethernet ONt/ONu devices you may required to login to set up and change settings. Uniway Infocom provides Fiber ONT, Fiber OLT, GPON ONU modem, routers. If you using Uniway fiber ONU to your network and looking user manual to login Uniway Router or Fiber device than this article helping you out. You can change WiFi SSID name, Password, WAN internet settings bridge or router mode as well as port forwarding after login ONT.
If you have any of the models from  UW104 -4GE GEPON ONU MODEM, UNIWAY VOIP+WIFI ONU MODEM, UNI WAY VOIP ONU MODEM then you should bookmark this user guide to login your Uniway fiber modems.
Steps to Login Uniway ONT Modem Router
Single Ethernet ONU without need to connect directly through wired connection and ONU with WiFi can use the WiFi network to log in also.
 How to Find Your Router IP Address
Uniway Default Login IP and Password
Default credential for Uni way ONT also printed to device sticker at the bottom so get details.
Uniway login IP address – 192.168.1.1
Username– admin
Uniway Router login Password– admin or   stdONU101  or vsONU101
Also for your ONT model check router sticker for login password and username details
Login ONT Web interface
Open Web browser and access http://192.168.l.1 and press enter key. With a few seconds, you will get ont login page asking for username and password.
Use the web login username and password printed to your ONT router box or sticker.
Login settings and follow further configurations.
WAN internet settings
Configuring ONT WAN settings depend on the internet type configured in OLT. If your internet work in router mode then configures ONT in router mode with specific VLAN ID from WAN settings.
For Wan internet settings you can contact your internet service providers.
However, you can set up wireless settings and other security features in your FTTH ONT unit.
Change WiFi SSID and Password
Updating default wifi name and password prevents your WiFi internet from unauthorized access so always set up during the first time setup.
Go to Network – WLAN from the submenu
WLAN Basic- Band – 2.4 GHz (B+G+N)
Mode- AP
SSID– WiFI (change this name as per your choice for new wifi network name)
Channel Width– 20MHz/40MHz
Channel – 2411,2437 or 2462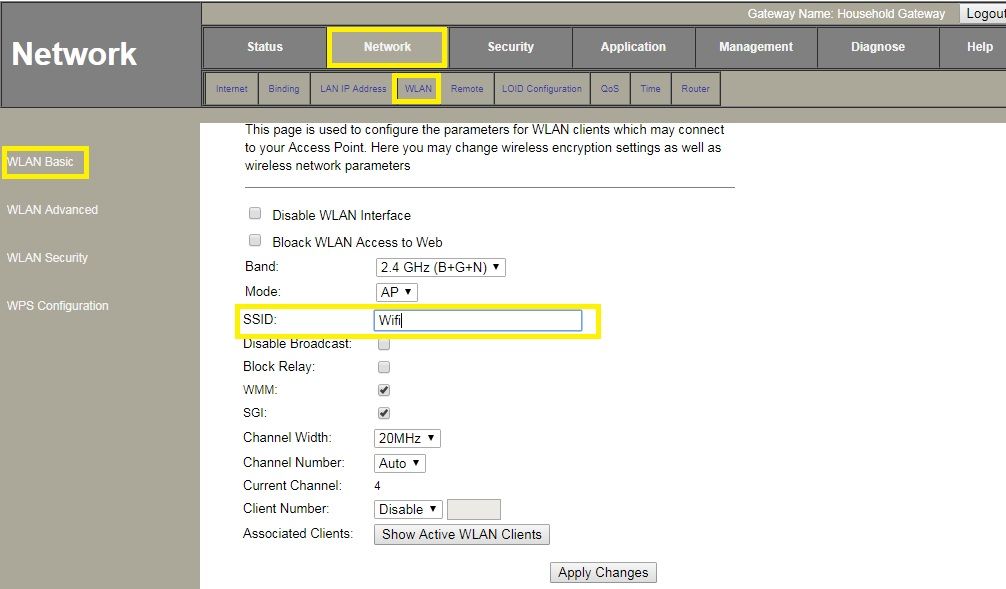 Show Active WLAN Clients- To check connected wifi user currently connected to you WiFI ONT.
Change WiFi Security Key
Network- WLAN
WLAN Security
You will get a WiFi security option with different security types.
Choose your SSID name (if only one SSID by default selected.)
Wi-Fi Security Type- WPA/WPA2 –PSK AES
WiFi Passphares- Wifi password (create a strong wifi password for your uniway ffber ont.
Save settings and your all Mobile, Laptop, and another WiFi user will be disconnected from the WiFi network after update the new Wireless name. Connect wifi user with a new WiFi username and password.
The next important part of securing WiFi internet is to change the login password.
Uniway ONT Router Login Password change
You must update the admin password for the first-time configuration of your fiber ont device to restrict access user to connect WiFi or wired network.
Go to Management- Usermanagemer
Access Control- Password
Username- admin
OLD password- use ONT  old password you use for login.
New Password: Create a new Login Password.
Confirm Password- Provide a new password again to confirm.
Save/Apply settings and log in with a new password.
To add extra security features you can use content filtering, Mac access list, and other security features.
You can use this login guide if you are using uniway ONT for BSNL FTTH and other service providers.
Related Post