Best modem for Gaming and Live streaming
If you are a game lover and like to play HD gaming then you must need a high-end Wireless modem and router. For enjoying HD gaming and the live streaming high-speed wireless modem is required with a high-speed internet connection. If your internet plan is high speed but didn't get full internet plan speed to your PC and the mobile user then this is the time to upgrade the modem with the best high-speed modem for gaming and streaming. Facing unstable internet connectivity, video buffering issues and online HD games are not run smoothly are all the reasons that your internet modem needs to be upgraded with the latest 11 Ac dual-band modem. If you have subscribers of Xfinity, CenturyLink, TWC, and any other internet providers that deliver Internet with coaxial cable then this article going to use for you. In this article, you will get the best gaming modem for gaming 2022 in single-band and dual-band with long-range.
List of Best Cable Modem for Gaming
We have sort listed some of the best-performing cable modems with wireless in 2022 for gaming and HD video streaming experience. The list of gaming cable modems from different brands but most of compatible with all leading internet providers.
 1-      ARRIS Surfboard SB6190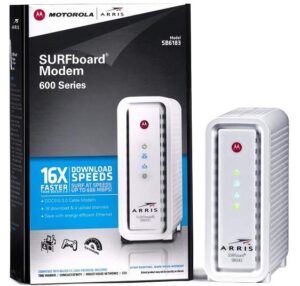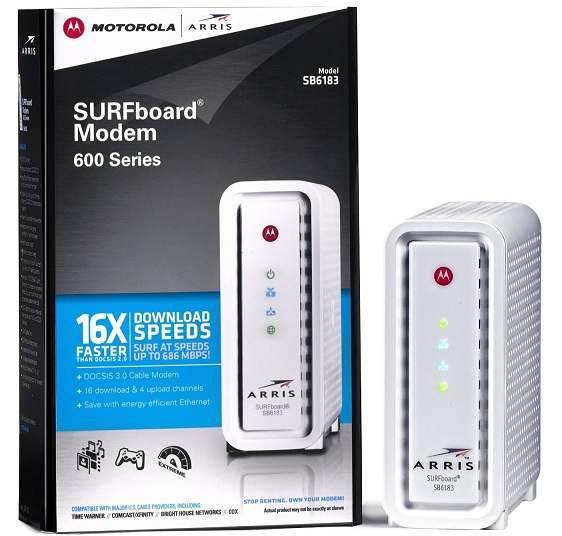 Arris SB6190 is one of the best cable modems for internet speed up to 600mbps with a single Gigabit Ethernet port. ARRIS SURFboard SB6190 is a DOCSIS 3.0 cable modem with 32 downstream x 8 upstream bonded channels that give you a high-speed internet and gaming experience and stable internet connectivity. SB6190 does not support wifi so you must require a dual-band 11ac wifi router to turn your wired internet into Wifi so you can enjoy the internet and live streaming on your mobile, laptop, smart TV, and other WiFi devices. Arris SB6190 modem is fully Compatible with Cox, Spectrum, Xfinity, and other popular U.S. cable internet providers. Arris also provides modem router combo models that do not require adding wifi router after modem so read other best modems for cable internet in 2022.
2-      Netgear CM600 Cable Modem
Another best and reliable coaxial cable modem for high-speed internet and live streaming experience is Netgear CM600 Cable Modem. CM600 is another good modem for gaming for internet plan speed up to 950Mbps download speed and DOCSIS 3.0 with a single Gigabit Ethernet port to connect WiFi routers. Netgear CM600 Modem Certified for XFINITY® from Comcast, Spectrum, and Cox Internet plans, and many others. CM600 cable modem is a non-Wi-Fi modem so you need to add a WiFi router from the Modem Ethernet port to use WiFi in your home and office. There are a lot of positive reviews about the Netgear cable modem you can find all over the internet before buying it to make sure it is worth it for you.
3-      Linksys AC1900 Modem & Router
Linksys is yet another well-known trusted name in Modem and routers worldwide. Linksys AC1900 is one of more best gaming modem routers combo with inbuilt dual-band wireless. Linksys High-Speed DOCSIS 3.0 24×8 AC1900 Modem Router, for Xfinity by Comcast and Spectrum by Charter. Linksys AC1900 Modem supports 4 Gigabit Ethernet ports, 1 USB port, and 1 Cable port F-type female 75 ohms for internet connections. AC1900 classic looks make your home interior perfect match with modem mix with your interior style. 2.4 GHz gives up to 300Mbps and 5Ghz supports up to 1300 Mbps WiFI speed for high-definition gaming and UHD video streaming without buffering issues.
4- TP-LINK TC-7610 Cable Modem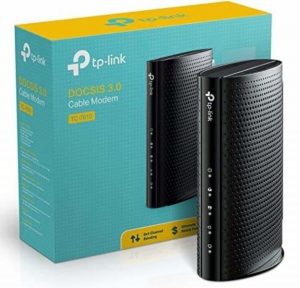 TP-Link TC-7610 is another best modem Compatible with major cable ISPs, including XFINITY from Comcast, Cox Communications, Spectrum, and more. TC-7610 cable modem without WiFi with a single 10/100/1000 Ethernet port. TP-Link Docsis modem support Up to 343Mbps download and 143Mbps upload speeds depending on the internet providers' internet speed plans. TP-Link TC7610 cable modem is a vertical tabletop position modem that looks perfect on a table and gives you high-speed internet over the wired connection. TC-7610 Modem supports Channel bonding of up to 8 downstream and 4 upstream channels for faster throughput that is perfect for seamless gaming and online video streaming. TP-Link also deserves a place in the Top 5 best cable modems for gaming in 2020 as per subscriber reviews and ratings.
5-      Motorola MB8600 Cable Modem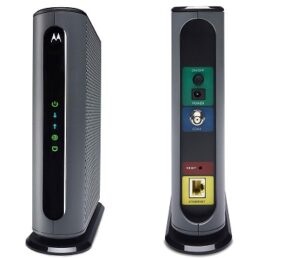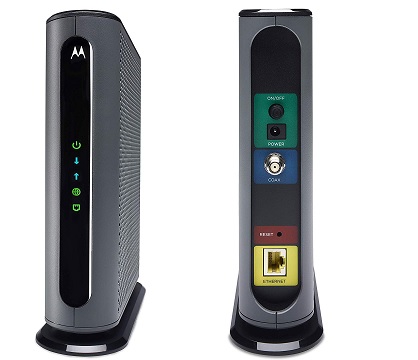 Motorola next best modem for gaming and is trusted worldwide and fully compatible with all major internet service providers using DOCSIS technology. Motorola MB8600 Cable Modem supports DOCSIS 3.1, upto 1 Gbps speed. It supports IPv4 as well as IPv6 next-generation Internet addressing support. Best modem for Upload HD and UHD video to Youtube and enjoying UHD live streaming on youtube, Netflix, and other streaming platforms. Compatibles with all leading internet providers such as Comcast, TWC, Centurylink, and more. Physically it's having 1 Gigabit Ethernet, 1 Coax port, 1 DC socket power Power ON as well as a reset button for Factory restores settings in case forget login settings or the router misbehaves.
6-      Asus AC2600 Modem & Router Combo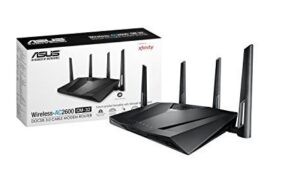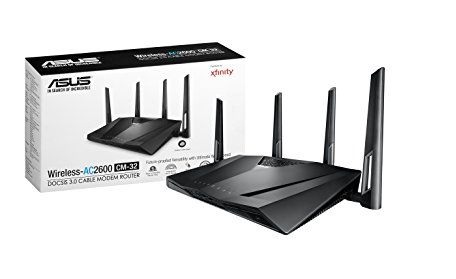 Asus CM32- AC2600 Modem and Router combo with 11 ac dual-band wireless router is another best choice for a gaming router. Asus a well-known trusted brand and the best gaming cable modem with an inbuilt dual-band wifi router that gives you true wifi speed for online HD movie streaming. Asus CM32 best internet modem for gaming that supports Comcast Xfinity and other leading internet providers. In other words, we can say Asus is also one of the best Comcast modems for gaming. Asus AC2600 is a combo Router and modem that work with Coaxial as well as Ethernet WAN internet. CM32 modem support 4 Gigabit LAN port and 1 Gigabit WAN port for work as a Cat6 internet connection. 1 Coaxial cable port work as a Docsis modem for high-speed internet plans. Four physical external Omni direction antenna gives you long-range wifi with high-speed internet connectivity to enjoy gaming on mobile and Laptop as well. Apart from cable internet, Asus AC2600 supports a lot of security features such as a Guest network, firewall, content filtering, port forwarding, parental control, VPN server, Mac OS Back to USB storage, and many more.
Final Word
There is a number of top 10 gaming modems and routers with combo features available that work with most of the leading internet providers in the US. When buying a new modem for the internet you must follow the buying guide to choose the best modem and also you can check reviews and ratings from different online shopping platforms. We have sorted a list of some best gaming modems as per user feedback and reviews those are using a modem for gaming and streaming.
Related Post