ATT Router Login Quick User Manual
AT&T a popular brand on the internet and telephone service. It is constantly providing internet, and Voice service to end-users in different countries. ATT provides devices for internet and Voice service so probably you are one of the customers who is using ATT router or Phone service at your home of office. If you are an AT&T product user and looking a simple user guide to login ATT router for the first time as well as for regular management of your internet and voice service provided by AT& T.
This article will provide you a simple user manual to loin ATT Wireless internet manager and AT&T router login with default settings for the first time setup. You can login ATT either using a Wired connection or wireless connection with default SSID name and login username password printed to devise sticker. Login into the Router control panel manager will allow you to check internet speed, change wireless name and password, configure security settings for parental control as well as managing your voice service from a single point. get ready to access at&t router login page and follow the steps below.
Default Login Settings for ATT
Before proceed to access into att router settings you must know the default login access IP address and username password.
Default Login IP Address for ATT Router is – 192.168.1.254   Or 192.168.1.1
Default Login URL for ATT Wireless Internet Device–  http://att.wirelessinternet
Default Login Username–  NA  or admin
Default Password– attadmin
Find Router login IP address and other login credentials printed to router sticker and Quick user guide included to device box. Ready login credentials and proceed to access settings.
Steps to Log in Into ATT Router Settings
Now the steps are connected with Att modem or router either using Wired or wireless with the default SSID name configured to the router.
Connect LAN cable to AT&T Ethernet port for Physical connection from PC/Laptop LAN port.
Or use default SSID (ATT-WIFIXXXX) for WiFi connection.
Power On a router with DC adapter comes with the router.
Telephone Line should connect to Voice Port (RJ11) so keep the as it is if already set up by Att support team.
How to Reuse old WiFi Router with Different Modes
Access Att Router To Web Browser
To accessing the at&t router from a web browser type http://192.168.l.254 or  URL-  http://att.wirelessinternet and press the enter key.
Wait a while until the ATT login page is loading and asking for authenticating.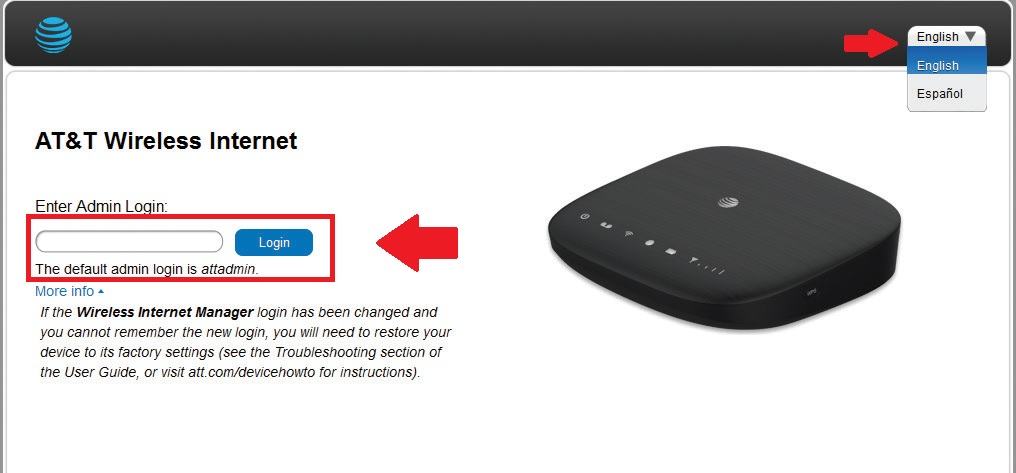 Provide default login password and username as printed to your ATT modem sticker or given above.
Press the Login button att Uverse router login control management page.
Once logged into the at&t router settings page now proceed for configuration wireless, Network, and other security options.
Change Wi-Fi SSID Network Name and Password
After att admin login you get full control to manage and setup router settings to make your internet more secure from unknown access.
In Default mode AT and T router, WiFI SSID configured in the unsecured mode so you have to change the default SSID name and enable WiFI password to protect wifi network before connecting to the internet.
Go to WiFI- Wireless Basic settings from Menu.
For ATT Dual Band Router you have to configure SSID and Password for 2.4G and 5Ghz band.
Access Point Configuration page
Network SSID – Change Default ATT SSID name as per your choice new name.
Security Mode– WPA2-PSK
Password– ATT New Wifi Password (create new WiFi Key for 2.4Ghz )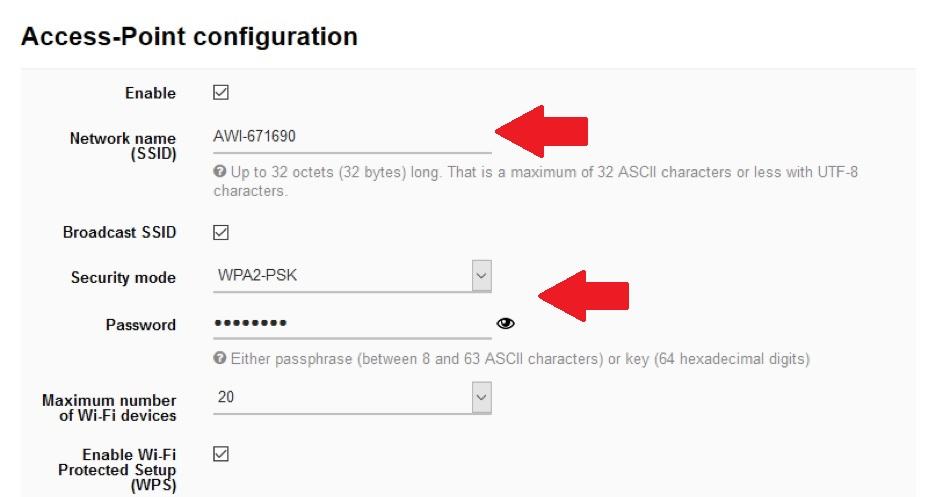 Maximum Number of WiFi Device- 20 (default WiFi Users, you can increase and decrease WIFI user limit as per total member using WIFI in your home and office.)
Enable Wi-Fi Protect Setup- Enabled (WPS also use to connect WIfi without using the WiFI password. You have to press the WPS button on the att router and Use the WPS option same time on your Laptop, mobile user you want to connect. For security purposes, you can disable the WPS button so only the WiFi Password allows connecting your WIFI internet.
5.8 GHz Wireless Configuration.
WiFi- 5Ghz Wireless configuration
Follow the same process as followed 2.4 GHz to configure 5 GHz Wireless band in AT&T Uverse Router.
After the Wireless configuration next recommended configuration is to change the default login password to protect router web interface access.
Change Default Login Password
Default Login Password also printed to ATT login page so it is highly recommended to change the AT&T admin password to secure router settings access users connected to wifi or wired.
Go to Advanced- Administrator
Or in Some models – System- Administrator.
Administrator Settings for AT&T Wireless Internet Manager
Current Login- attadmin
New Login- Create new password.
Verify New Login- Provide a new password again to confirm.
Login Visibility-  ON
Change Language- English default. You can change others as per your country.
Apply and save settings to change att router password. Log out the router and log in again with a new password to confirm settings changes.

This is a basic configuration that should do before connecting the router to the internet connection.
AT&T Router Login Troubleshooting
if you are facing any login error or Login IP address not working for ATT router, you can read the troubleshooting part to fix the login issue ATT Router.
Default Login IP Address Not Working
Login IP address not working or site can't be reached is the most common issue that comes with most of the routers due to incorrect network configuration and other problems. There are few steps to fix login errors for any router.
Make sure you are using the login IP address as printed to your ATT router sticker.
Confirm is Default Login IP address has already not changed during the first-time login.
If using Login URL should incorrect format. "http //att.wireless internet login" is a wrong format to avoid spacing while using URL to access ATT Router.
Computer, Laptop LAN TCPIPv4 settings should be in DHCP mode or use 192.168.1.1 series static IP address for manual configuration.
Make sure any antivirus firewall, Windows firewall, or any other network tools not blocking ATT Login IP address.
Username and Password not working for att admin login
Invalid login username or password error yet another frequent comes error while login router first time or later.
Follow steps to fix Wrong username or password
Check the default Login password printed on the router sticker.
Make sure login usernames and passwords already not changed from the default.
Password is case sensitive so make sure you are using lower case while typing password.
Make sure your keyboard keys properly working or you can type the password in notepad and paste in the ATT login page.
After following all the troubleshooting steps if you still unable to login AT router then you can use the Hard reset option to restore the router into default mode.
Note: Making the router into default settings will erase all configuration and you have to set up router again if you are trying to log in to a working configured ATT Router.
Only make router to default mode if you have all configuration detail or Configuration back to setup router again else you will be disconnected from the internet until router not configured again.
How to Reset AT&T Router with a Reset button?
Making att Uverse router reset is a restore failsafe method to regain router access in case unable to login settings or forget login settings after configurations. This process may take 3-4 Minutes so wait until the process is done.
Locate a small reset button beside the Ethernet port or power switch.
Use the needle to press and hold the reset button for 10-15 seconds until the power led turns off and turn on again which is a rebooting sign.
Wait a while until router resetting and rebooting are done.
Check WiFi signal in mobile or laptop wifi name ATT-WIFIXXX SSID broadcasting without att Uverse wifi password security.  Follow the above steps again to connect at&t wifi settings in default mode for configuration again.
Related Post