ARRIS CM820A Cable Modem Login and Setup
Arris CM820 Docsis modem used to deliver internet connection over coaxial cable. Arris CM820 Modem is compatible with all leading broadband internet providers such as Comcast Xfinity, CenturyLink, TWC, and many others. If you looking to upgrade your existing cable modem into a high-speed cable modem then you can have a look about Arris cm820 review to choose the best one. However, this post will give you a simple user guide to login Arris CM820A cable modem to setup and configuration for the first time and changing settings later as well.
ARRIS CM820A Cable Modem DOCSIS 3.0 is a wired without WiFi feature with a single Gigabit Ethernet port.  CM820 Modem support 8×4 bonded downstream/upstream channel for superior throughput with Built-in MoCA® immunity filter. Direct AC input voltage 115-240 VAC 50/60 Hz to power on Modem. 1 Cox port and physical reset button for restoring router into factory mode in case forget login settings or Modem misbehaving and unstable connectivity.  Arris CM-820 support only a wired connection so you need to connect a LAN cable from your PC/laptop to access modem router settings.
Arris CM820a Default Login Settings
Before proceeding to set up the modem you need to know the default credential for the Arris modem that is usually printed on the router sticker and the manual comes with a new modem box. Find default login IP username and password from Arris CM820. Find below the default login settings for the arris touchstone cm820 cable modem.
Default login IP address– 192.168.0.1
CM820 Default Username– admin
Default Arris cm820 password – admin
Keep login details with you and follow further steps to log in to Arris wired cable modem from a web browser.
Steps to Login Cable Modem
Now the next step is a physical connection with a modem to access the web interface.
Arris CM820a modem supports 1 Ethernet port so you have only way to connect the device from the computer.
The coax port will connect to the coaxial cable coming from the internet provider so keep it.
Use a Power cable to power on the modem.
Go to Computer/Laptop LAN settings and change TCP/IPv4 to DHCP mode or use static IP address- 192.168.0.2.
How to access WiFi Router settings using WiFi and Wired?
Access Modem Web Interface
Open web browsers such as Google Chrome, Firefox, Opera, or Internet Explorer.
Access Arris modem IP address http://192.168.o.1 and wait to load the login page.
Provide username and password as printed to default login settings supported by your modem or use the above login settings.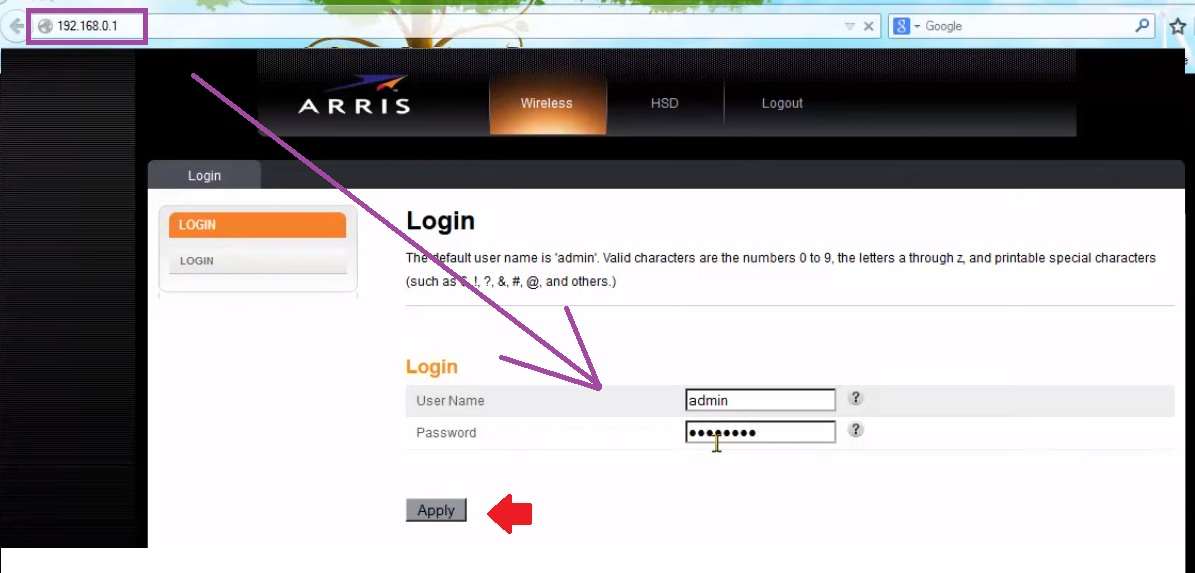 Press the Apply button and wait for the login page.
If your arris touchstone cable modem cm820 supports Wi-Fi then you must change your WiFi SSID and password for the first-time login to secure your internet connection from un-authorize access.
Change WIFI SSID and Password
You will get the WiFi settings option if the modem supports the WiFi feature so if your modem has Wireless settings then follow the steps to change WiFI settings.
Go to Basic Setup or Wireless setup tab.
Hostname– Arris (This is modem name)
Wireless Network (SSID)– ARRIS-FF52 (change this default SSID name with a new SSID name as per your choice)
Channel – Auto
Security Mode– WPS2-PSK
Security Settings- AES
Pre-Shared Key– Arris Default WIFI password (change default WIFI password with new WIFI password as per your choice and use a strong wifi password with Mix combination and alfa numeric.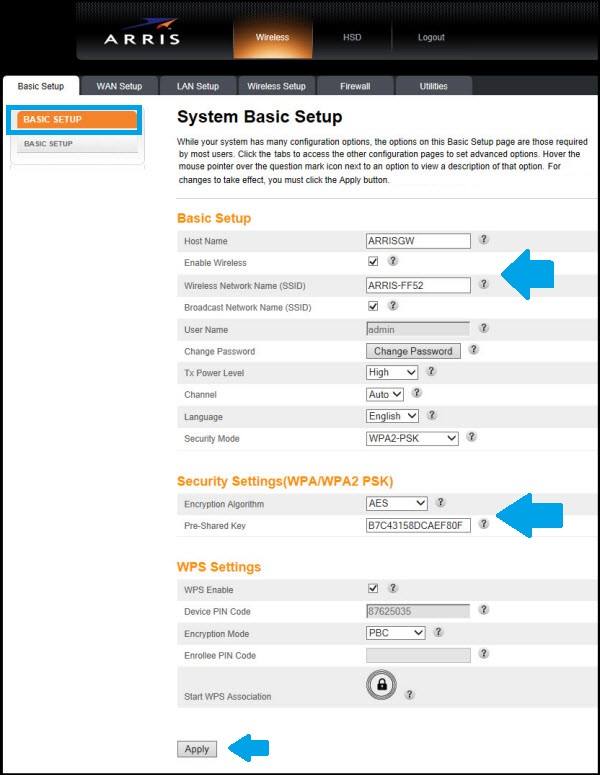 WPS setting- WPS settings used to connect WIFi without entering the wifi password using the WPS button.
You can disable the WPS button from a security point of view.
Press the Apply button to save settings and wait for reboot Modem.
After reboot, Arris cm820 lights will be up again and the internet starts work.
Change Login Password
Always change the default login password before connecting to the internet to prevent unauthorized access of the modem login page.
Go to Basic Setup- Login Settings
Change Username- admin
New Username- ARRIS-Admin (change the username as per your choice but keep remember as it required always when trying to login modem settings.
Change Password-
Set Password – Check the box.
Old Password– admin (default) uses the same old password if you changed admin already.
New Password- Create a new password
Repeat new password– provide a new password to confirm.
Other settings-
Login time out 900 seconds (login time out settings use to the auto-logout page if inactive for a time set in Login time out.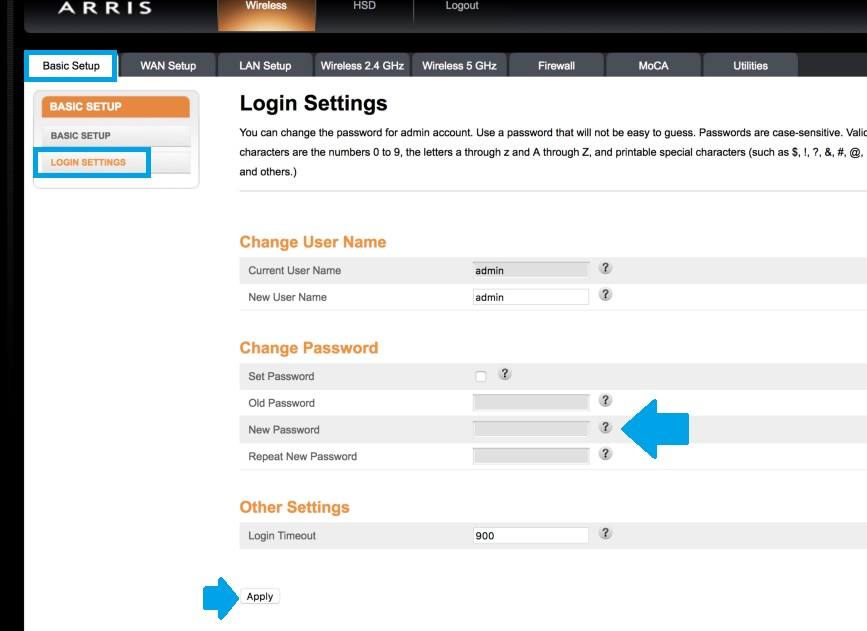 Press the Apply button to confirm settings. Keep remembering the login password for future use. If you forget your login username or password then you will be lockout completely and have only way to gain access is to restore router settings.
Arris Cm820 Troubleshooting
Facing login error, IP address not working or arris cm820 link light flashing all the symptoms seems to a network miss-configuration or problem. The troubleshooting part will provide simple steps to fix the login issue with Arris Cable modems.
Arris CM820 IP Address Not Working
Login IP Address not working or taking a too long time to respond or you may got site can't reach error. These are the common problems that come while login into the router web interface.
Follow the steps to fix login problems.
Make sure the Ethernet cable using in working condition and not break.
Check your PC LAN settings should be in DHCP mode or in the same series network if using Static IP address. EXP- use 192.168.0.100
Make sure you are using the IP address in the correct format- http://192.168.0.1 is correct but https://192.168.o.1 is a wrong IP so check all corrections.
Make sure any firewall, proxy settings or Network tool blocks IP address access.
If still facing login issues or forget your login username or password then you can reset your cable modem to factory mode settings.
Note: Making Modem to factory default will erase all configuration saved in modem and internet stop working until setup again. Only use reset button if you have a configuration backup file or you know the details to configure again.
Factory Reset Arris CM820a Cable Modem
Find a small reset button near the Ethernet port.
Press and hold the reset button for 10-15 seconds and monitor modem led lights.
Once reset command executes and

arris cm820 us light blinking and turn off and on quickly

means the modem rebooting after restoring settings.
Wait until modem rebooting and access router.
Final word
Hope Arris cm820 login manual will help you to manage your internet and cable modem from time to time so you can protect your network and device from attacks. Login method almost the same for any Arris cable WiFI modem and non-wifi modem only the login IP address may change as per the internet provider using Arris models.
Related Post