Arlo Base Station Setup and Review
Arlo base station specially designed for home security without physical wired CCTV installation with easy setup. Netgear Arlo systems provide you an Arlo camera that works wire-free powered by a battery and can mount at any palace without worry about physical cabling. Arlo pro base station required an internet connection to manage and monitoring from your mobile or computer device from any place and work with any brand wifi router. You need a base station for every site and add multiple wire-free cameras to the Arlo base station using a simple sync button.
Configuration of Arlo wire free camera system is a bit simple and it's a DIY process. You have to follow step by step guide to setup Arlo base station and add Arlo camera to the base station. If you planning to buy Arlo system or already owned it then just unbox the Arlo base station and wire-free camera and follow the steps to setup the first time.
Setup Arlo Base Station First time
Unbox your Arlo base station and set up a physical connection to connect the base station to the internet.
Power ON base station with DC power adapter comes with box.
Connect LAN cable from internet router to Arlo base station LAN port to get internet.
Press the Power button if your Arlo base station support the ON/Off power button.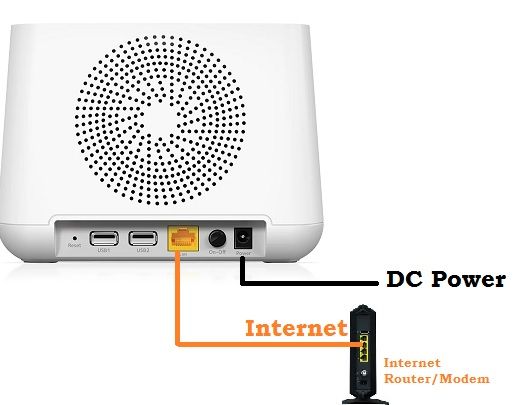 Check Power led and internet Led light should be solid green before you proceed to add the vmb4000 base station to your Arlo account.
Add Smarthub or Base station to Arlo Account
You need to create an Arlo management account to manage all your Arlo base stations from single points.
Download Arlo Apps from the play store for Android, App Store for iPhone.
If using a Computer/laptop visit "my.arlo.com"and create a new account and login.
Open Arlo apps and login to your Arlo account you created earlier.
Make sure Mobile should be connected to a working internet connection.
Go to the Devices option and press the Add New Device button to add a new Arlo base station.
Choose your Arlo product types in the next steps and wait until mobile searching for your Arlo base station.
After a few minutes, your Arlo base station will be added to the Arlo devices list where you can find all your base station installed at different locations.
The next step is to add Arlo wire-free camera to Arlo base station.
Add Arlo (Wire-free) camera to Base station
Now unbox your Arlo camera and remove the battery cover. Put all four batteries to Arlo camera and close batter door properly.
Bring Arlo camera to near approx 1-3 feet of the base station.
Locate a Sync button On top of the Base station. Press the Sync button for about two seconds and then the release button.
Monitor Base station sync led (camera icon) and wait until led light solid green.
Now Press the Sync button on top of the camera for two seconds and release.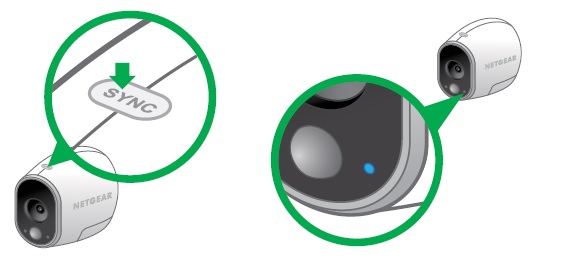 Camera blue led will start blink when the sync process starts and the led blink rapidly to confirm the sync process.
After camera Power led might blinking on the base station to confirm camera firmware upgrading process going on.
If you have multiple Arlo wire-free camera repeater same processes for each HD camera one by one and place the camera to a different location you wish to monitor. This user guide can use if you have an Arlo pro base station as well as Arlo Pro 2 base station or any other model of Arlo camera base station.
Understand Arlo Base Station LEDs, Green, Amber, Blinking Leds
Power
Internet
Camera
Green

The base station

is powered on.

Green

The base station

is connected to

the Internet.

Green

Cameras are

connected to the

base station.

Blinking green

A firmware update

is in progress. DO

NOT TURN OFF THE

BASE STATION OR

CAMERAS.

Blinking green

The base station is

sending data over

the Internet.

Blinking green

The base station

is attempting

to sync with a

camera.

Amber

The base station

is booting.

Amber

The base station is

connected to the

router but did not

get an Internet

connection.

Blinking amber

A camera is too

far from the base

station. Signal

strength is weak.

Off

The base station

is powered off.

Off

The base station is

not connected to

your router.(arlo base station offline)

Off

No cameras are

detected.
Related Post