Don't throw old wifi routers and modems just use DIY to reuse old wifi router with different mode and things to utilize old routers
6 Ways to Reuse Your Old Routers
Do you replace new routers when upgrading the internet plan and dump old router like a waste. There are many ways to reuse old routers that help you in the network without dumping it. Every WiFi router and modem support multi-mode and that can use for multiple works such as WLAN adapter, Range Extender, a network switch, and many others. If you buy a new router and not sure "what to do with old router" then read the full article to know multiple ways to reuse an old router.
1: Access Point Mode
If you upgrade the router with the latest 11ac dual-band and your old single-band router, not in use then utilize old wifi router as the Access point. You need to disable the DHCP option from the network and change the LAN IP address to avoid conflict. Create a new SSID name and password and connect a LAN cable from your internet router LAN port to get the internet. You can add an old router in AP mode in the place where your main WiFi router signals low or not reached.
2: Old Router As Range Extender Mode
The best use of spare wifi routers is setup as a WiFi signal booster or Range extender mode. Every wireless router support repeater mode to extend the existing wifi network. You can setup your old router or modem to boost wifi signal in the low signal area using wifi repeater mode. If your router does not support repeater mode then you can upgrade with OpenWRT or DDwrt open-source firmware to add range extender mode.
3: Setup Old Wifi Router as Network Switch
If your old router physical more than 1 LAN port available then you can use the router as network switch to create a Local area network to connect PC, DVR, network printer, and other devices. you can turn cable modem or router into a switch using simple steps. Just login router and disable the DHCP server from network options. And connect internet cable to one LAN port and share the internet with other LAN ports. If your router support 4 LAN port then you can connect 3 computers, printer, WiFi Access point with turn router as a switch.
Create a Local Network using Old Router
4: Use as WLAN adapter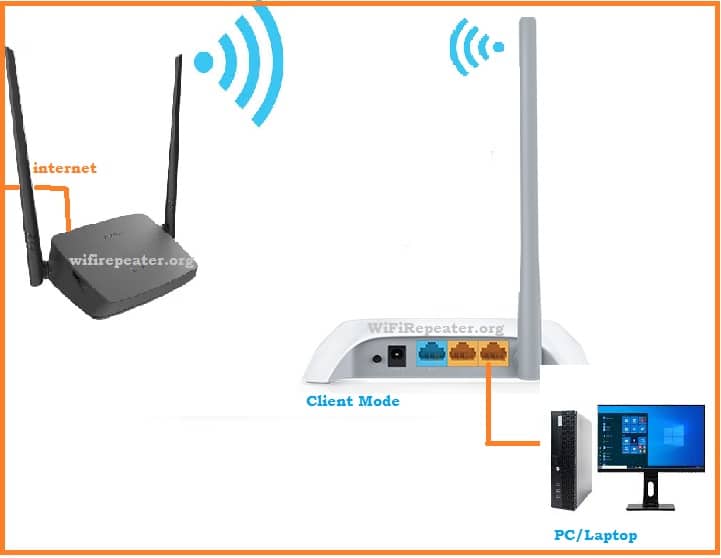 You can recycle old spare router as client mode to work as a WLAN adapter. WiFi router supports client mode to receive internet wirelessly from WiFi router. You can use client mode to connect a desktop computer, Network DVR, Network printer, and IP camera to the internet without laying physical cable from an internet router. Just login to router and change client mode to connect wirelessly to the main host wifi network. Once old router connected to wifi network using client mode just plug LAN cable to PC, DVR, IP camera or any other device you can to connect the internet.
5: Use bridge mode
To connect bridge mode required two wifi router. If you have multiple old wifi router spare and not in use than setup two routers in bridge mode to connect any non-wifi device to the internet without laying physical internet cable from the router. you can use two old router to connect two floor without laying wired cable from internet router using point to point bridge mode.if you have different brands router laying with you and both not support bridge mode due to different firmware than upgrade both router to Free firmware OpenWRT or DDWRT to use as PTP bridge without compatibility issue.
5: NAS Storage
If your old router is the latest technology and supports USB port to then you can turn it to NAS (Network-attached storage) to save data for backup using the network. You need a USB hard drive or pen drive to connect router USB port and you can easily access drive from any computer and mobile connected to your router. Using as NAS storage is the best thing to do with old modems and routers without throwing it and recycle in a smart way. Instead of disposing of old router use them as network devices.
6: Use Hotspot router for Guest login
There are many free captive portal hotspot login pages available that can be installed in a router and use as WiFi gateway authentication. You can use an old wifi router as an internet gateway for guest wifi login in office and home. You need to upgrade OpenWRT firmware or DDWrt firmware to an old router that can provide you captive portal hotspot page feature so you can use the router as hotspot login router.
Finale Word
Disposing of a old router is more difficult to reuse it with to utilize as a network device. there are many things you can do with your old modems and routers without disposing of them. Some best things in the above list you can set up with your routers. If you think sell used router will cash your router with good money then simpler is use an old router to utilize as a network device that costs more than you got selling a refurbished router. Enjoy the important things that can be done with spare routes, not in use.
Related Post