No operation mode in C20 V4 and want to use as a range extender. follow the steps to setup TP-Link Archer C20 V4 Repeater Mode
TP-Link Archer C20 V4 Repeater Mode if No Range Extender Option
Tp-Link Archer C20 hardware version V4 does not have an operation mode option to switch router mode into range mode. If your C20 Ac750 router also V4 and you want to setup as range extender then you are in the right place. You may try TP-Link C20 firmware upgrade but still not get range extender mode you can't configure as repeater mode.
TP-Link archer c20 dual-band older hardware version does not support operation mode but the latest C20 V5 version available with operation mode option. However, TP-link C20 still has a WDS bridge option that can use as a repeater mode to extend the wifi signal range like a wifi booster device.
To set up C20 as wireless repeater mode need to login router settings using physical cable connection with router Ethernet.
Enable Range extender Mode in TP-Link C20 WiFi Router
If you are not getting range extender mode in your C20 router and you want to enable it then you can use the WDS option as range extender mode.
Connect LAN cable from C20 ethernet port to computer or Laptop Ethernet port.
Do not use a wireless connection to set up repeater mode.
Go to the Computer LAN IP address option and use 192.168.o.100 in static mode to access TP-link default login IP.
TP-Link C20 Ac750 Default Login Settings
C20 Default Login IP address: 192.168.0 .1
Default login username: admin
Login password default: admin
Setup AC750 as WDS bridge mode to use as Repeater
Open Web browser and access http://192.168.0 1 and press enter key. After a few second login windows load use login username password and authenticate to access settings.
C20 WiFi router supports dual-band 2.4GHz and 5GHz wireless band.
Setup 2.4G as WDS mode to connect with the main wifi router.
Go to Wireless 2.4 GHz- Basic Settings
Enable WDS – checkbox to enable the WDS option.
Press the Scan button to search the main wifi SSID network name to connect wirelessly from C20.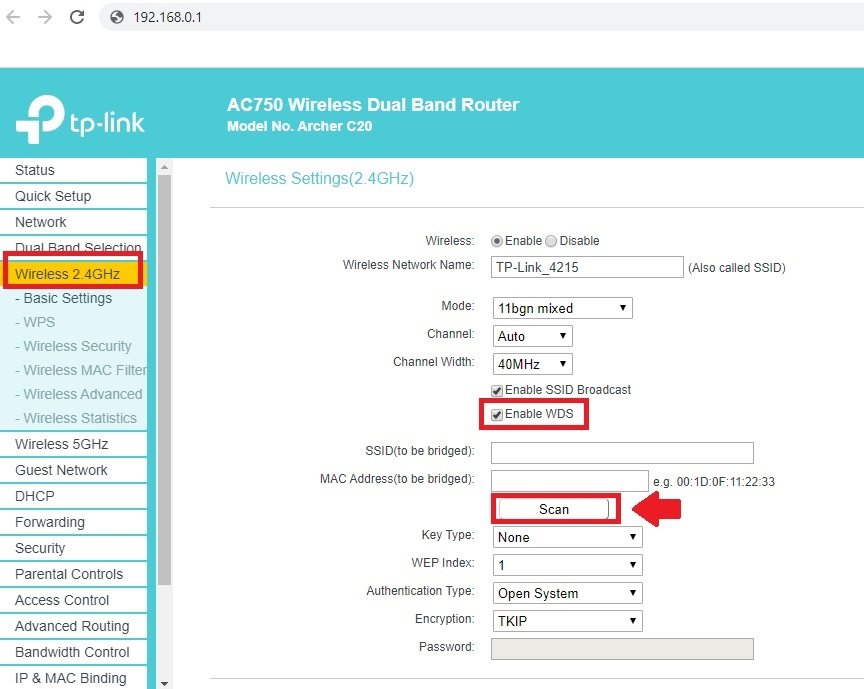 After some time you will get a list of all running wifi network names nearby.
Find your main WiFi SSID name from the list and press the connect button to join the network.
Make sure you have the main WiFi Password to connect from the range extender device.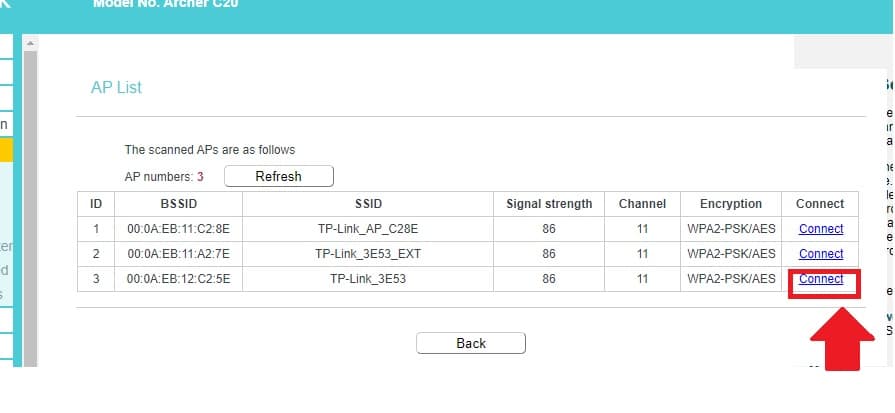 Press connect button from the network name last option as showing above image and you will get back to wireless settings.
1: Password: provider WiFi password of your existing wifi to allow connection from C20.
2: Configure Network name for Repeater
Wireless Network Name: range extender (set SSID for repeater)
3: Save– press the save button to confirm settings.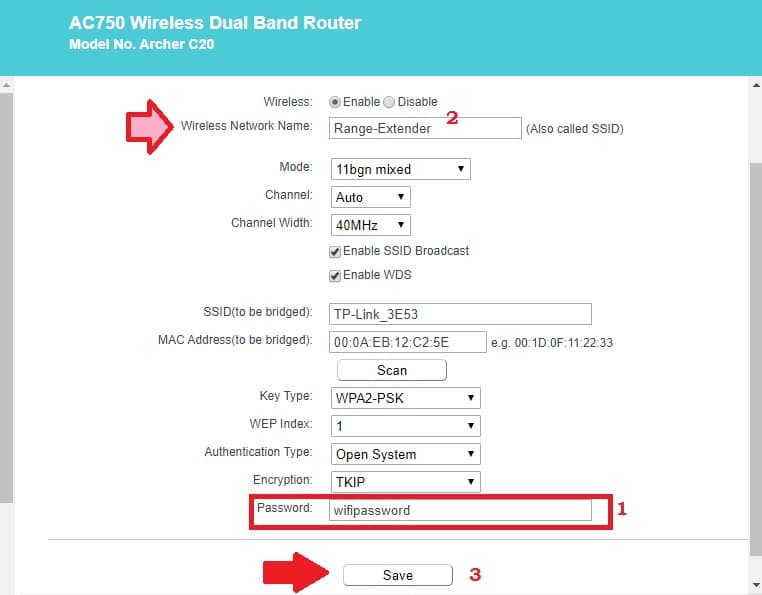 After save settings configure range extender wifi security.
Go to Wireless 2.4 GHz- Wireless security
WPA/WPA2 – Personal (recommended)
Wireless Password– set Wifi password for the range extender
Press the Save button to apply settings.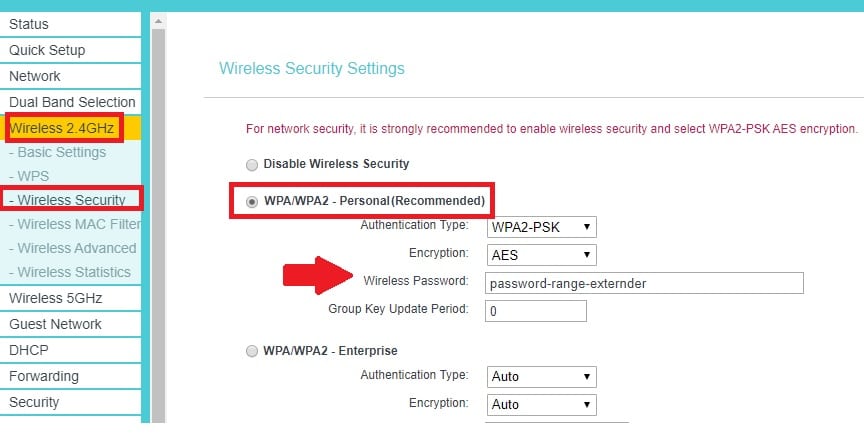 Setup 5Ghz Wireless network name
Do not forget to configure the 5Ghz wireless name to get high speed and wifi connectivity in range extender mode.
Go to Wireless 5Ghz – Basic settings
Enable 5Ghz Network
Wireless SSID network name: range extender 5Ghz
Channel- 149 (or Auto)
Press the save button and go to the security option.
5Ghz Range extender Security Configuration
Wireless 5GHz- Wireless Security
WPA/WPA2 – Personal (recommended)
Wireless Password- set Wifi password for 5Ghz range extender SSID
Press Save button to apply settings and wait to reboot the router.
Go Mobile/Laptop wi-fi options and see range extender SSID network name showing.
Connect network and check the internet should work.
Range extender Placement
Range extender wireless performance depends on the placement. So always find the best place for a repeater device where it can get at least 50% signal from the host wifi router.
Follow the guide to range extender best placement.
Archer C20 Login Troubleshooting
If you are facing an error while login into TP-Link C20 router to the browser and taking a too long time to respond or the IP address not working then follow the below steps to fix the login issue.
TPLink AC750 C20 Login IP Not working
You are unable to access the C20 web interface or the default login IP address not working for you which means there is a network miss-configuration or login IP address not belonging to the router.
Follow the steps to fix the login issue in the TP-Link router.
Make sure the default login IP address printed to the router label is not already changed.
Confirm the Computer LAN IP address in the same series of router default login IPs.
Make sure you are typing http://192.168.O.1 instead of http//:192.168.0.1.
IF you are still unable to login to your router then make a factory reset to restore default settings.
How to Factory Reset TP-Link Archer C20 Router?
Factory restore is a fail-safe option to restore default settings in case of login password forget.
The factory default option will erase all configurations so before make reset the router make sure you have all the configuration detail to set up again.
Step to Factory default C20 AC750 WiFi router
Locate a small reset button beside the Ethernet port.
Press and hold the reset button for 10-15 seconds using a small needle.
The wireless router will restart and after a few minutes try to access default settings again.
Final Word
Setup range extender mode in the C20 v4 router without changing operation mode is a good idea to turn Wifi router into a repeater mode. If you are facing any issue while connecting WDS mode from the C20 router then make sure the main router is configured with the latest security type and supports WDS mode. Also, check you are using the correct WiFi password of the main wifi internet to connect from the range extender. Hope WDS bridge mode will help you to set up TP-Link Archer C20 V4 Repeater Mode to boost the wifi signal.
Related Post