Cox Router Reset Complete Reset Guide
There are many reasons to make a Cox router reset either you forget the login password or the router not performing well as well as disconnection issues and other problems. Making Cox router reset a process to restore configuration to default factory configuration that needs to setup cox router again.
Resetting the Cox modem or cox router help you to fix many errors that usually interrupts WIFI connectivity, and internet speed as well as connect disconnect problem faced with the Cox modem. There are two ways to factory default Cox router and cable modem using the login method from the software and the second is making the Cox modem reset without login using the reset button. The hard reset method is usually helpful to reset the router password if you forget the password and are unable to login settings. A soft reset is useful if facing any connectivity problem, router rebooting, hanging, or any other issue due to any buggy firmware or long-running state of the router.
After the factory default cox modem or router, you need to configure it again as per internet settings. If you looking to soft reset Cox modem then you must need login settings to access router settings to perform the reset process. Follow the below steps to factory default cox panoramic wifi router and cable modems.
Factory Reset Cox Router using Reset button
If your cox wifi password change from the default login password and you forget the new password in this situation hard reset method is only useful to gain router access again.
Making a cox router hard reset is a quick way to factory default configuration to the default modem and need to configure the modem again as per your internet settings.
Follow the steps cox router admin password reset process using the reset button.
How to Reset Xfinity Router Or Modem
Power ON the Cox router to the DC adapter.
Locate a small reset button beside the Ethernet port.
Use a needle. Toothpick or pointed pen to press the reset button.
Press and hold the reset button for 10 seconds and release the button when the led light suddenly turns off and turns on again.
The Cox router will restore all configurations to default mode.
Then Cox router will reboot and takes a few moments to restore all settings.
Access cox modem again with default login IP and username and password and configure again.
If you have a configuration backup file just upload the backup file and restore the configuration backup to make a faster configuration.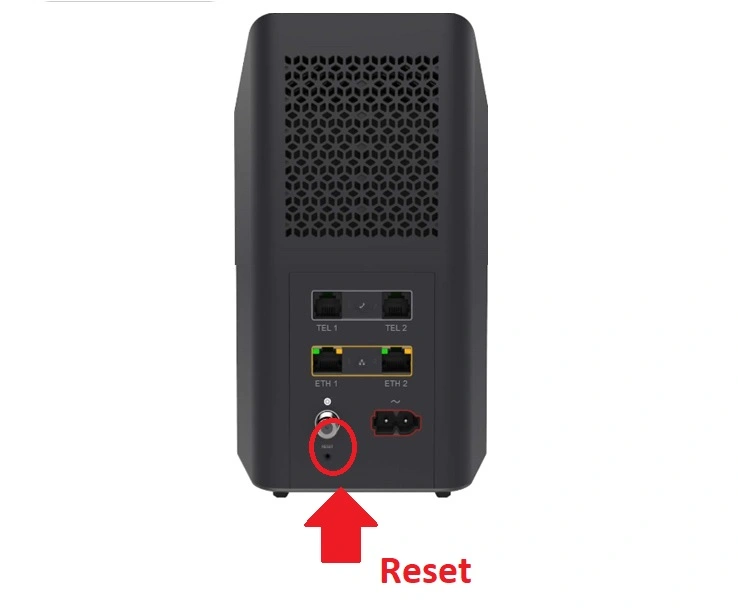 If you are able to login cox modem settings and just want to refresh the modem or facing any problem or error with the Cox internet modem then you can use the soft reset method to reset the configuration to default mode.
How to factory Reset Cox modem from Settings?
factory reset cox panoramic router from the web interface required to login settings and you need a cox modem login IP address along with username and password.
Find cox router default login settings printed to the router sticker as well as if you already change Cox router admin password use the same to access settings. Follow the steps to factory restore the router if forgot wifi password cox router.
How to Find Your Router IP Address
Connect the Cox modem to the power adapter and make it power on.
Connect the Cox router using wired from LAN port or WiFi using the default wifi name or wifi name you changed already with the new wifi password.
Access cox login IP address 192.168.0.1 to the URL bar.
Use Cox default login username and password printed to router sticker to login settings or use the changed admin login password if you already updated.
Go to the Reset button option from the Helpful tool option.
Press the Factory Reset modem option to reset Cox router to default mode.
The router will restart and take a few minutes to finish the resetting process.
After resetting Cox wireless modem and router you need to configure it again.
Another easy way to reset cox modem using the Cox My account. Login to your cox account using the username and password provided by cox during internet registration.
After login Cox accounts you can reset your modem also without accessing router settings.
This simple reset guide can use for resetting Cox router, Cox cable modem as well as Cox ADSL or VDSL modem to restore into default mode.
Related Post