Wow Compatible Modems And Routers Combo
 You probably need a WOW compatible modems or modem router combo either you are not happy with the existing Modem performance or might be your internet plan is higher but you not getting internet speed on WiFi or wired as per the plan.  
You need a best Wowway alternate modem if you want to upgrade your old WOW modem but want to buy own without requesting the WOW support team for an upgraded modem. The Wow internet plan starts from 15 Mbps to up 1.2 Gbps speed and each internet plan needs a different modem that is capable to deliver internet speed as per plan. 
There are many best WOW compatible Docsis modems to upgrade your internet plan as well as if you not getting stable internet connectivity. There are many brands such as Arris, Motorola, Netgear, Linksys, and many others that are compatible with WOW internet and perfectly support internet and voice service. 
While buying a new modem for WOW internet there are a few things to consider to pick the right modem for Wow internet as per the internet plan and requirement. You must know the service used by wow internet either only need a cable modem without voice service or need a modem with voice compatibility. Another thing to be considered is whether you already have a Wifi router or you need a modem with a WIFI feature or want to go with a router modem combo device. Find the list of best wow compatible modems in 2023 with a complete buying guide. 
List of Best Wow Compatible Modems in 2023
 There are many different brands modems compatible with wow with different prices and features to whether you want to upgrade your modem or downgrade due to disconnecting any services. We have sort listed some best compatible modems for wow internet that you can use for your internet service. 
| | |
| --- | --- |
| Modem Model No. | Price |
| Arris Surfboard SB8200 | BUY NOW |
| Motorola MB8600 | BUY NOW |
| Arris SurfBoard SB6121 DOCSIS 3.0 Cable Modem | BUY NOW |
| TP-Link N300 300Mbps Wireless N DOCSIS 3.0 Cable Modem Router | BUY NOW |
| NETGEAR Nighthawk Cable Modem CM1200 | BUY NOW |
1-Arris Surfboard SB8200 
 Arris surfboard sb8200 is WOW internet compatible modem that is also compatible with many other internet providers such as Cox, Xfinity, and spectrum. Arris SB8200 is a No WIFI cable modem that supports 2 2 Gigabit ethernet ports. You need a separate wireless router along with this modem to turn your wow internet to wifi internet. If you already using a different internet Wifi router and just looking for alternative cable modems that work with Wow internet than you can choose this modem.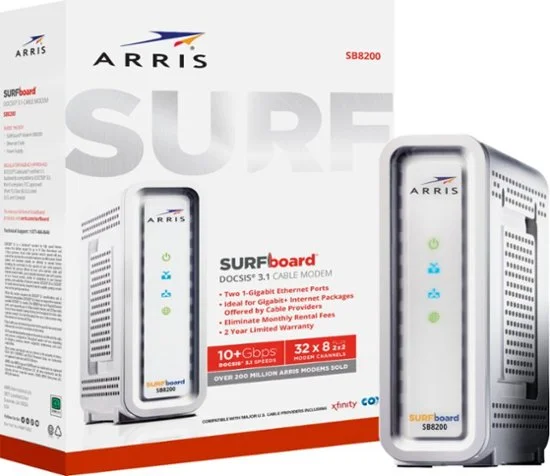 Arris SB8200 is Best for Cable Internet Speed Plans, Up to 1 Gbps and compatible with WoW internet service and supports DOCSIS 3.1 without WIFI and without voice service support. This modem is not for you if you looking modem with inbuilt wifi and voice service features. 
2
-Motorola MB8600
Yet another Wow approved cable modem is Motorola MB8600 DOCSIS 3.1 Cable Modem that recommended up to 1 Gbps internet plan. Motorola MB8600 Cable modem supports 1 Gigabit Ethernet port and 1 Cox port for cable connection. This modem does not support inbuilt wifi and voice service as well as DSL service.  
You can buy a WIFI router separately to connect with this modem. It supports DOCSIS 3.1 and DOCSIS 3.0 32x which gives you a faster internet experience for live streaming and online movies. Motorola MB8600 modem approx. market price $139.98 and can order from different online shopping sites. 
3-Arris Surfboard SB6121 DOCSIS 3.0 Cable Modem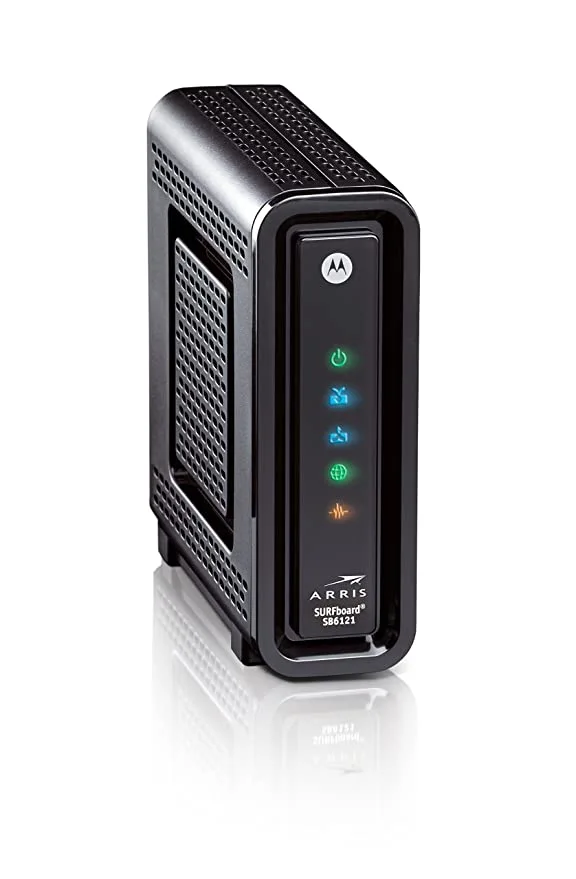 Arris SurfBoard SB6121 DOCSIS 3.0 Cable Modem is yet another wowway cable modem and compatible with wired internet without inbuilt wifi and voice services. It is a single Gigabit LAN port cable modem compatible with many leading internet providers. 
4- TP-Link N300 300Mbps Wireless N DOCSIS 3.0 Cable Modem Router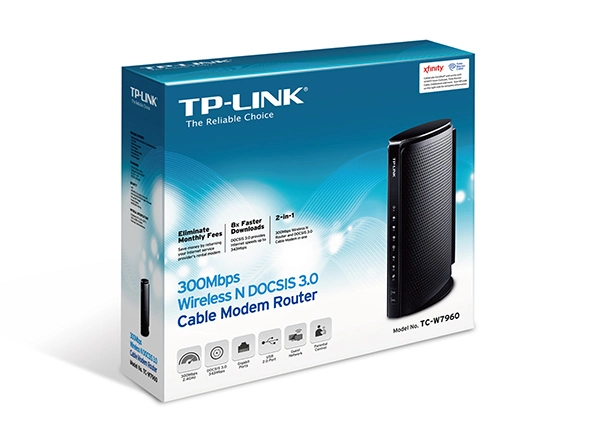 If you looking WOWway compatible cable modem with an inbuilt wifi feature then TP-Link TC-W7960 300Mbps Wireless N DOCSIS 3.0 Cable Modem Router supports up to 150mbps internet plan. It supports 4 Gigabit ethernet ports and 300Mbps Wireless speed with DOCSIS 3.0 Cable Modem Router/ 
If your WOW internet plan supports up to 150 Mbps speed then you can choose TC-W7960 DOCSIS cable modem with single band WIFI. You do not require any wireless router separately with this modem so you can choose TPLink Cabe modem with a WIFI feature. 
5- NETGEAR Nighthawk Cable Modem CM1200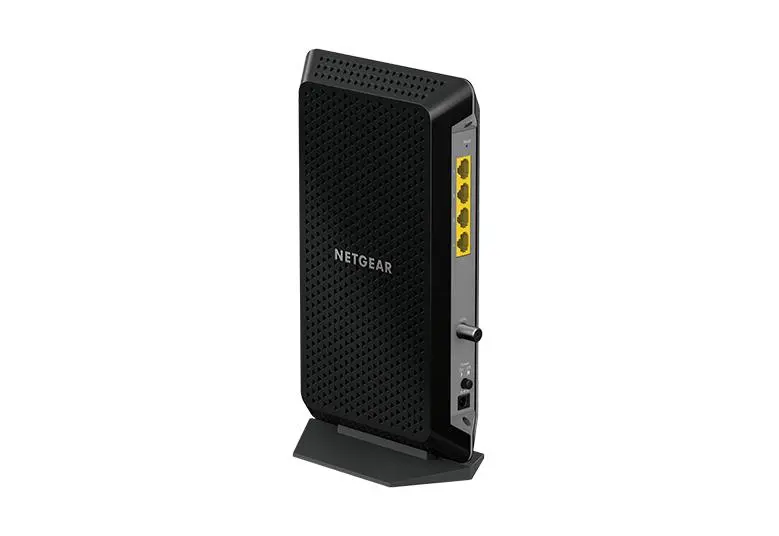 Netgear Nighthawk cable modem is another best option in the wow modem list that is compatible with WOW internet. Netgear CM1200 is yet another good option for WOW supported cable modem upgrade support up to 1 Gbps internet on wired. You get 4 Gigabit Ethernet ports with 1 coaxial port. If you looking modem without inbuilt Wifi that supports multiple Ethernet port then Netgear CM1200 DOCSIS 3.1 best modem for wow internet plan and is also easy to set up using nighthawk apps and direct web browser login. 
Final Words
 The above list of WOW approved modems and compatible with Wow and other internet providers. If you have any doubt about supported service as per your internet plan and want to make sure to choose a compatible modem than also confirm compatibility at the official cable modem website. 
Although there are many more cable modem brands and different models that work with WOW internet service with Wi-Fi and voice service inbuilt compatibility that can save your money to buy a separate wireless router. 
Related Post