How to Reset Ubee modem Password?
How to Reset Ubee router or How to reset Ubee modem both are same steps to reset modem either router. Running a router or modem longer time sometimes starts a problem or unstable in-network or frequent drops on the internet that need to refresh. The second thing is if you forget your login password or default login settings not working for the Ubee modem or Ubee router can be get accessed using the reset button.
If you are facing issues with WiFi connectivity, No internet, or limited connectivity issue with the Ubee modem or router and need to fix it without replacing the router then making a Ubee factory reset might fix the problem. There are two ways to factory reset the Ubee modem using the reset button as well as reset from settings. Hard resetting the Ubee router usually helps to restore settings if you forget the admin login password and can not log in to the web interface. Soft reset helps you to fix the issue that usually makes connectivity slow or the internet unstable. Follow the steps to reset the Ubee Modem with login and without login modem.
Factory Reset  Modem from the Web interface
Making settings reset to default mode is a bit lengthy method but quite safest. Ubee modem reset from the web interface also helps you to download configuration backup files so you can restore them post reset.
You need to connect a Modem either Wired or Wireless connection to the login web interface. If you have a Cable modem without WiFI support then use a LAN port to connect from a Desktop or Laptop.
Follow steps to factory default Ubee Router or modem from the web interface.
Power ON Ubee modem or Router using DC adapter.
Connect a LAN cable from the Ethernet port to dEsktop
For Ubee WiFi Modem or Router use WIfi to connect from a laptop or mobile.
Open the web browser and open Ubee default IP address http://192.168.0.1, http://192.168.100.1, 192.168.1.1 that depends on your Ubee modem or router model number. Locate the default login IP address and username password printed on the router sticker.
Use default username "admin" and default password "password" or random password printed to router sticker.
Go to the Status tab from the Top menu.
Status- User Default
Factory default- Allow you to reset the system-  Yes
Choose yes and Press to apply button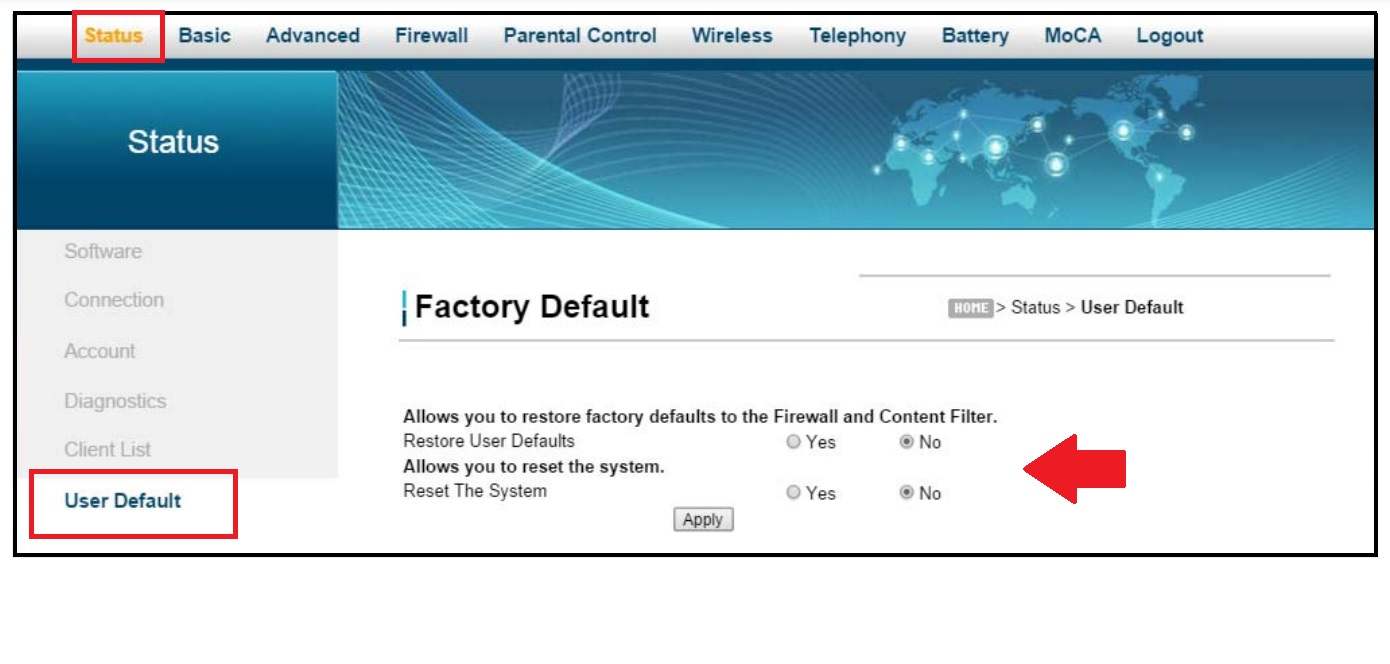 You will prompt to confirm the Yes or OK button.
The Ubee modem will restart auto after restoring settings and take a few minutes to restore into default mode.
After factory reset you can access the Ubee modem with the default IP address, username, and password printed to the router sticker.
Note: Before making modem to factory default go-to backup option and download configuration backup file to restore post reset router. This will save your time on the manual configuration of the Ubee modem after reset.
Yet another way to reset the Ubee modem using a reset switch that is available physically on the router. you can find a reset button beside the ethernet port or a small reset hole to push the reset button from the hole if lost Ubee modem access due to forgetting the password or other reasons.
How to hard reset the Ubee cable modem or Router?
Hard reset is a faster way to restore the configuration to default mode if you are unable to log in Ubee modem due to the admin password not working or forgetting. Hard reset is a physical process so you need to be near the Ubee modem to press the reset button to restore settings.
Power ON Ubee Modem with DC adapter as comes with modem.
Locate a small reset switch beside the Power button, LAN ports, or bottom side that depends on the router models.
Use any sharp-pointed needle or clip to press the button.
Press and hold the reset button for 10 seconds and then release the button.
Ubee Modem will restart automatically after completing the reset process and take a few moments to restore into default mode.
After resetting the Ubee router or modem you will be able to access with the default login IP address, username, and password as printed on to sticker.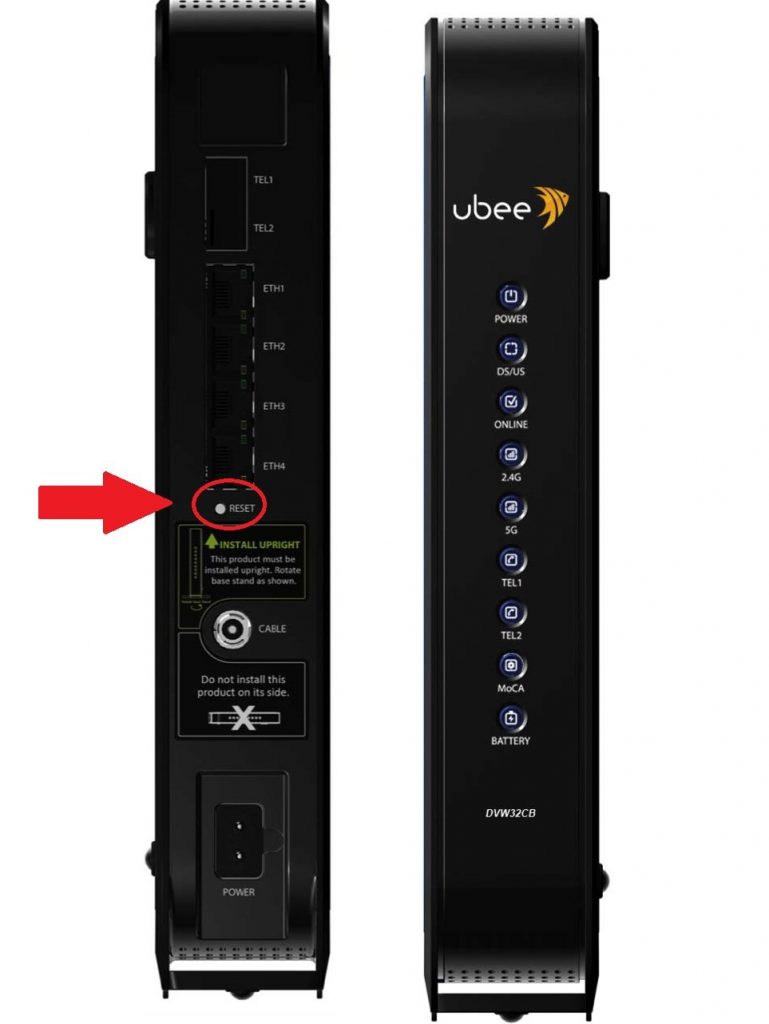 Use default Login settings to login to the Ubee router and restore the configuration backup file if you have download configurations before making a router reset.
This is a simple way to reset the Ubee router and Ubee modem with login or without login if you cant access settings.
Related Post