How to login Cisco WAP121 192.168.1.245 to change password?
Cisco WAP121 Wireless-N Access Point with Single Point Setup from mobile and computer for first time. Cisco WAP121 is a PoE-enabled wireless access point compatible with Cisco Small Business Gigabit Power over Ethernet Injector. WAP121 and WAP321 both Access point configurations are the same and support signal point setup as well.  This device supports multi wireless operation modes such as Access Point mode, WDS bridging, Client Bridge mode with single band 2.4Ghz Wireless.
To setup cisco, the WAP121 Wireless N device needs to connect physically wired from a computer or laptop to the login settings page. If you have Cisco WAP121 Wireless-N Access Point or WAP321 wireless N Access point and need initial setup before connecting in the network then this tutorial will help you. To login to the Cisco WAP series access point.
Cisco WAP121 Access Point connection
Cisco WAP access point support two input power methods either DC power from DC socket or PoE power from PoE switch. The WAP access point supports the 3af power standard so if you have a 48Volt power switch installed you can plug the Cisco Access point directly.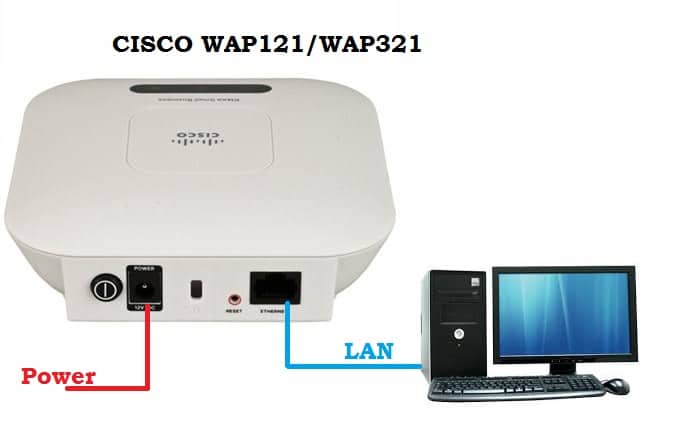 Computer LAN IP Address setting
You need to configure computer LAN settings to the same IP series of cisco AP default IP series.
Cisco WAP121 default IP Address 192.168.1.245
Default username – cisco
Password- cisco
Go to PC LAN network settings and use static IP configuration and configure 192.168.1.10 to PC/Laptop LAN network.
Login Cisco WAP121 Wireless N Access Point
To access the cisco access point login page open web browsers such as Google Chrome, Mozilla, internet explorer or any other.
Type cisco wap121 default IP address http://192.168.1.245 to the URL bar and press the enter key.
Use cisco wap default password and username as shown above steps.
Press the Login button to enter settings.

Wireless Name and password change
Wi-Fi password and name can be changed once settings are accessed successfully. To
cisco wap121 setup first time follow steps.
Go to Wireless-Networks
Virtual Access Points(SSIDs)
1: check the box.
2: Press the edit button to edit wireless settings.
3: Change the WiFi name for your WAP121 Access Point.
4: Select the WiFi password security key method.
Key- type the stronger alfa numeric key combination.
5: Press the Save button to apply settings.

WiFi configuration is done. Check WiFi signal showing updated wiFi name and Password for WAP121 AP.
After the WiFi setup changes the cisco wap121 ip address to avoid network conflict or unauthorized access of your Wifi access points.
LAN configuration Cisco WAP121 Access point
Updating LAN IP Addresses for WAP121 or WAP321 devices can be done from LAN settings.
Go to LAN- VLAN and IPv4 Address
Connection Type: By default, the Connection type is DHCP  so change it to Static mode.
Change the Static IP to the different IP addresses or different series as you want to use.
Change the Subnet mask and gateway and press the save button.
After saving IP configuration cisco WAP121 IP Address 192.168.1.245 not working so re-access the router page with the new IP address you have changed.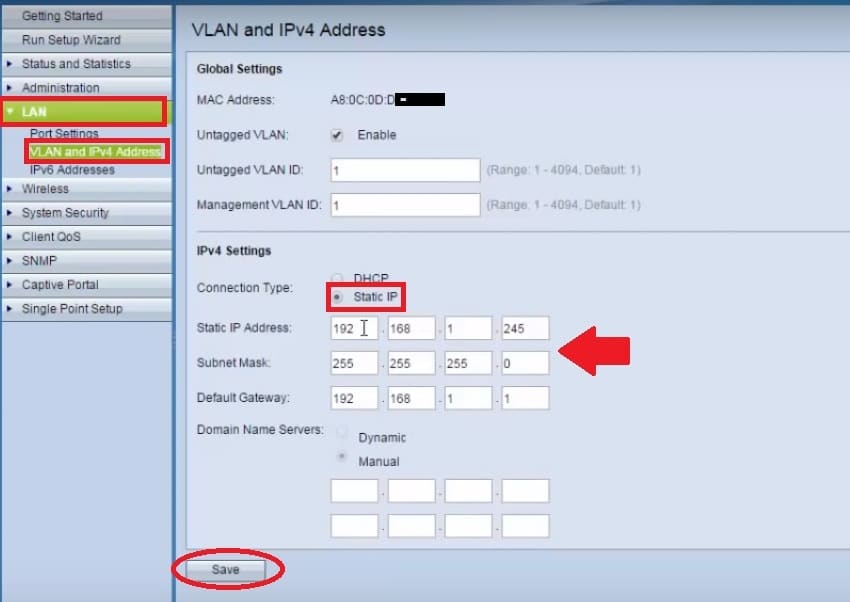 Router IP successfully changed now change Cisco Access point login Password.
Cisco WAP121 Login password Change
Updating the login password is the most important step of the cisco wap121 setup guide. Default setting easily can get from the internet so always change login password before connecting to live network. To change CISCO WAP321 or WAP121 Default IP address find the update account password option in the quick access menu.
Old password: provide the old password
New Password: type the new password you want to create.
Confirm password: confirm the password again to void miss-spelling.
Check password strength meter should be green to change strong passwords.
Press the Save button to confirm settings and log in again with the new password.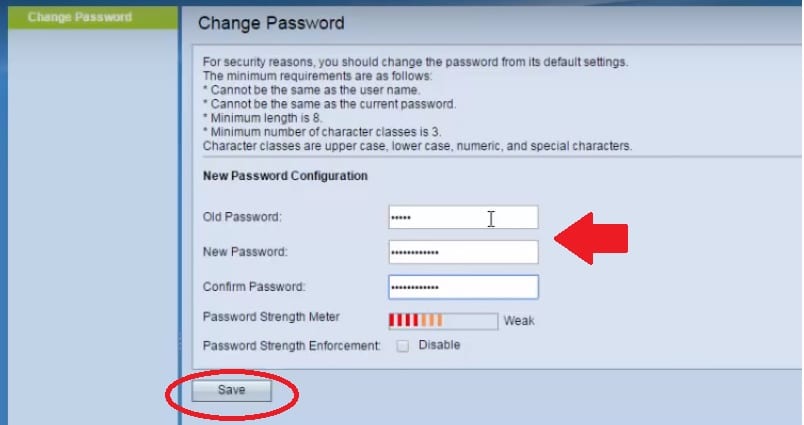 You can setup a mac access-list feature to limit the wireless clients to avoid access to unknown wifi users in your access points.
Related Post