Configure TP-Link Range Extender mode to extend the existing network in the no coverage area using wireless connectivity.
TP-Link WR743ND Range Extender Mode setup
TP-link TL-WR743ND v2 indoor WiFi router with 150Mbps Wifi speed. It is a home wireless router with 1 wan and 4 LAN port to connect wifi as well as a wired device. WR743ND wifi router can use as an AP router, Client router, WISP mode, and range extender mode to boost wifi signal. The best thing is TL-WR743ND universal repeater mode support with any brand wifi router in range extender mode to use an old router as a wifi signal booster.
However, TP-Link 150Mbps WiFi router set up in repeater mode using a web interface is a bit simple and works with any brand access point. You need to connect a physical LAN cable from the router LAN port to the PC LAN port to configure the wireless router as a universal repeater setup.
Login TP-Link WiFi router to setup repeater mode
Take a cat6 patch cord and connect to the WiFi router LAN port to Desktop/Laptop LAN port.
TP-link default IP Address is 192.168.0.1
Configure Desktop LAN IP Address to static mode 192.168.0.10.
Open Web browser and login router with admin/admin username password first time
After login router changes the Default IP Address to avoid network conflict.
To change IP address Go to Network- LAN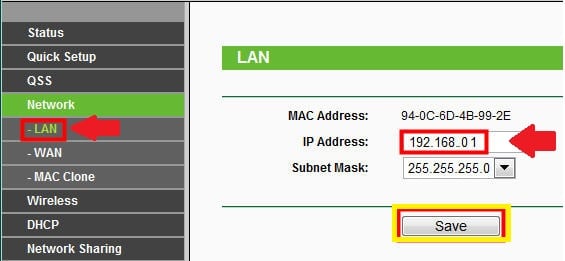 Change the default IP address to different IP addresses or use the same series using in main WiFi router.
Click save router will rebooting and open change new IP Address again and login router.
Change Router Operation Mode to Range Extender Mode
The first step is after the login router changes the router mode to the repeater (range extender mode).
Go to Operation Mode- Repeater (Range Extender) Extend your existing wireless coverage by relaying wireless signals.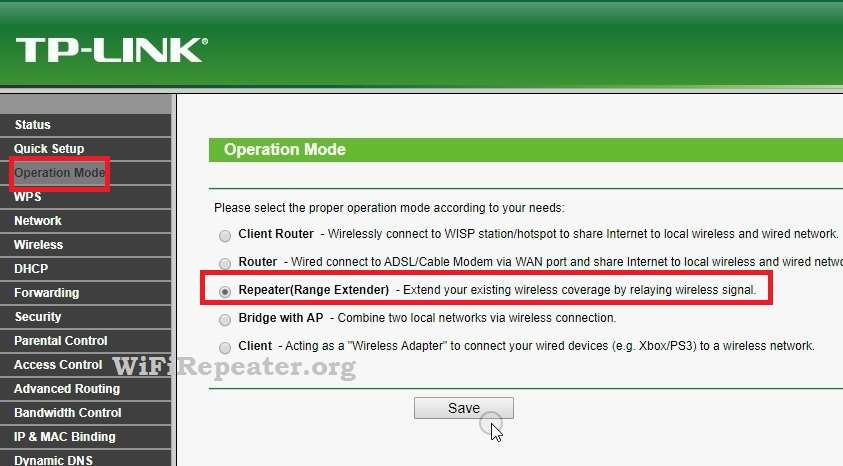 Click the Save button and wait until the router reboot finishes.
Connect Access Point from Range Extender router
Now go to wireless and scan for your main wifi router signals.
Repeater Mode – Universal Repeater (if your main wifi router is not TP-Lin brand)
WDS Repeater – if main Access point also TP-link.
Select Universal repeater and press Survey button are run scanning for networks running nearby.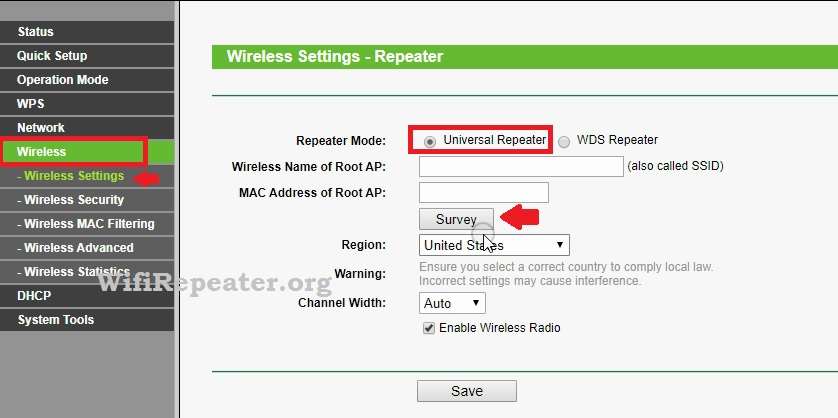 You will get a list of all wireless signals running near your repeater device.
Find your wifi name and press connect button to connection from range extender.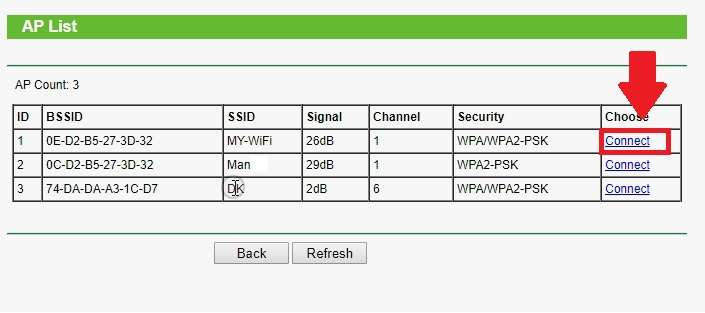 You need a Main Wireless password to allow connection from the repeater router. So make sure you have wifi password of the main wifi device you want to connect repeater.
After press, the connect button router will be back to wireless.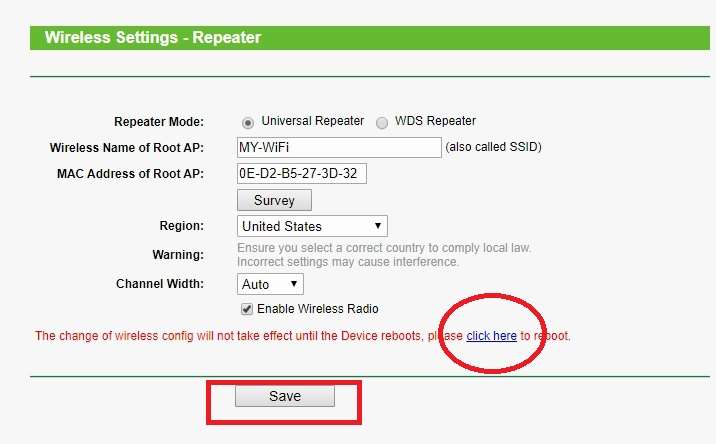 Press the Save button and red color notification will come to ask reboot router.
You can reboot the router selected in circle area or reboot router after configuring WiFi security.
Now set up a WiFi password to allow connection from repeater to the main wifi router.
Go to Wireless- Wireless Security
Select WPA/WPA2-personal recommended)
Password– give the Main Wifi router password.
If you main wireless router using WEP security type than select WEP option.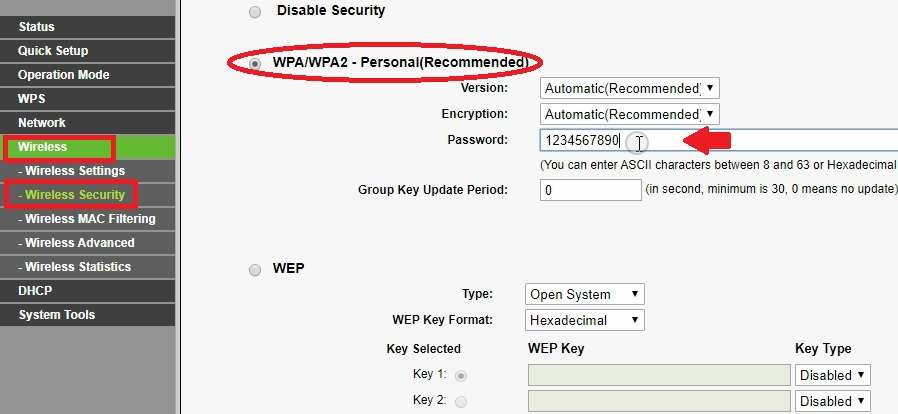 Press the Save button to the bottom and reboot the router.
You will get red color notification " The change of wireless config will not take effect until the AP reboots, Reboot options
reboot the device and wait until router reboots.
After reboot to confirm range extender connected to main WiFi router wirelessly check th traffic statics.
To confirm the range extender connection with an access point.
Go to the Status page
Check Traffic statistics– Received and Sent packet will increase when the refresh page.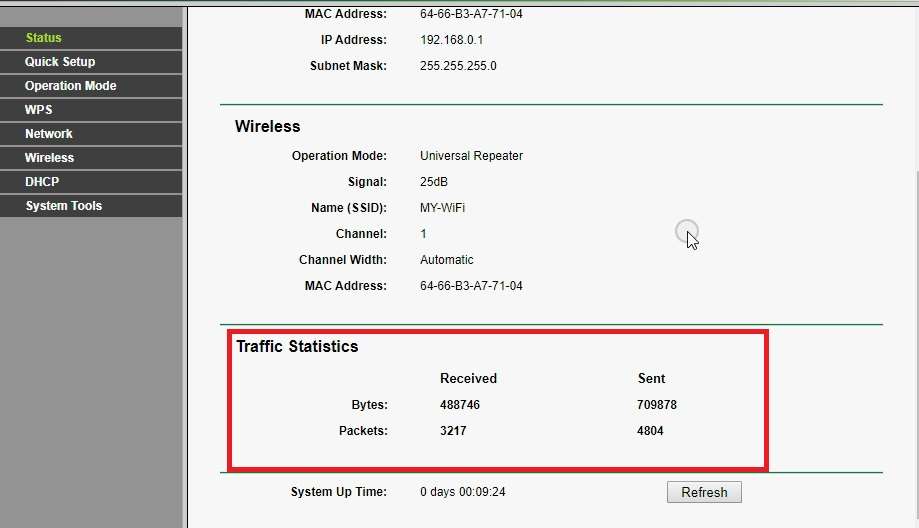 If you are getting received and sent packets it means repeater connected to access point.
To test the internet connect the mobile or Laptop using Wifi and check if the WiFi signal increases and internetworking faster than before.
Just place the range extender device in a proper place where Access points can get proper connectivity from the extender.
Download TP-Link WR743ND Latest Firmware
Related Post