How to use Range Extender as Access Point?
Wireless range extender device uses to boost Wifi signal in the dark area. WiFi repeater device extended an existing wifi network to no coverage area or low signal zone to repeat the same wifi network without changing the name. WiFi extender device work as AP and client at the same time to get internet from the host wifi router and broadcast with increased range. If you upgrade your access point with long-range WiFi router and range extender device not in use anymore. Every Range extender supports Access point and repeater mode so you can use any mode as per requirement. If you have spare tp-link re350 ac1200 wi-fi range extender, TP-link RE200, TP-link TL-WA860RE or any repeater mode you can follow this article to set up as AP mode.
This user manual will help you to setup tp link range extender device as access point mode to work as AP. You may always use the Access point device as repeater mode but a range extender device also can be used as access point mode.
Step to use TP-link Range extender as AP mode
The first step is to connect the repeater device using an Ethernet port from the PC or Laptop to login range extender device.
Connect Range extender Ethernet Port to LAN cable from PC/Laptop LAN port to configure as AP mode.
Power on range extender device and follow steps to log in.
Once your desktop or laptop LAN connected to the repeater Ethernet port now configure PC LAN IP address to the same series of extender default login IP.
You can find default login IP address and username password printed to device sticker and a quick user guide comes with box.
TP-link Range extender default IP – 192.168.O.254
Username: admin
Password: admin
Configure PC LAN network IP as static mode and use 192.168.0.100 for manual IP.
Save LAN settings and follow steps to access repeater settings page.
Login TP Link Range extender
Use any web browser such as Google Chrome, Edge, Mozilla, Opera and anyone.
Access http://192.168.0.254 and wait to load login page.
User default login settings to authenticate and access control panel of repeater device.
Note: If login IP address networking then try factory reset extender device to restore default settings.
Change Operation Mode to Access Point
After successful login now change the operation mode from range extender to Access points.
See the top option for Change Mode settings.
You will get options to change mode to AP mode as shown below image.
Select Access Point Mode and press OK button.
Confirm final pop-up confirmation and wait until device changing mode and rebooting.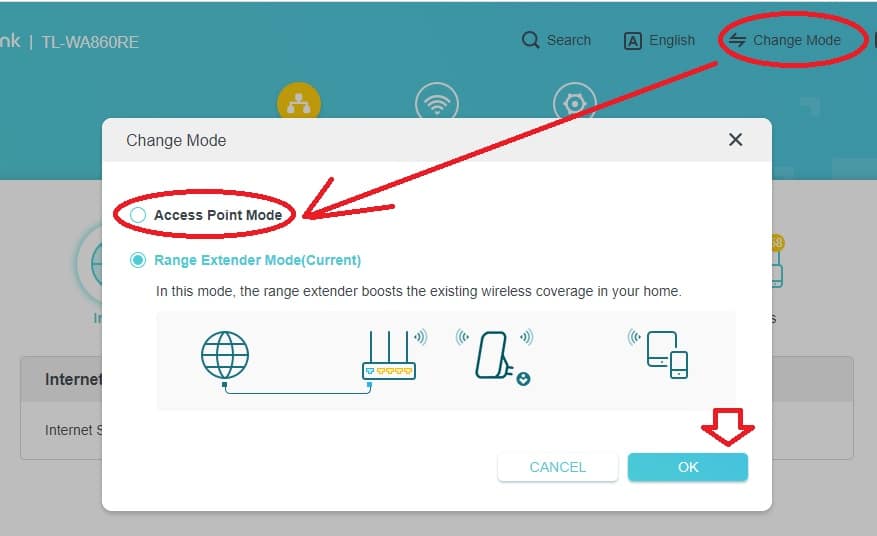 Once mode changed now setup access point settings to customize settings as per your choice.
Change WiFi SSID network name
Go to Wireless option
Host Network: Enable
SSID: TP-Link_WIFI (change wifi name as per your choice)
Security : WPA/WPA2-Personal
Password: Set Password for Wifi.
Channel– 1
Mode: BGN mixed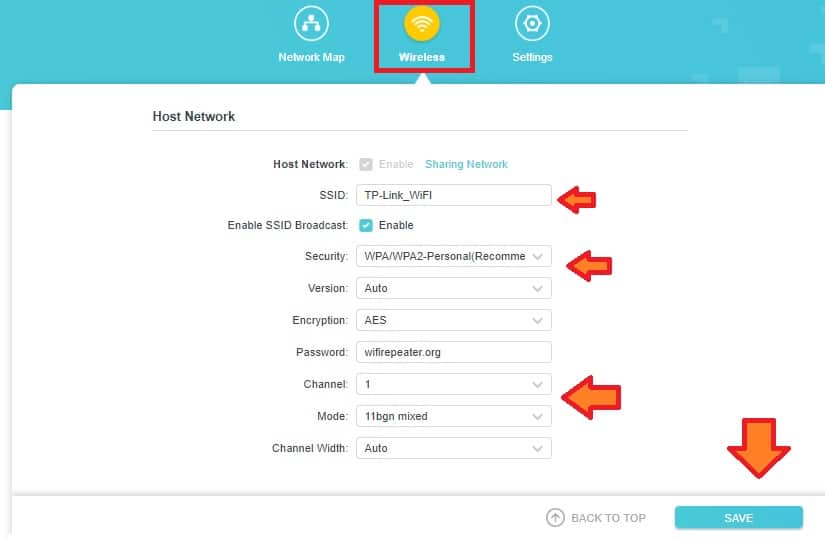 Save settings and check from mobile and laptop wifi new WiFi name showing.
If in network already TP-link wifi access point using than must change default Login Ip address for range extender device before connecting to internet.
192.168.1.1 How to login 4G hotspot router?
Change LAN IP Address
Every router device configured with same default IP address so highly recommend to change Login IP address before connecting to network.
Go to settings option-  Network
LAN settings:
IP address: 192.168.0.254  ( change this IP Address to different series or different IP from same series.)
Subnet Mask 255.255.255.o.0
Gateway: 192.168.0.l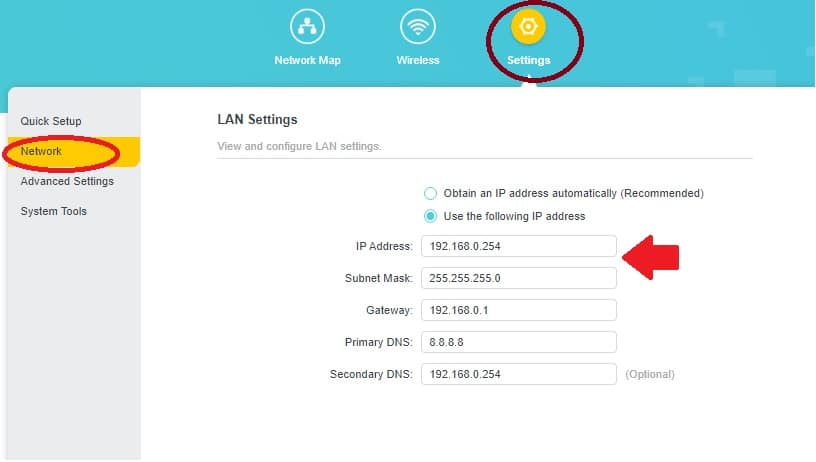 Save settings and access router with new Lan IP address.
After LAN configuration always change default login password to protect your network from unauthorized access.
Change Login Password
Change login password from system tools under settings.
Settings- System Tools- Change Login Password
Old Password: admin (defaults admin, if you already change use same as old password)
New Password: create a stronger alga numeric password combination.
Confirm new Password: type login password again.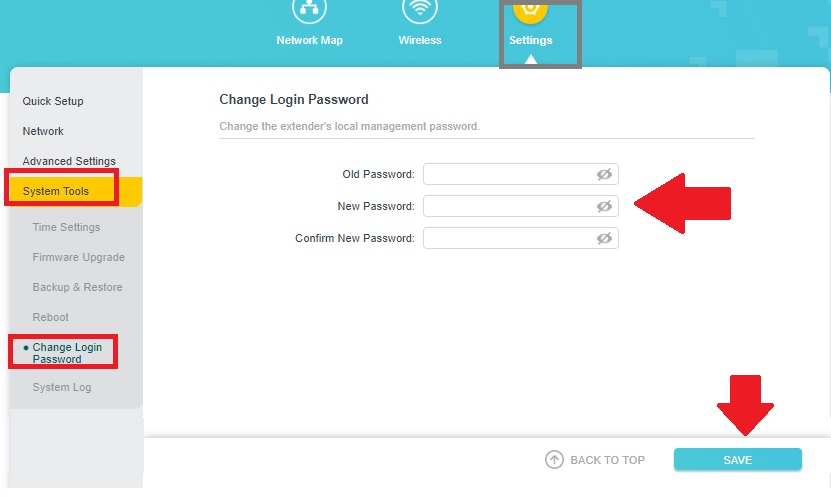 Save settings and logout range extender settings.
Login again with new password to confirm password successfully changed.
Connect Range extender to Internet
After configuration of range extender device as AP mode unplug LAn cable from PC LAN and plug into modem or internet switch as shown below image.
Check from mobile or laptop new wifi name working with internet.
If internet should work and your range extender device work as a Wireless access point mode to connect wired connection.
This method can use only if range extender device should at least one Ethernet port for input internet connection. You can try this method or any brand range extender such as Dlink, Netgear, Linksys, Tenda and many other brands.
A simple way to turn range extender device into the access point. Range extender device always depends on the wifi connectivity quality with host ap but when AP device connected to wired connection it will give you better speed and performance than a range extender device.
Related Post