Anycast Setup and Anycast dongle review
It is possible to use a 4K ultra HD display employing the SmartSee Anycast HDMI wireless display adapter, which supports 4K ultra HD displays. You may use it to link your mobile phone to your television and turn it into a smart TV. You may easily stream HD movies or 4K videos to your tv and enjoy them. Before buying an Anycast dongle you want to get some reviews from users who are already using it to buy a proper device after buying you need a manual for Anycast setup for hassle-free installation. This article includes Anycast review that helps you pre-purchased to buy the best device and post purchased Anycast Dongle setup.
With this assistance, you will be able to see the Android mobile function on your television. Using Anycast, you can monitor your mobile phone from the comfort of your own home. There is no need to watch the telephone alone; you can watch it with your family and keep your hands free. The SmartSee Anycast HDMI dongle offers worldwide compatibility; it fully supports Airplay, Miracast, and DLNA protocols. It is compatible with iOS 9.0 or above devices, Android 5.0 or higher, and the Macbook series.
Anycast HDMI has many applications, including watching with colleagues in a conference while mirroring the screen to the projector, sharing PPT, email, documents, and other stuff wirelessly. View the information with the students in class on the large screen, and the instructor may only share it on rare occasions. With the HDMI wireless display adapter, you may wirelessly show footage from your smart TV on another device, such as a television.
SmartSee HDMI Anycast WiFi Dongle Reviews
Anycast HDMI dongle is a fantastic and quite helpful piece of equipment. The Anycast's design is flawless, yet it is constructed entirely of plastic. This gadget has the appearance of a Google Chromecast. A USB port is located at the bottom of the wireless dongle, used for both power and wireless communication.
With the anycast, you can easily transform your television into a smart TV. On a large screen, you can smoothly access all of your mobile phone's features. With the included power adapter, the anycast HDMI dongle WiFi is easy to set up and trouble-free to use. Simply connect the power adapter to the dongle and enjoy the dongle's functionality.
The Mode button is located on the side of the WiFi Dongle and allows us to choose between Mirroring and Streaming modes. A wireless receiver, which is linked to the micro USB cable, is included with this dongle. It will enable you to connect your Anycast Dongle to your router through the wireless receiver.
The Anycast setup is simple; just download and install the EZMira software on your smartphone quickly and follow the on-screen instructions to complete the process in minutes. As a result, the Anycast wireless dongle is an incredibly convenient and excellent solution for your television.
Manual for the Anycast SmartSee HDMI wireless dongle
The anycast HDMI wifi dongle enables you to stream videos, music, and movies to your smart TV through the internet via a wireless connection. If you are committed to using this wireless dongle, you should double-check all pertinent facts concerning the device. The anycast WiFi dongle user manual contains comprehensive instructions for setup Anycast Dongle on how to use the device on non-smart TV to turn it into smart Tv.
If you have any concerns about connecting anycast HDMI dongle to a laptop, how to use anycast HDMI wifi dongle, and other topics, this handbook is the best and most fantastic resource you will find. The anycast handbook has all of the necessary answers to all of the pertinent queries.
How to Setup Anycast Device to TV
Anycast casting wireless dongle lets you turn your nonsmart tv into a smart TV by casting your phone to TV to enjoy your favorite apps and movies streaming to a big screen. You need to install and connect Anycast Dongles to a wireless network so you can enjoy online streaming and OTT platforms. follow the steps below to configure anycast device using the EZmira app from your smartphone.
Steps to connect and setup Anycast device
1: Unbox your Anycast device and get 1 Anycast Dongle and USB cable for Power On anycast.
2: Connect Anycast to HDMI port available on your TV, Projector, or Monitor.
3: Connect type-A USB port to an external 5V/1A Adapter or USB port to power on anycast dongle.

4: Use your TV remote and select source to HDMI port number which anycast Device connected from HDMI1 or HDMI2 port if multiple HDMI ports.
5: You will get Anycast setup instructions on-screen with a QR code to download Apps on smartphones.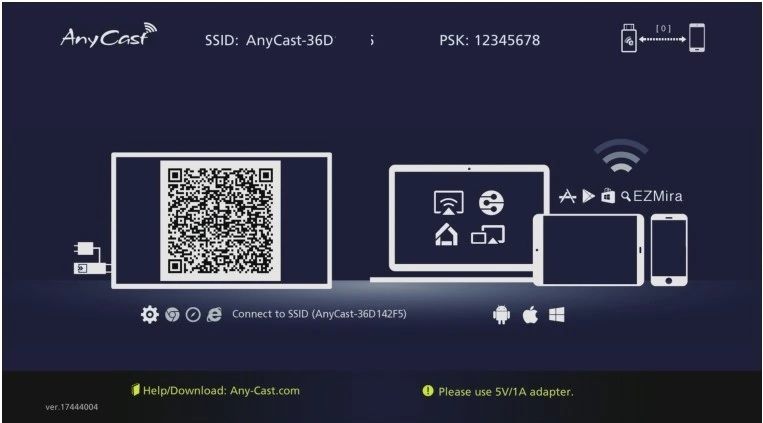 6: Download the EZmira app on your Android or iPhone.
7: Open EZmira App and Scan QR code showing on the TV screen to connect with Wifi.
8: Tap the Done button after Anycast connected with the phone and using Anycast Wifi. Now connect anycast to your home WiFi internet.
9: you will automatically pop up the page for connecting anycast to WiFI.
10: connect your Home Wifi SSID name and provide a WiFI key to connect Anycast HDMI dongle to the internet.
11: After connecting any cast to Wireless internet you can enjoy casting your phone and other cast devices.
Note: If Anycast Not connecting to WiFi internet because the Wireless setup page does not popup automatically just follow the steps to connect Anycast manually.
How to connect Anycast to WiFi manually?
You can use this method if the EZmira app, not pop up the wireless setup page automatically and gets an error such as anycast waiting for connection while connecting anycast HDMI dongle to the internet.
1: Connect the phone to Anycast SSID showing on phone wireless. (Anycast default SSID and WiFi password show on a TV screen with instructions.
2: Open a mobile browser and access Anycast IP address http://192.168.203.1 and wait to load anycast page.
3: Tap the Internet option from the menu list and select your WiFI SSID and provide a Password to connect anycast device.
After connecting with the internet your Anycast device is ready to mirror an Android phone as well as iPhone to share the screen with a TV.
How to Mirror Android using Anycast?
To mirror Android devices to the TV you can either use the EZmira app or Miracast to share phone screen to TV screen. Follow the step guide to mirror Android to TV.
1: Download EZmira App and open it.
2: Scan QR code showing on the TV screen and connect to Anycast Wifi SSID.
3: After connecting with anycast WIFI Go to discover from the EZmira app.
4: Tap the mirror icon from the top right corner and select start now to mirror android tablets or phones.
Related Post