Centurylink Router Login IP And Username Password
How to log in Centurylink router is the most asked question over the internet and Centurylink router login is not a big job either you are a tech expert or beginner. Centurylink router login needs to set up and manage settings that make your WiFi internet more secure and problem-free. Although Centurylink default login settings are printed to modem stickers Centurylink routers are from different brands such as Technicolor, Arris, and Motorola. You need to have either a wired or wireless connection to log into CenturyLink router web interface from a computer or mobile device.
However this CenturyLink login guide covered each step but you must be physically reached to the router to access settings. Take your CenturyLink router and find the default login IP address, username, and password printed to the sticker or you can find it below. login to Centurylink router takes a few minutes so make sure while making changes to router settings there is no important work or upgrade working going on that can hamper due to update settings.
Default Login Username and password
Century link Admin username and password can different for each router model and brand so better to get login username and password printed to router sticker as shown below image.
Default IP address – 192.168.0.1
Admin Username- admin
Admin password- HAdsee7j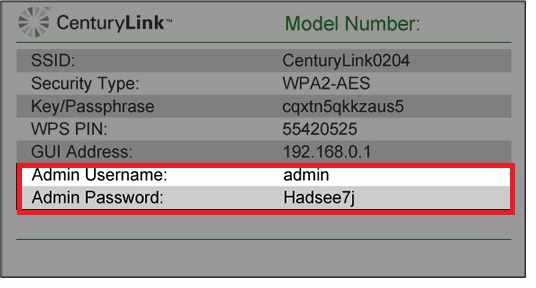 Note: Admin Username and Admin password might differ for each centurlink router model so make sure you get login credential as printed to router sticker.
 Get router login settings and follow further steps to access router settings using default settings.
Steps to login to Centurylink router
You can log into CenturyLink modem or router either wireless or wired LAN connection from Ethernet ports. Default SSID and password printed to Centurylink modem sticker for first-time access and password should change during the first-time login.
Connect Modem/Router with DC power adapter included with the device and turn ON.
Scan mobile/Laptop for Centurylink default SSID and connect using default security key/passphrase available on sticker.
Use a standard LAN cable to connect from Ethernet port to Desktop/Laptop LAN port.
Go to Windows/Mac os/Linux network settings and use DHCP option to get IP from the Router DHCP server.
Open a web browser and access http://192.168.0.1 century link IP address to the URL bar and wait a few moments to load the login page.
Provide Admin username and Admin password as given to your router login settings detail and press Aplly button to log in.
Once log into the modem o router control panel you will get the menu for Status, Wireless settings, Network settings, and advanced settings. If you still using default SSID and Password for your WiFi then first update Wireless settings to protect your wifi network.
How to Change Cunturylink WiFi Name and Key?
Default CenturyLink wifi password reset and change with new Key and SSID is important to secure your WiFi network. Modem configured with default WiFi name and password that information also printed to sticker so its always recommended to update during first-time login.
Go to the Wireless Setup option from the Advanced setup icon.
SSID Setup – Select the SSID network name
Choose the SSID you want to change WiFi name from the list.
Set the SSID Network Name
Network name- Change the new WiFI name here.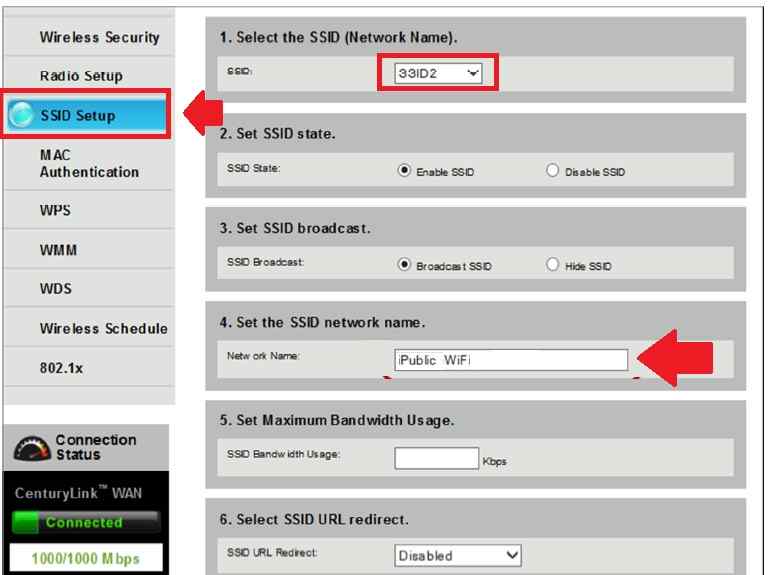 You can also set Maximum bandwidth usage for each SSID and redirection of URL.
After the update, the WiFI name press Apply button from the bottom to save settings.  After the WiFi name update you will be disconnected from the router if using a WiFI connection to login the router. Connect again and follow steps to change the century link password.
Change Wireless Key/Passphrase
To update the WiFi password its comes under the same Wireless setup option from the Advanced menu.
Wireless Setup- Wireless Security
Select SSID – choose SSID name from the list you wish to change WiFI security key
Select Securty Type- WPA-WPA2  Personal
Select encryption Type.- AES
Enter Security Key/Passphrase- create a new WiFI key as per your choice for your wifi network.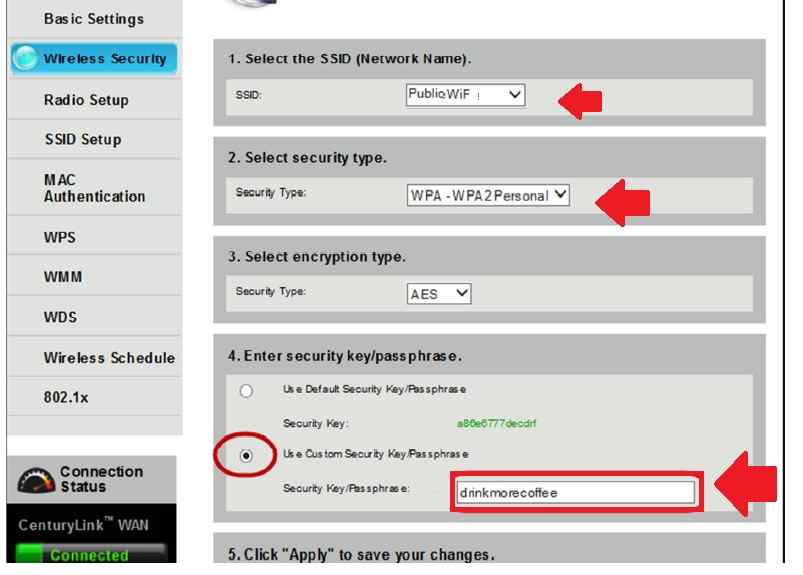 Click "Apply" to save your settings and wait to update settings and new WiFI name and password showing in wireless.
If you facing any problem while trying to login Centurylink modem or Wireless router and failed to access router settings subject to fix the error using troubleshooting steps.
CenturyLink Login IP Address Not Working
If you are getting an error page or site can't be reached while accessing CenturyLink login IP address from browser seems network change or another configuration issue. Follow steps to fix IP not working error.
Make sure you are connecting to the router LAN port if using the wired connection.
For Wi-Fi connection check if you are connected to the same router WIFI network.
If trying to login already configured router make sure default IP 192.168.0.l has already not changed with a different IP address.
While using the Ip address to URL bar it should be proper http://192.168.0.1 or 192.168.0.1 only. Avoid typing mistakes such as 192.168.l.0, 192.168.o.1 or 192.168 0.1 all wrong IP addresses will lead to an error page.
If you are still not sure about configuration changes you can factory reset Centurylink router using the reset button.
Factory Reset Arris Modem and Router
CenturyLink Admin Login Password Not working
If you are able to access the setup login page but can't log in due to the wrong username or password error.
Make sure you are using the default admin username and password printed to router sticker if accessing the first time.
If you getting a password error for an already setup router use the admin password changed during the first time setup.
If you forget the password and want to reset the password you can use the reset switch to restore admin login settings to default mode.
You can also contact Centurylink support center to get brief support to reset login passwords without making to full factory default.
Final Word
A simple easy Centurylink router login guide that helps people to access their router settings and speedup wifi network with ensuring wireless security. If you still need any help that not covering in this guide just drop a mail and feel to ask any doubt like how to reset the Centurylink router, How to set internet speed for WiFi users, and how to change the Administrator passwords, and many more.
Related Post