Best wireless VPN routers for access private networks over the public. choose the Best VPN Routers with wireless and firewall.
Best VPN Routers Hardware for Home and Corporate Network
VPN (Virtual private network) extends a private network across a public network. It allows users to access private networks over public networks using a safe virtual tunnel. To setup VPN router in the network lot of third-party VPN software available which creates VPN in Windows pc to access the private network using the internet. To use VPN network for all the user in the network need a router VPN to set up VPN configuration which. There are some free VPN services available that allow you to access a private network for a single PC user or Mobile user. You need a router with VPN  device to set up a VPN network for multiple users.
The best VPN Wireless routers are available with many leading VPN brands which provide the feature and a secure way to access private network using PTP VPN tunnel. What is the Best VPN router in 2020 to use for home and official use? This post will share a checklist with the best brand VPN router hardware in 2021 for corporate networks and personal networks. Enjoy the list of fast and reliable VPN routes to work as a small business VPN router and corporate VPN router.
The benefit of Using VPN
Before exploring the best VPN brand router in 2021 with model know the advantage of VPN network for corporates and personal use. Using a VPN network has an advantage and also some disadvantages.
Access Private Network to any place using VPN service.
Surf the internet anonymously without sharing details with the ISP.
Access blocked website sing VPN network and Bypass Restriction in the local network.
Increase network security with VPN service to create a secure private tunnel.
 The Best WiFi Range Extender Device to boost Signal
List of Top VPN Routes for Corporate and personal network
List of best routers with the VPN server and VPN client feature that let you create a secure VPN tunnel so you can keep connected to a private network even moving to a different network.
Cisco RV320 Dual Gigabit WAN VPN Router
Zyxel USG 60W Unified Security Gateway
D-Link DSR-500
FVS336Gv3 – ProSAFE Dual WAN Gigabit Firewall with SSL & IPSec VPN
Linksys LRT224 — corporate
1: Cisco RV320 DUAL WAN VPN  Router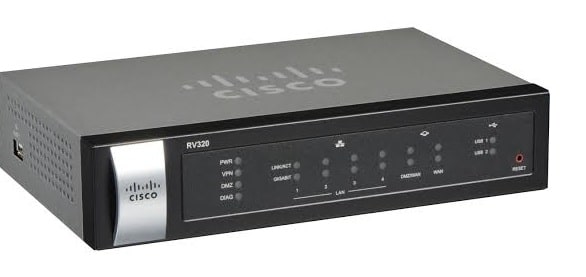 Cisco one of the leading and trusted brands in Networking products and Routers. CISC RV320 is a DAL WAN best router for VPN with supported bandwidth load balancing and other security features. RV320 VPN router allows you to manage multi internet bandwidth using dual-WAN and set up a VPN tunnel to create a secure VPN network for home and corporate networks. Cisco VPN router support High-capacity, high-performance, SSL, IP Security (IPsec) VPN capabilities, and RV320 has a Built-in 4-port Gigabit Ethernet switch.
Dual Gigabit Ethernet WAN ports for load balancing to keep your network always up in case one internet line goes down. RV325 multi waN VPN router gives you a failover feature to avoid any downtime if using more than one internet line.
2: Zyxel USG 60W Unified Security Gateway
Zyxel USG60W yet another best router with VPN in 2020 for home and corporate networks. Zyxel budget routers with vpn support without investing too much money.
Cisco VPN and Zyxel VPN always price differently but Zyxel also a good alternate of Cisco RV320 VPN router to go with cost-effective solutions. Use the Zyxel VPN router to create multi-location private network access using a VPN service. VPN network makes it possible to get to encrypt your data, and even access region-restricted websites and remain anonymous online.
Zyxel USG VPN router support content filtering feature lets you block non-business-related websites like Whatsapp, Instagram, YouTube, Facebook, Netflix, and others. ZyXEL USG 60W comes with a wireless feature which makes it the best wireless router for VPN and network security. It is an all-on-one solution for Wireless, VPN service, and Firewall security feature for any type of network. The ZyXEL USG 60W price in India is approx. IRN 27K  and $400.
3-D-Link DSR-500

D-Link another well-known popular brand in networking products. It is the best budget VPN router for home and official network VPN solutions. D-Link DSR Series VPN Routers is multi Ethernet and Dual Gigabit WAN router. It is a multi solutions router-supported web authentication captive portal for secure internet login. DSR-500 supports popular security features such as local database, RADIUS, LDAP, Microsoft Windows Active Directory, NT Domain, and POP3 server. Connect two internet lines at the same time with dual-WAN port and keep load balance and failover.
D-Link DSR Routers support Secure Sockets Layer (SSL) VPN tunnels, as well as Generic Routing Encapsulation (GRE) tunnels, Site-to-site VPN tunnels use IP Security (IPSec) Protocol, Point-to-Point Tunneling Protocol (PPTP). It also supports OpenVPN which allows the user to connect a private network to the corporate office via encrypted links with their PC, laptops, or mobile devices.
Download D-Link VPN Router Datasheet.
4: FVS336Gv3 – ProSAFE Dual WAN Gigabit Firewall with SSL & IPSec VPN
Netgear ProSafe Multi WAN Firewall and VPN router is another best option to create a VPN network different office intranet. Prosafe is a firewall as well as a VPN router to protect against outside attacks as well as connect VPN networks to access the private networks of different branches. NETGEAR ProSAFE VPN Firewalls provide both secure IPsec site-to-site tunnels and IPsec secure access for remote clients and also support client-less SSL VPN as well as secure L2TP and PPTP connections.
Netgear Prosafe VPN router is a multi-solution router which supports bandwidth management and content filtering feature to restricted non-business website to increase productivity.
5: Linksys LRT224 — corporate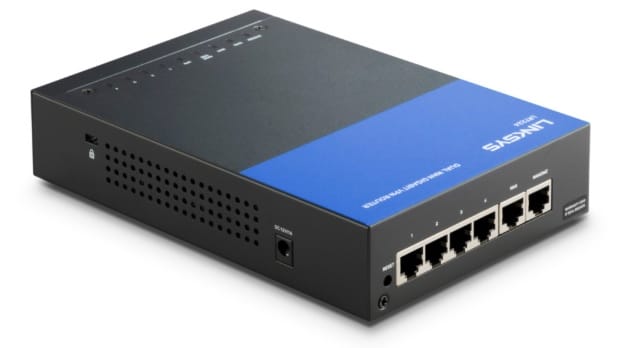 Linksys LRT224 is a corporate-level VPN router to connect a large size network to access a Virtual private network over multiple offices. LRT224 is another best VPN hardware router with Dual WAN Business Gigabit and security features. DUAL WAN lets you connect multiple internet lines to configure load balance and failover. It supports OpenVPN and integrated firewall features to let you allow or disallow websites and apps not useful in the network. Linksys VPN router supports port forwarding, firewall feature, and remote management as well as bandwidth management feature to manage internet plan in a proper way.
Linksys LRT224 corporate dual wan load balancing routers that support VPN features and other security features to keep run networks without a problem. Looking to connect your private network into different locations using a VPN tunnel than Linksys will help you to create a secure VPN tunnel to access the intranet.
The Linksys LRT224 Dual WAN gigabit router price in India Approx. 18000 with different e-commerce websites.
Final Word
Virtual private networks are best to access intranet into different locations using VPN router and connect multiple office private networks together. While choosing the VPN router must understand security features supported by the best VPN routers and firewalls before picking. Using multiple solutions router will allow you to manage bandwidth, multiple internet connections, load balancing, website block, and captive portal web authentication to keep the secure network and avoid any downtime. always go with the best router with a VPN server as well firewall feature supported. Pick a Best VPN Routers with wireless that full fill your requirement and fit your budget.
Related Post