Nextbox Wifi Extender Setup User Manual
Login and setup manual for NEXTBOX WiFi Extender 1200 Mbps Dual-band Signal booster device is a simple and DIY process. Nextbox signal booster lets you boost the existing Wireless range in a dark area without changing the wiFi name and does not require a physical wired connection. Although Nextbox wifi extender setup instructions provide a small quick user guide included with the Extender device box but sometimes it's hard to understand manual steps so you can follow steps here. The next box WiFi signal booster is almost compatible with all leading brand's access points and wireless routers. If you facing a wifi range problem and looking for a wireless signal booster that is compatible with your existing wifi router then just read Nextbox WiFI extender reviews on different online shopping sites to understand how it works.
Nextbox WiFi range extender works with multiple devices such as Mobile, PC/Mac PC, Alexa, smart bulb, smart camera, Game console, and many other devices that wifi enabled. You can fix WiFi signal issue without laying a wired cable from the host router with the Nextbox Extender device that lets you connect a wireless bridge between the router and extender device and gives you an extended network range.
There are two ways to setup the next box WiFI extender device to connect with your host internet router. One and fast way is set up using the WPS method and the second way is the login method that required a physical or wireless connection with the device. Just unbox the Nextbox WiFi extender device and follow the steps to configure it the first time.
Setup NextBox Range Extender With WPS button
Next box WiFi extender setup using WPS button is the faster and easy method. This method is simple for a nontechnical person and completely DIY process. If you have a dual-band WPS-enabled wireless router or legacy single band WiFi router with WPS feature just follow the below steps to connect Nextbox WiFi repeater with your host internet router within a few minutes.
Verizon WiFi Extender Setup To Boost WiFi Range
Unbox Next box repeater unit from the box.
Plug to a power socket near the host Wifi router for configurations.
Find the WPS button on the WiFi router and press the button for 2 seconds and release it.
Within 2 minutes go to the Range extender device and press the WPS button.
Wait a few moments and see range extender WiFi Led light will start glow after establishing a connection with the host WiFI router.
Go to WiFi from mobile or laptop and check you will get extended wifi SSID. Use the same wiFI password as the old WiFI to connect the extender SSID.
Once the Nextbox repeater is connected with the existing WiFi router unplug and relocate to the area, you are facing a low wifi signal coverage problem.
This is a Fast and easy manual to connect the Nextbox range extender device with your wifi network without changing the wifi name and password. This process may take 8-10 seconds to complete the setup of the Nextbos signal booster device.
If your WiFi router does not support the WPS button or the Next box range extender does not connect with the WPS button then try the second method using the web interface.
How to Setup Nextbox Signal booster from a Web browser?
Setting up a wireless repeater using a web browser is also simple but it's a lengthy process that required connection from Range extender device to computer or mobile. Although you can use a mobile device to connect the next box using wireless as well as a computer or laptop if you want to use a wired connection to setup a repeater.
How to Find Your Router IP Address
Connect Nextbox extender to a power socket near WiFi router.
Go to mobile or Laptop WiFi and scan for the network. Connect with Nextbox_5X_EXT (or use 2.4G if laptop or mobile does not support dual-band.
For Wired connection use LAN cable from Nextbox Ethernet port to PC /Laptop LAN port.
Open the web browser and access Nextbox login IP address http://192.168.0.254 or login URL
http://Re.nextbox.home to access the range extender settings page.
During the first time log in you will get the option to set the extender's admin password.
Create an Admin login password and select operating mode Repeater mode and press the next button to start configurations.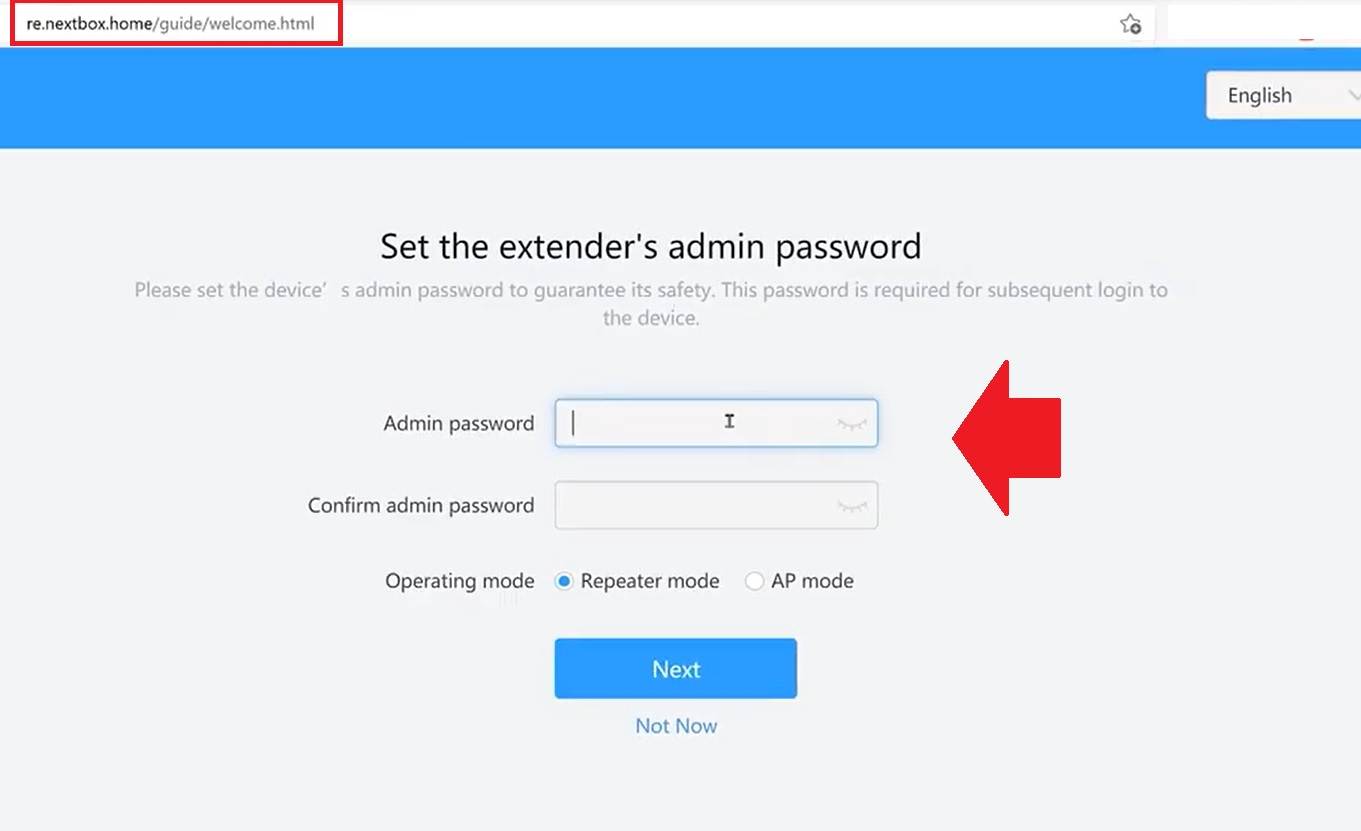 In the next steps, the Nextbox extender will scan for the WiFI network running nearby. Select your network name from the list.
"Please select the wireless network you want to extend"
If you do not find your old WiFI SSID name in the list just rescan and check again.
In the next steps, you have to provide your existing WiFi password to allow connection from the next box.
Wifi password- provide old WiFI password here.
The extended WiFI network
2.4Ghz SSID- You can use different Extended WiFi network names or keep default if want to use the same name.
5GHz SSID– Create 5Ghz WiFI name here.
Press the Extended button to confirm settings. You will get final windows of confirming Wireless network extended successfully.
Now relocate the extender device to the appropriate location from you can get a Wifi signal in no wifi area and the range extender can get at least 50% signal range from the host wifi router to boost signal range without dropping wifi speed.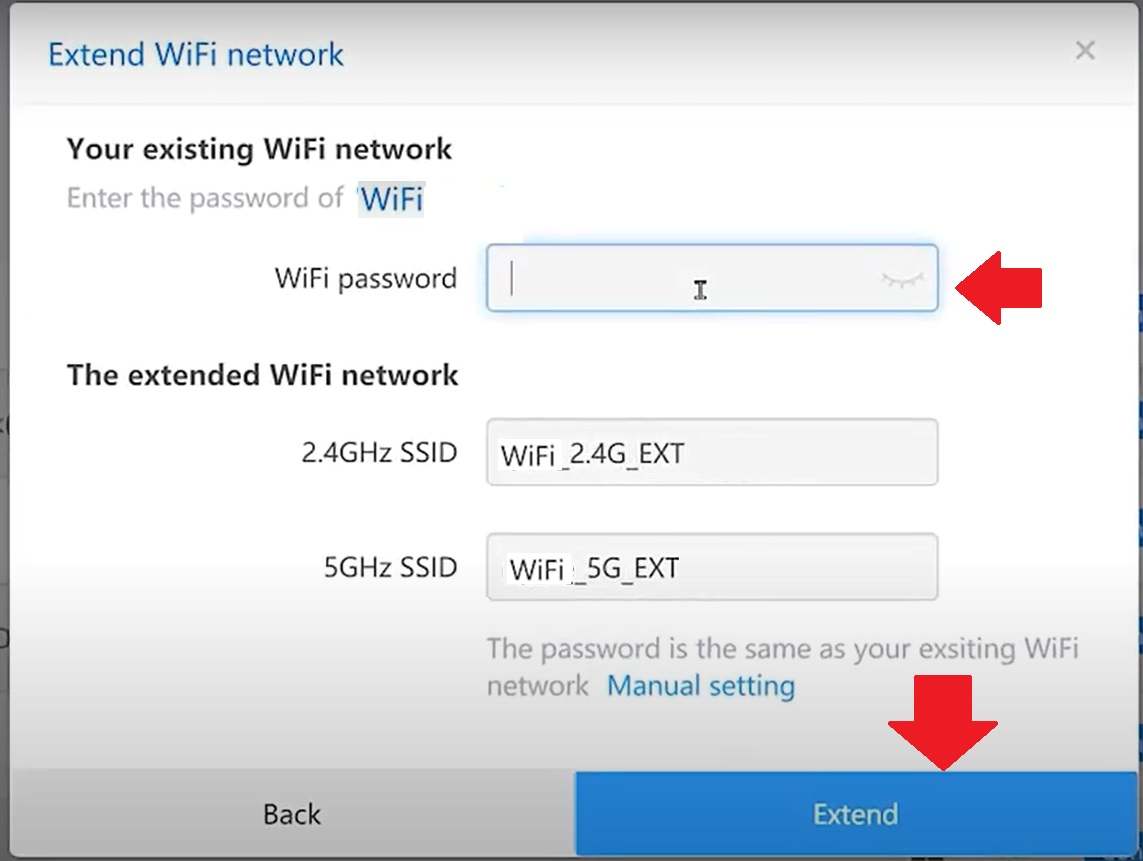 If you facing a problem while connecting the Next box range extender with your Wifi router and cant connect or the WPS button not working or if you are unable to login Next box wifi repeater you may factory reset the device and configure it again from fresh.
How to factory Reset Nextbox WiFi Range extender
Making Factory reset range extender restore into default settings and if you forget login password you need to use hard reset to clear all configurations. Follow the steps to reset the next box repeater device.
Locate a small reset button option available on the repeater device.
Power ON range extender device and wait for a few seconds until its boots properly.
Use a needle and press the reset button for at least 10-15 seconds and the release button.
Extender device will automatically reboot after executing reset commands and restoring into default settings.
Connect again using WiFi or wired and follow the above steps to set up the next box with WPS or login methods. you can also download the Nextbox Wifi Extender Setup manual from Nextbox website.
Next Box WiFi Range Extender Reviews
The next box wifi range extender is one of the best and fine wifi signal boosters compatible with all major brands WiFI routers. It is 1200Mbps combined with Wireless speed with dual-band wireless that provides you range as well as high-speed wireless connectivity in no coverage area. Its supports Repeater as well as Access point mode if you wish to use it as AP.  Double omnidirectional antennas provide a wide range of signals without dropping download and upload speed. Range extender device support WPS, and login method to configure it in simple steps.
Related Post