Setup Victony WiFi Range Extender
Victony AC1200 and N300 WiFI range extender to boost wifi signal coverage without connecting physical cable from the existing wifi router. Victony Ac1200 Wireless range extender support dual-band with 4 external omnidirectional antenna to get boost low signal coverage. Although Victony wa1200 repeater device supports Router, Repeater, and Access point the device designed to boost wifi range from an existing wifi network. You can change Victony extender mode to the router, AP, or repeater using a small switch with a second. If you own Victony range extender device and looking for a user manual to setup Victony repeater device then reading the full article to configure the Victony WiFI range extender device.
There are 3 ways to setup Victony Range extender device using the WPS button, from Mobile/Laptop with wifi and using Wired connection from the computer.
Steps to Setup Victony WA1200 Dual Band Repeater
To set up the first time the repeater device you need to unbox and check the login credential printed to the repeater sticker and a Quick user guide comes with the box.
Default Login Settings for Victony Repeater
You need a login IP address, username, and password if you are looking to configure the repeater device using WiFI and wired connection. you can also find router IP address and login username password printed to the extender sticker.
Default Login URL– ap.setup and Login IP address– 192.168.10.1
Login Username– admin and default Password– admin
login 192.168.10.1 IP Address with admin password
Setup Victony WiFi Repeater using WPS button
The fastest way to setup a range extender device is a WPS button without login and physical connection with the repeater. If your main router WPS push-button feature enabled from router settings then you can connect the Repeater device using the WPS button within a few seconds.
Steps to Connect Range Extender using WPS
Plug Repeater device to power the WALL socket near to your WiFi router and power ON button beside the repeater device.
Use the Mode button to select Repeater mode from a tinny mode button beside the extender.
Go to the router and locate a WPS button beside Ethernet.
Press the Router WPS button for 2 seconds and release it.
Go to the extender device and press the WPS button within 15 seconds.
Repeater WPS led will blink and take 30-40 seconds to connect your WiFi router.
Check Wifi Signal in Mobile will get a new SSID broadcasting from Victony Extender. Connect and check the internet should work.
Place the Repeater device to a proper location so it can get good speed and extend range without any speed drop.
Best Placement of Range Extender
The next method to setup extender using mobile /laptop/computer either LAN wired connection WiFi connections.
Connect Victony Extender using Mobile/Computer
Another way to setup Victony Wireless extender is by using a wired or wifi connection from mobile or PC to access the settings page using a login IP address.
Connect Signal booster device to Power socket.
Select Repeater mode using the mode selector button.
Connect "Victony Range Extender" SSID from mobile /Laptop for Wireless connection or LAN cable from Repeater LAN port to PC LAN port for wired physical connection.
Open Web browser and access http://192.168.l0.1 or ap.setup to browser and access login page.
You will get login page asking for a username and password to authenticate the device. use "admin" for the first time in default mode or if you already changed use the same password.
Start Setup wizard and repeater will be scanning all wifi networks running nearby.
Select your Existing WiFI network SSID and in the next step provide the password of the old WIFI network to allow connection from the extender device.
In the next step, you will get the Extender SSID name and finish the setup wizard.
The range extender will reboot and take 2-3 minutes to finish the setup process.
Go to Mobile /Laptop WIFI and check new Extender SSID broadcasting. Connect using the same password use for the old wifi network and check the internet should work.
Apart from the fresh configuration of the Range extender device if you are using old-range extender device and can't login default IP address or unable to access settings due to the wrong username and password error then you need reset victony repeater device.
Factory Default Victony Range Extender
The factory default extender device using the reset button takes 3 minutes to 4minuts. follow steps to reset the device.
Locate a small reset button or a small reset hole.
Use the needle to press the reset button for 10-15 seconds and monitor led lights.
Release button when led light blink and repeater device rebooting.
Wait until the device restarting and restoring to default mode.
Again follow the above steps and setup again.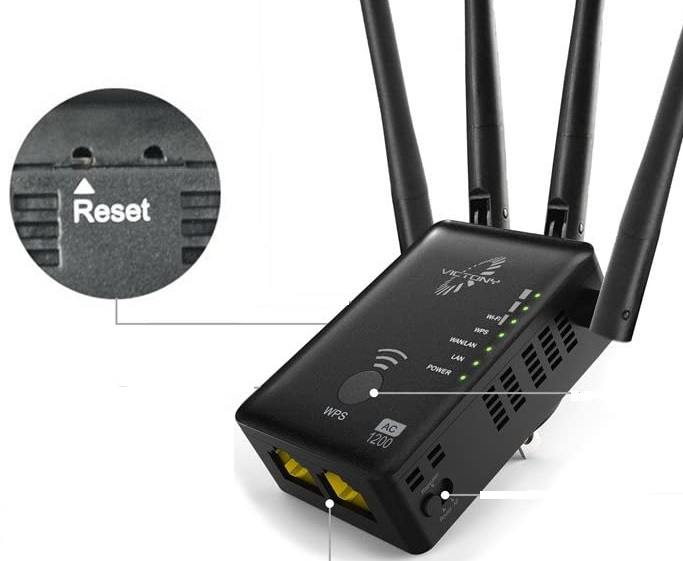 Related Post