Verizon Wifi Extender Setup To Boost Wifi Range
Verizon WiFi extender a WiFi 6 enables a tri-band range extender device to boost your existing wifi router range without laying a physical cable from the router. Fios Verizon signal boosters can use either wired backhaul or wireless backhaul to boost wireless signal range. FiOS network extender can connect with Fios Router (G3100) router. Verizon WiFi repeater is similar to the device whole-home mesh concept it connects wirelessly with the exiting wifi router and extended the same network without changing the name and password.
Fios Extender supports Triband wireless for optimized wireless experience and dedicated WiFi, wired and Moca 2.5 compatible. Setup Fios extender device using an Ethernet cable is 10 minutes process and it configures automatically from your router settings. Although you can log in to Verizon extender settings if you want to check or manage settings. If you have a Fios router installed with an internet connection and are gettings signal issues in some areas you can buy Fios Network extender to extend the WiFi range and it's fully compatible with the FiOS G3100 router. If you already own a Verizon Fios extender and looking to set up then follow the steps below to configure Verizon Extender device.
Steps to Setup Verizon Extender
Wifi extender for FiOS router setup simple and hassle-free process than can don by anyone without any technical skills. Within 15 minutes, you can connect the Verizon network extender device and increase WiFi range and speed without connecting physically wired from the router. Follow the steps to connect Verizon wifi booster to boost wireless range.
Fios Wi-fi Extender (WiFi Installation)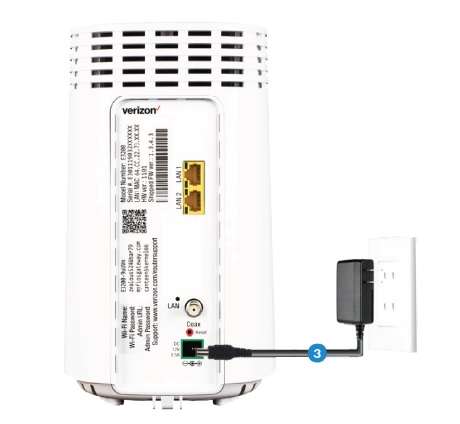 Unbox the device and Place the Verizon extender near to Fios router.
Pugin DC adapter to power outlet and connect DC pin to extender and power On.
Take Ethernet cable from the extender unit box and plug the Fios router Ethernet Port (yellow) and another side Verizon Extender Ethernet port (Yellow).
Keep sit back for 10 minutes and after 10 minutes Extender light should Solid white which shows the connection is complete and the extender is connected to the router.
Unplug LAN cable from Router and Extender LAN port and place the Extender device in the area you facing the low signal issue and make sure the Extender and router should feasible to each other so the extender can get good signal coverage from the Fios router and can boost range without dropping speed.
After the Power extender to a new place, it will take a few minutes and the extender light will solid white that indicate the extender is ready to use.
Best Placement of Range Extender
Wired Installation
You can also set up a wifi version Fios extender using Coax wired connection if you want a physical wired connection for your extender device. Follow the steps to use wired installation.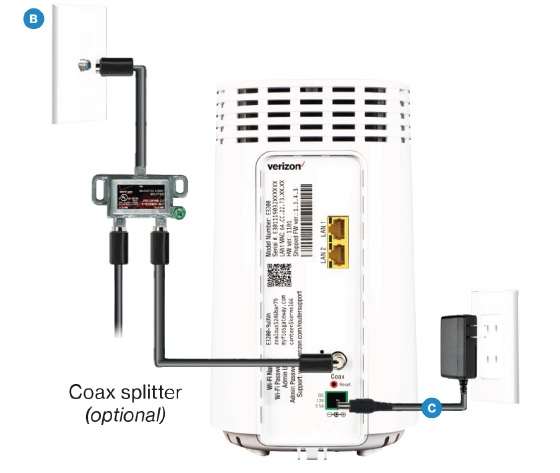 The plugin Power adapter to Fios Extender device and turn on.
Connect Coax cable from Coax outlet to extender coax port. (if using Ethernet use an Ethernet port to connect)
Connect the Fios router to Coax outlet also if single coax outlet you can use a coax splitter.
Wait 10 minutes and monitor Extender white led light turn solid white that indicates connection is completed.
This is a simple way to set up a Verizon WiFi Booster device either wired or wireless method.
Login Verizon WiFi Extender Web interface
After connection setup now you can log in to your Verizon booster device web interface page to check wireless and other configuration information.
Connect Fios Extender device from WiFi or Wired from Ethernet
Note: default WiFi SSID and password will change for Extender device if you already connect with FIOS router for setup as shown above steps. So use the same WiFi name and password as assing to Fios Router.
Open a web browser and access Extender IP address http://192.168.1.100 to the URL bar
Note: extender login IP address assigned by Fios router so check the IP address before accessing from a browser.
You will get the Extender login page asking for the password.
The default password is "admin" but if you set up an extender using FIOS wired connection then the login password will same as the Fios admin password.

Use login password and access FiOS network extender dashboard to get all wireless and other network information.
This simple user guide to login and set up Fios Verizon WiFi Extender device to turn your whole home into a strong wifi hotspot zone with and without wired connections. If you facing any issue while setup the Fios Booster device with your router then tries to upgrade your Fios router to the latest firmware or factory reset the Verizon WiFi extender to setup from starting.
Related Post