How To Fix Spectrum TV Receiver Limited Mode?
Spectrum Reciever Limited mode means the internet stop working due to many reasons. You are read this article it means you must be facing limited mode on Spectrum receiver and want to know what is Spectrum limited mode and how to fix Spectrum Receiver is in limited mode.
There are many reasons that can be behind your spectrum receiver limited mode such as network glitches, bad configuration, Connection between receiver and server due to poor signal, as well as service exhaustion or plan expiry or deactivation of your spectrum account.
You should not worry if suddenly your spectrum TV service stops and you get an error "Spectrum Receiver is in limited mode" because it can be fixed with a few DIY steps. It's really annoying while you watching your favorite show and suddenly popup on the screen received is in limited mode and you are not sure how to fix this error.
Reason for Spectrum Receiver Limited Mode?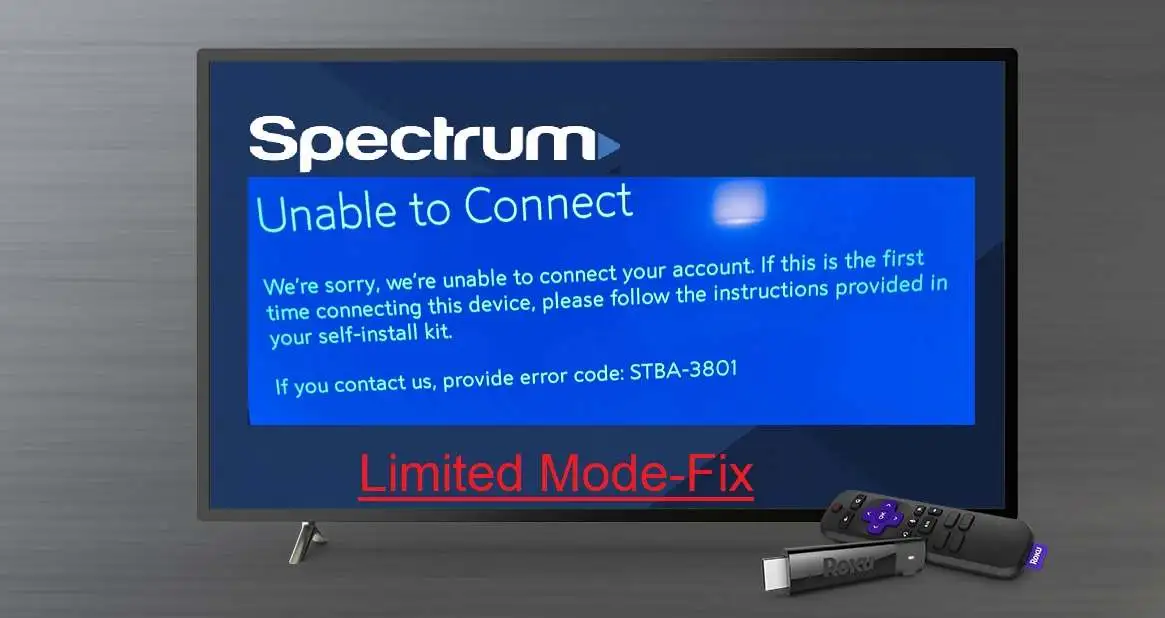 The error you got on TV stops your shows and entertains.
"we're sorry, your spectrum receiver is in limited mode and some features may be temporarily unavailable. We're working to resolve this issue, but please check your cables for loose connections that could affect your service"
While you reading this error if you notice there are the initial reason that showing in this error is limited mode can be due to loose of cable connection. Other than losing the connection that might affect your service and turning on limited mode on Spectrum are given below.
 The common cause of the Receiver's Error.
 The spectrum receiver hangs due to any bugs
Lose cable connection
Temporary signal interrupted
Signal lost due to cable damage
Wrong configuration
Problem with Spectrum Account activation or deactivation service
Damage or bad receiver
 If you understand the reason what spectrum limited mode means then you can fix the issue with troubleshooting reasons.
Solve Limited Mode Error to Resume Service
The best way to Fix the Spectrum Limited Mode error is to follow troubleshooting from the power cycle of the Spectrum receiver to fix the connection and any other issues.
Restart Spectrum Receiver
The first way to fix limited mode should start with rebooting or turning off the Spectrum receiver from power. Just unplug the DC adapter pin from the socket or turn off the power button from a direct AC source to keep the cooldown receiver if there is any error that comes due to overheating or power problems.
You can just restart Reiver to check if restarting or making a turn-off will fix the error on your Spectrum.
Check the Receiver Cable connection
Lose cable connection is a common reason for Limited mode due to disconnection between receiver and server. Check Spectrum receiver all cables are connected properly both and restart REciver then check again if after proper connection limited mode turns off from Spectrum.
Poor Signal or Signal Lost issue
Poor signal or temporary signal destruction can also reflect limited mode on Spectrum TV service. If there is a temporary service interruption due to a signal issue then it will fix automatically when signal destruction ends. But if there is any signal lost due to cable or any other reason you need to fix it first to get a stronger signal.
Wrong Receiver configuration
If the Spectrum receiver is not configured properly so due to bad configuration you might face a limited Mode error on your TV. You need to configure your receiver properly so that you can get help from Spectrum support or schedule an Engineer visit to fix configuration issues at your locations.
An issue with Account and Billing details
If you have not verified or provided the wrong account information or billing is not done or the expiry of plan or service that need to renew or reactivate your account.
Update your account and reactivate it by visiting Spectrum's official website service should restore quickly as soon as your account is updated.
Service Maintenance downtime
If you have checked all about the troubleshooting steps and still Spectrum Limited mode not turn off and your service has not resumed then you should contact customer care to confirm if there is any service upgradation going on.
If server upgrading or any service maintenance going on in your area that may temporary service problems and you should wait to resume it.
Factory Reset Spectrum REciver
Before buying a new receiver you should try factory resetting it to default mode. There is a reset button available in the Spectrum receiver to restore configuration settings.
Replace Spectrum Receiver
The final way to fix the Spectrum receiver error is to replace it with a new receiver box that is compatible with your service or just contact the Spectrum support team to replace the new box.
Buy a new Receiver box and configure it as per your account information and check Spectrum TV service should resume and the Error showing on the screen should turn off.
Final Word
All the steps to fix the spectrum receiver service error probably work if there is no hardware issue. If are not a tech person or you feel you are not able to execute the above steps then just raise your complaint to replace or fix Limited mode in your Spectrum receiver to resume service.
Related Post