Prescitech extender setup and Troubleshooting
Prescitech Extender setup using simple steps to boost your Existing wireless network range without laying a physical wired. Setting up Prescitech X12 or E300 range extender user guide is the same so if you own any of the Prescitech Extender models just follow setup steps as given below. There is two way to configure the Prescitecch extender either from the web interface or using the WPS button method. Although the WPS setup method is a smarter and faster way to setup Prescitech WiFi repeater without needing any mobile or laptop. But if your Host router does not enable WPS or not support the WPS button then you can use the login method. Prescitech E300 is 300mbps single band Range extender whereas Prescitech X12 dual-band Ac1200 Mbps Range extender can setup repeater either using 2.4Ghz or 5Ghz band.
Prescitech extend can use as AP mode, Range extender as well as Router mode but it basically designed for a wireless signal booster purpose so it performs best in range extender mode.  Range extender devices can use WPS without login or need a physical wired or wireless connection for Login methods. Take Prescitech X12 or E300 range extender and follow steps to setup step to step.
Setup Prescitech Extender using WPS button
WPS button by default enabled in dual-band router as well as range extender so you can setup extender using WPS without any physical or wireless connection with PC or laptop. WPS is the faster way to connect the Prescitech Repeater device with any brand's wireless router or access point using the WPS button. Unbox your Prescitech repeater device and follow the steps to setup.
How to Fix WiFi Signal issue using Old WiFi Router
Connect range extender device to a power socket near host router for configuration.
Wait a few seconds until the extender device is properly powered on and start for setup.
Locate the WPS button in the extender device and press it for 2 seconds.
Once Extender WPS light starts blinking go to the router and press the WPS button within 2 minutes.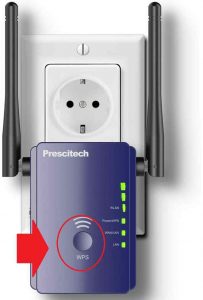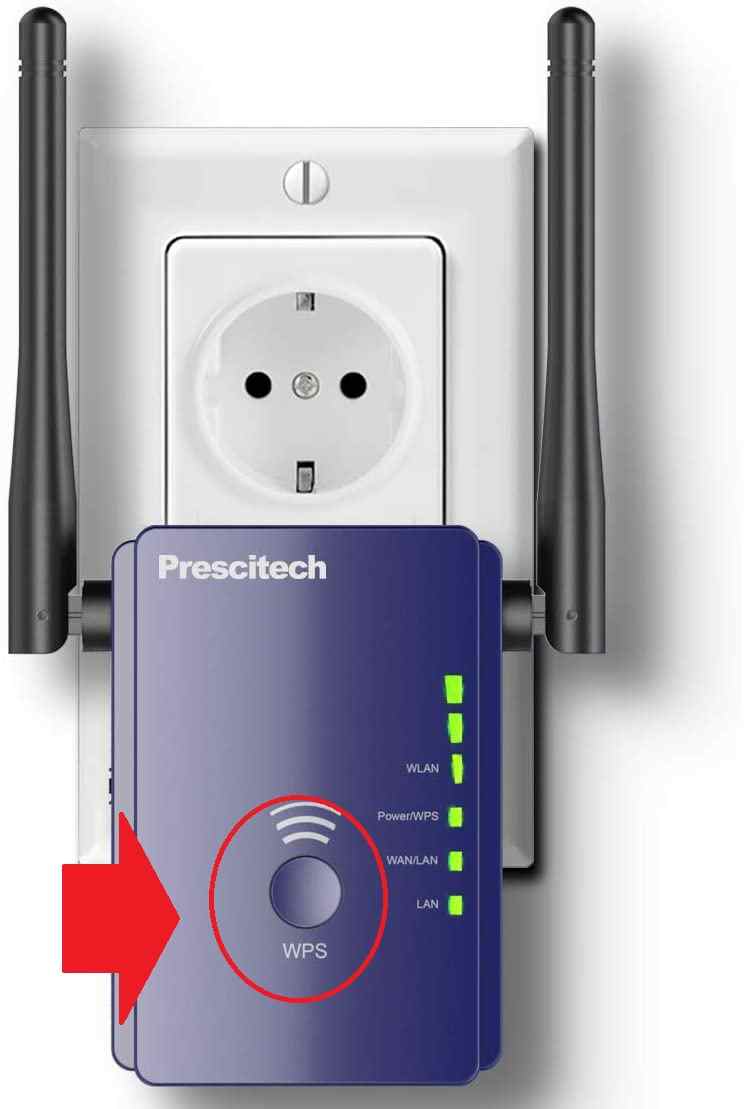 BUY NOW
It takes a few seconds to get connected with your existing WiFI network and you will one new extender SSID something "Prescitech X12_2.4G_EXT" and Prescitech X12_5G_EXT" if using a dual-band signal booster.
Once the Prescitech extender configuration with your existing network you can just unplug and plug near you facing a signal problem.
Choose an open location from Repeater can get signal from host router and can repeat properly to a dark area.
Best Placement of Range Extender
If your Prescitech extender setup failed using the WPS button method and is still unable to boost signal then you can choose a second login method to setup.
Configure Prescitech Extender using Web interface
The login method is also a simple but lengthy way to set up range extender. Login method required connection using wired or wireless with your mobile or desktop/laptop device. You also required a host WiFi router password to connect the extender device using the login method.
How to Find Extender IP Address
Connect range extender device to a power socket near Host wifi router.
For Wireless connection scan Extender default SSID and connect from mobile or laptop.
For wired connection use LAN cable and connect to extender Ethernet port to laptop/desktop Lan port.
Open web browser and access Prescitech extender default login URL ": http://extenderlogin.com" to the URL bar and wait to load the login page.
You will get the Prescitech login page asking for setup login password during the first time setup.
Create an admin login password for your extender device and click next to setup.
The extender will scan for all WiFI network SSID running nearby and get a list.
Choose your Existing wifi SSID network from the list and provider password in the next window.
You will also get the option to change or use the same default SSID name for the extender network name.
If you wish to use a different extender name just change and press next button.
The extender will reboot and take about 2-3 minutes to connect with the host router.
After finishing setup now unplug the extender device and locate it to a proper place where it can perform well and you can get proper signal strength in every corner of your home where you not getting the host router wifi range.
This user manual can be used for Prescitech x12 wifi extender setup as well as Prescitech wifi extender e300 setup using WPS button as well as from web browser using a mobile or laptop device. Although as per Prescitech brands it's almost compatible with every brand Access points and Wi-Fi routers but if your Prescitech Extender not connecting with your host router make sure you are using the correct WiFi password for the login method and WPS enabled in your router if trying to connect with WPS button. You can make Prescitech Extender factory reset using the reset button and try again from starting if facing any issue while connecting to your existing WiFi networks.
Related Post