Login Linksys LAPAC1750 Business Access Point
Linksys LAPAC Dual-band access point is a business AP supported cloud manager for centralizing management. There are many models available under LAPAC series like LAPAC1200, LAPAC1750, LAPAC1750, LAPAC2600, and N300 Models as well. LAPAC dual-band wireless access point for enterprise wifi installation and cloud management lets you manage and monitor all AP from a single point. While using multiple Linksys access points should setup cloud managers to avoid configuration of each AP one by one. Apart from cloud manager you can setup Linksys LAPAC1750 dual-band AP in standalone mode using manual configuration.
Login and setup LAPAC1200, AC1750 and other models are similar and bit easy to configure from the web browser. You need to physically connect the Access point to the computer or desktop to access the web interface.
Linksys LAPAC1750 Business AP Connection
Linksys LAPAC series business access point supports Gigabit Ethernet PoE port and DC power socket.
How to access WiFi Router settings using WiFi and Wired?
Default Login Linksys LAPAC business AP settings
Setup without cloud manager required login settings to access the web interface.
Default Login IP address: 192.168.1.252
Login Username: admin
Default password: admin
How to Find Your Router IP Address
PC/Laptop LAN IP Address configuration
You need to configure PC LAN IP to the static mode and use the Linksys default IP series.
Go to LAN IPv4 settings
Choose to use the following IP address
IP Address: 192.168.l.10
Subnet mask: 255.255.255.0
Save settings and proceed to login to Linksys business cloud manager AP.
Login LAPAC1750 Dual Band AP
Once physical connection and LAN IP configuration are done open a web browser and access http://192.168.1.252 to URL bar and press the enter key.
After a few seconds login windows load with username password options.
Use admin for username and password and press the login button.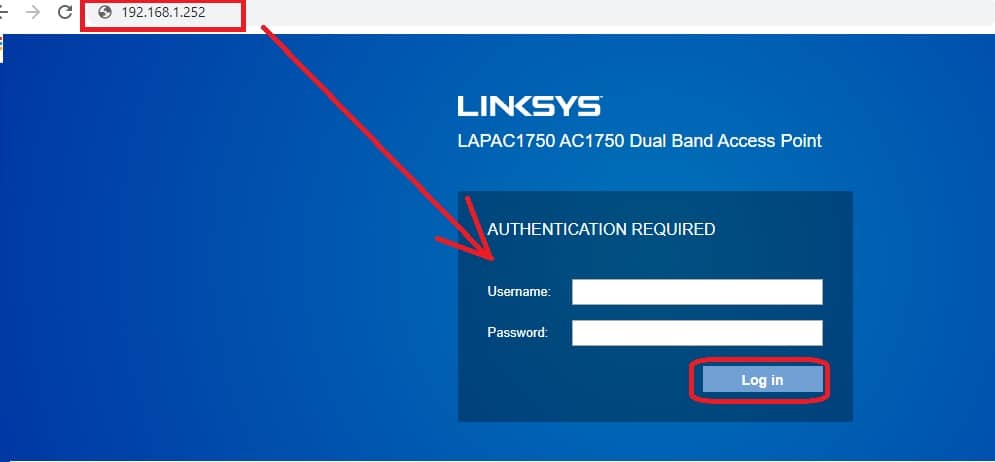 Once you are logged in to the access point control panel you can manage all settings and change WIFI name as well as password and other options.
Change WiFI SSID name and Password
In Dual-band wireless AP  two wifi networks are available. One is for the 2.4 GHz band and the second for 5.8 GHz.
The access point is configured with factory settings so before using it should change to secure the network from others.
Go to configuration- Wireless-
 Basic settings
1: Wireless Radio: Radio 1 (In dual-band radio 1 and radio 2 are available. Choose radio 1 first to configure)
2: Network Mode: BGN Mixed
Wireless Channel: keep auto if using only one AP or use 1,6, 11 Channel numbers if using multiple AP in the same location.
3: SSID1: LinksysSMB2.4G (change SSID as per your choice)
4: Save: press the save button to confirm the configuration.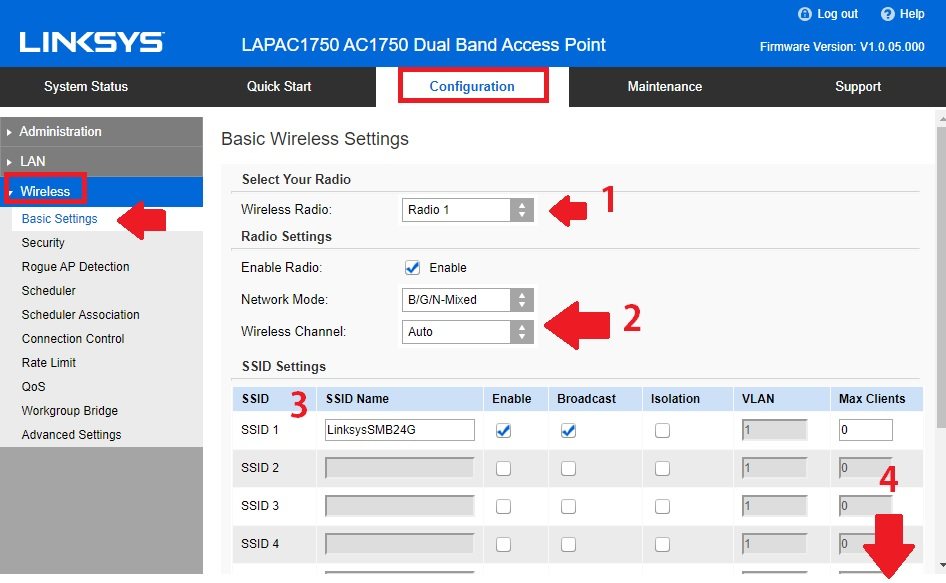 Select Radio 2 from the Wireless Radio option to configure the 5GHz band WiFi name.
Wireless Password Configuration
By default Wireless password is open so you must set a strong password for your wireless AP.
Configuration- Wireless
Security
1: SSID: Radio 1 ( select Radio 1 and Radio 2 one by one to set a password for both bands)
2: Security Mode: WPA/WPA2-personal
Pre-Shared Key: set password for 2.4Ghz.
3: Save: save settings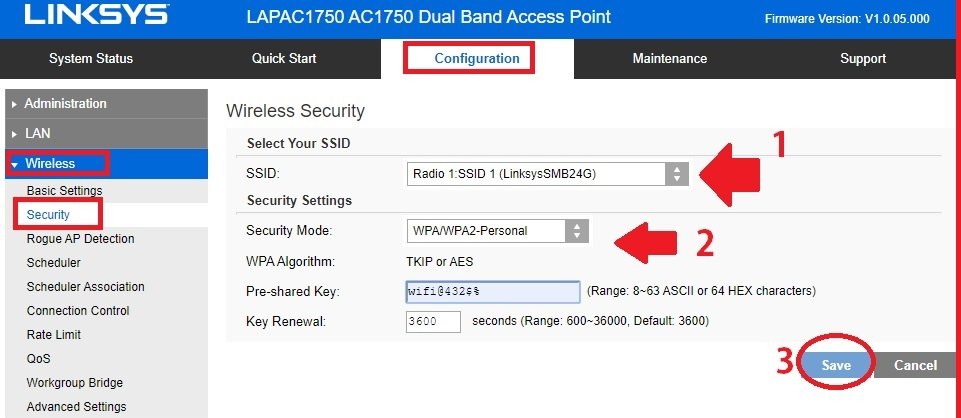 Set Password for Radio 2 SSID and save settings.
After setting up wireless configuration your Access point is ready to run in networks.
Also recommended changing the login password before connecting AP to live networks.
Change Linksys LAPAC750 AP Login Password
Change the AP login password to secure your home internet from unknown access.
Configuration- Administration
User Accounts
Username: admin
New Password: set a new password
Confirm new password: Confirm the new password to avoid mistakes.
Press the save button to confirm settings.

Tips to Change Password
Use a strong password for login as well as access points.
Use Mix character and special character combinations.
Avoid using personal information for login as well as Wireless passwords that can easily guess.
Never use a mobile number, Phone number, and address as your password.
How to Factory reset TP-Link Range Extender
Final words
This user guide to setting up Linksys LAPAAC1750 dual-band AP also supported other LAP series models to use AP without a cloud manager. Always use cloud managers while using multiple access points in a different locations to make easy management. You can set up other configurations like guess WiFi name, WiFi schedule timing, and other important feature those useful for business wifi network security.
Related Post