Speedport W724v Login and Setup | User Guide
Speedport W725v dual-band Gigabit DSL cable modem for Telekom internet service. It physical 4 LAN port and dual-band gigabit wireless to enjoy live streaming and gaming. Speedport W724v is a classic look device that easily matches your home interior without making look odd.
speedport w 724v Telekom router needs to log in using default settings for the first time to setup internet and voice service. Speedport W724V modem supports the NAS feature that allows you to back up your home network and other data. Speedport W724 supports an inbuilt dual band wifi antenna and gives you high-speed wireless speed.
To log in to Speedport Router you need to connect using WIFI or wired from a LAN cable to access Speedport.IP from the web browser to get the modem login page. The default login IP address and default login password are printed on the modem sticker and also user manual is included with the box.
Default login Settings for Speedport w724V Modem
Default login credential for Telekom Speedport w724v modem printed to router sticker and also find a quick manual that comes with the device.
Speedport w724v Default login IP address– 192.168.2.1
Default login URL- speedport.ip
Username- NA
Default password- printed to modem sticker that can be random for each modem.
Get login details for your Speedport modem available on the modem sticker and follow the next steps to set up the router.
How to Login Speedport w724v Gigabit Dual band DSL modem?
Speedport w724v modem has 4 LAN ports along with WAN and DSL ports so use the Lan port to connect the modem from a computer or Laptop device.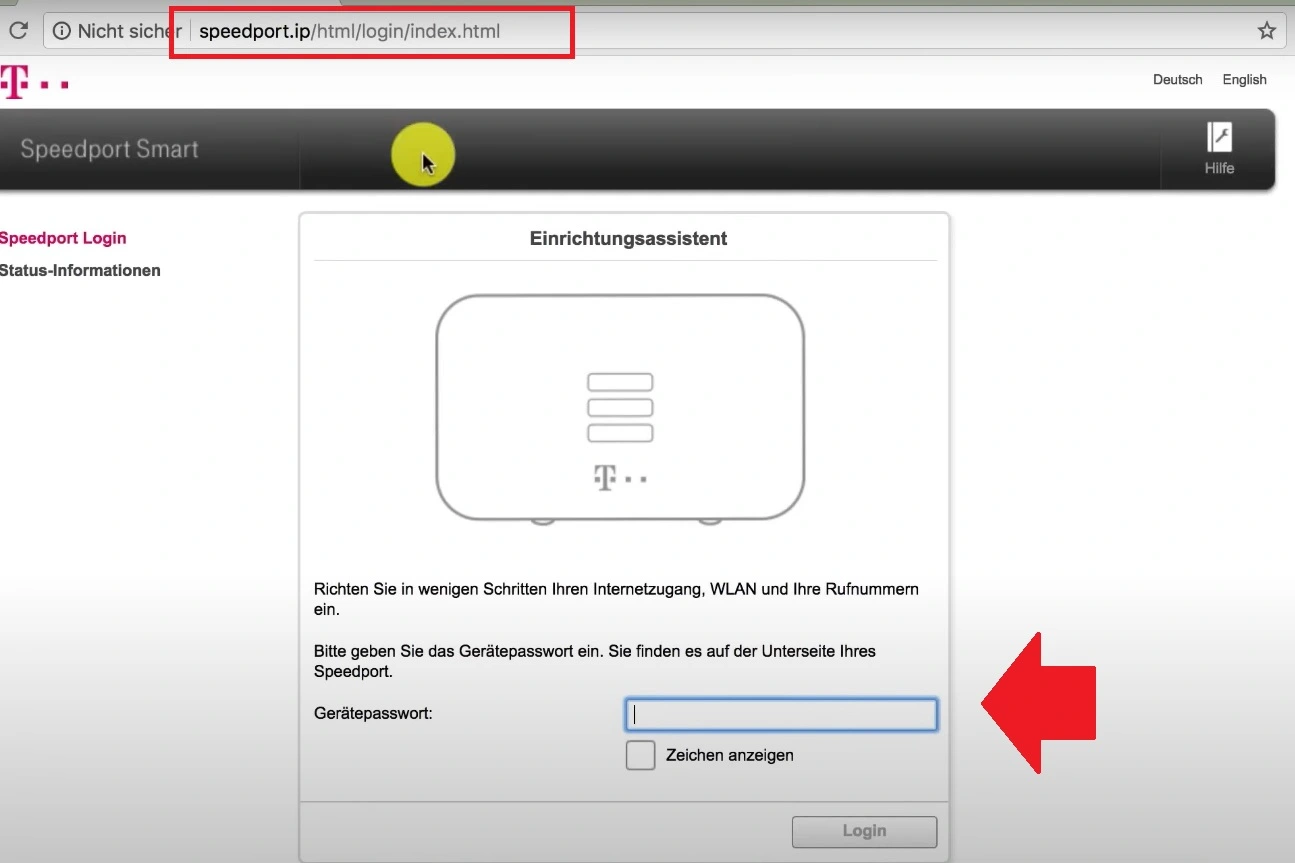 Once logged into router settings now go to the internet tab from the top menu and setup the internet DSL settings provided by your internet provider. Follow the next steps to change Telekom WLAN SSID and password to secure your wifi network.
Change WLAN SSID network name and Key
Default SSID and wifi password printed to Speedport modem for default settings that are not secure as anyone can connect to wifi. It is always recommended to change your SSID and password before connecting to the internet. Follow the steps to change Telekom Speedport w724v Wireless settings.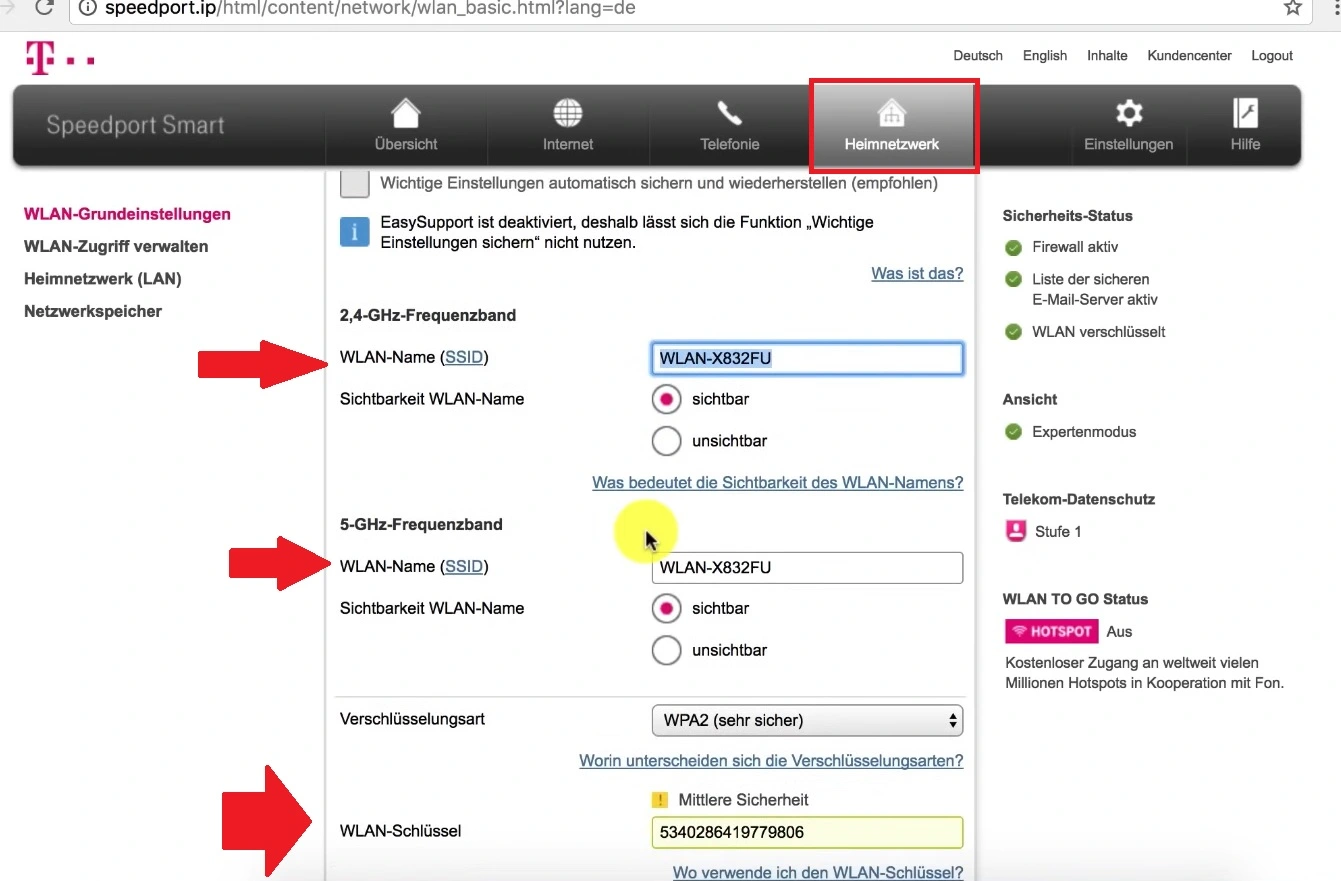 Go to Heimnetzwerk (Home network) option from the top menu
WLAN-Grundeinstellungen (WLAN Basic settings)-
2.4-GHz Frequenzband
WLAN – SSID- Change the WIFI name here as per the choice you wish to use for your wifi network.
Sichtbarkeit WLAN-Name – sichtbar
 5-GHz Frequenzband
5GHz WLAN SSID- change WIFI name for 5Ghz band.
Sichtbarkeit WLAN-Name – sichtbar
 Verschlusselungsart – WPA2 (sehr sicher)
WLAN Schlussel – create a WI-FI password for both wifi bands.
Apply settings and connect your all wifi user such as mobile, laptop, desktop, tab, and other wifi devices with the new wifi name and password.
Apart from changing the WIFI name and password also update the default admin login password for your v724w speedport modem to secure settings access.
Change Admin login password for Speedport w724V Modem
Go to the settings (Einstelungen) tab from the top menu
Change device password (Geratepassword andern)-
 Old device password (Bisheriges Geratepassword)- find the default password on a sticker
New Password (Neues Geratepassword) – create a new password here.
Repeater new device password (Neues Geratepassword Wiederholen)- provide the new password again to confirm.
Save settings and keep remembering the login password. Avoid writing on the modem sticker and keep the login password in the same place.
Speedport w724v Dual band DSL modem Reviews
Speed port w724v is a multi–Gigabit Ethernet port with a dual-band wireless modem best for a home internet with connecting multiple devices to enjoy live streaming and nonstop entertainment.
It is a classic design WIFI DSL modem with a Router WAN option to either use as DSL or uses a broadband router.  It can be put on a table as well as hung on the wall using handing clamp included with the device and it just matches your home and office interior without affecting any looks in your interior.
4 LAN ports 1 WAN port and 1 DSL port with 2 Telephone line options along with 2 USB ports to use the modem as NAS storage as well. 1 Reset button and power button available on the modem. The reset button helps you to restore the configuration in case forget the login password or face any issue with the modem.
Download Telekom Speedport w724v Manual in PDF
Related Post