Ac1200 Vs Ac750 Which one Best for your Home- Complete Comparison
AC1200 vs AC750 are both dual-band router and both are 11ac routers that support 2.4Ghz and 5Ghz wireless band. To understand the difference between AC750 vs Ac1200 first difference is the wireless speed difference that reflects on AC750 and AC1200. AC750 means the router support 750Mbps wireless speed with combined 2.4GHz and 5.GHz band and AC1200 means it supports up to 1200mbps combined Wireless speed with both wireless bands.
AC1200 and AC750 differences are the same either you looking comparison sheet between tp link ac750 vs ac1200, Netgear AC750 vs AC1200 as well as Asus AC1200 vs AC750 or any other brands? The difference between AC750 Vs AC1200 wireless router and range extender is the same. If you have Netgear ac750 vs ac1200 extender or any other brand range extender or plan to buy a new wifi range extender and want to understand which one is better AC1200 or AC750.
This article will help you to understand the Difference between an AC750 router vs an Ac1200 WiFI router and which one should choose for your home and office as per your internet plan. Understand the meaning of the AC750 Dual-band WIFI router as well as the AC1200 Dual-band wifi router to get the difference between both routers.
What is AC750 in Dual Band Router?
TPLink aC750, Netgear AC750, or any other brand such as Tenda AC750, and DLINK AC750 all are dual-band wireless routers that are enabled with dual Omni antenna with a high-end processor.
AC750 means the router support 750Mbps wireless speed where 300Mbps support by 2.4Ghz and 450Mbps is supported by the 5Ghz band. The combined wireless speed is 750Mbps with 11ac standard so the router model call 750Mbps.
If your Wireless router Ethernet Port 100Mbps then your router can support up to a 100Mbps internet plan but if you looking 100+ Mbps plan router then choose the AC750 router with gigabit ethernet ports.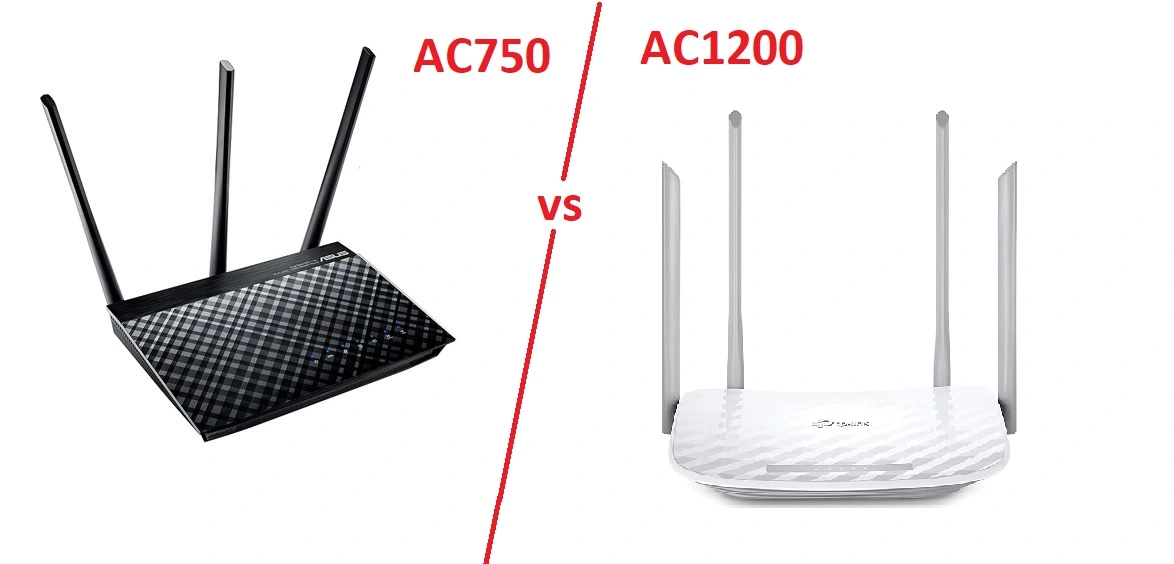 AC1200 Mbps Dual band router?
AC750 support 750Mbps wireless speed same AC1200 support 1200Mbps wireless speed. 300Mbps in 2.4Ghz and 900Mbps wireless in 5Ghz band. The total wireless speed is 1200Mbps identity router model AC1200 dual-band wireless router.
AC750 VS AC1200 Which one is Better?
While we compare AC750 with AC1200 not only a difference in bandwidth but also a difference between hardware and the price of the router. AC750 supports 750Mbps speed that more than enough for an internet plan of up to 100-200mbps which is always less price the AC1200 Router.
AC1200 dual-band router where gives you an increased internet speed of up to 1200mbps but also hardware will be higher than AC750 so it can carry more user load compared to AC750. If your internet plan is under 100Mbps or 200Mbps you can go with the AC750 Dual band router with Gigabit ethernet but if your internet plan is under 100Mbps you can save cost on the AC750 router with 100Mbps ethernet.
If your internet plan is 200+ and also user load is more then you should go with AC1200 Mbps with a Gigabit Ethernet port to get full speed for wired users. AC1200 Dual band router gives you 300Mbps WIFI speed on 2.4GHz and 900Mbps 5GHz speed where you can enjoy live streaming and buffer-free entertainment.
Best Wireless Router with AC750 and AC1200
There are many popular ac750 and ac1200 dual-band routers with different brands available based on different prices. You can find a list of AC750 and AC1200 dual-band router model numbers with online prices in your country as given below.
| | | |
| --- | --- | --- |
| AC750 Dual Band WiFI router | AC1200 Dual band WIFI router | Price |
| TP-Link Archer C20 AC750 | TP-link C6 AC1200Mbps | Check Price |
| ASUS RT-AC53 AC750 Dual Band WiFi Router | Tenda AC5 V3 AC1200 | Check Price |
| D-Link DIR-819 Wireless AC750 | Netgear R6220 2.4 GHz AC1200 | Check Price |
| TP-Link Archer C24 AC750 Mbps Dual-Band | NETGEAR AC1200 Smart WiFi Router – Dual Band Gigabit (R6230) | Check Price |
| TP-LINK Archer C2 AC750 Wireless Dual Band Gigabit Router | ASUS – RT-AC1200 V2 AC1200 Dual-Band Wi-Fi Router | Check Price |
| Mercusys MR20 AC750 Wi-Fi 750 Mbps Wireless Router | D-Link DIR-825 AC1200 Wi-Fi Gigabit | Check Price |
These are some popular home broadband wireless routers in AC750 and AC1200 dual band with Gigabit Ethernet.  You can check AC750 and AC1200 Gigabit router reviews submitted by many different users worldwide before buying any router to make sure your requirement will full fill with the router model you want to buy.hope this article help you to understand what is the difference between ac750 and ac1200 and you can pick best router as per your requirment.
Related Post