Default Speedport.IP Telekom Router Login – 192.168.2.1
Speedport.IP is a default login URL for Telekom router and modem in default mode. Although you can log in Telekom router using 192.168.2.1 default IP address using login URL speedport.IP. You are required to log in to Telekom web address from the browser to access settings to manage Wireless Settings, LAN settings, and other security setting such as Mac address access list, content filtering, port forwarding, upgrade Telekom speedport firmware as well as changing default login password. Default Telekom Speedport ip Login. Default Telekom speedport login IP address as well as login username and password printed to router sticker and can be unique login password for your Telekom router only.
A physical wired or wireless connection is required to access speedbord.IP from web browser to manage Telekom router. If you forget the Speedport router WiFi password and want to access settings from a web browser just use a standard LAN cable from Speedport router LAN port to a PC/Laptop and follow the below steps to reset the Telekom router Wifi password without making a factory reset.
How to Login Telekom Speedport Router?
If you changed Speedport router login IP address and forget then no need to worry as you can use speedport.ip Telekom login URL to access router without IP address. Default login IP address, username, and password for your Telekom router available on router label probably pasted to bottom side or beside depends on router models.
Default Router IP Address Username and Password All Brands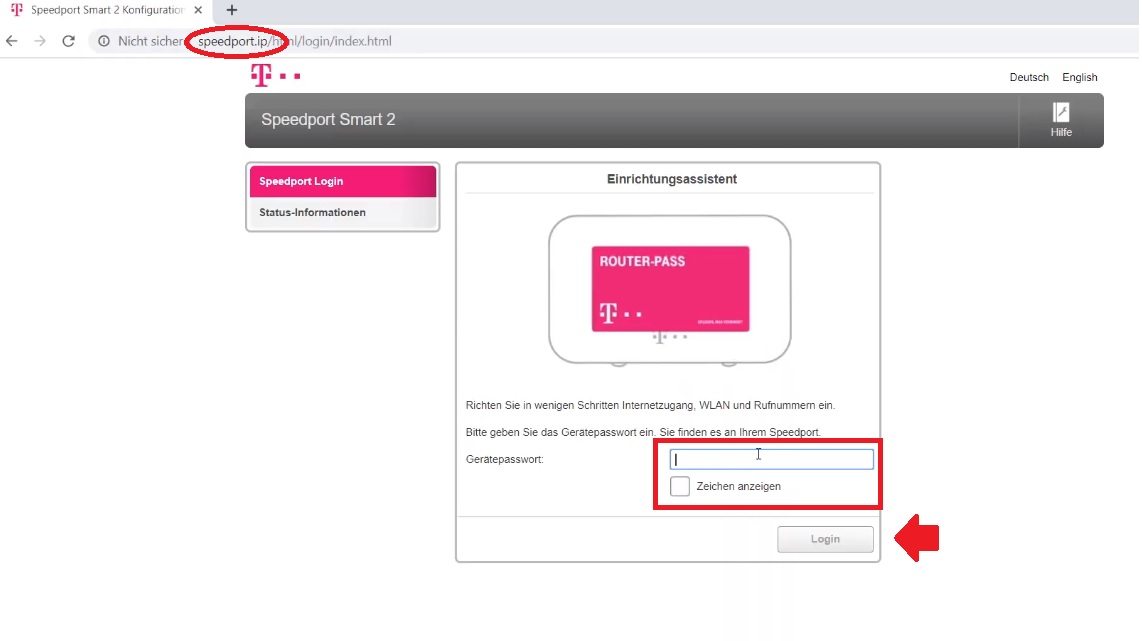 After successful login into speedport router settings, you will get all configuration settings such as the Internet, Wireless, management, and other settings. If you forget Wifi password then follow the below steps to change Telekom speedport Wireless password and SSID name.
How to Change Telekom Speedport Wireelss Password and SSID?
Wireless password and SSID network name available under Home network tab from top menu as shown below image. You will get basic Wireless settings where you can change Wireless SSID, Security Key for your Speedport Wifi networks. Follow the steps to update Speedport wireless settings.
Go to Home network from the top menu.
Home Network- Basic WiFi Settings
Basic settings for the WiFI network
Switch ON the WiFi in the 2.4 GHz frequency band.  (Keep selected to enable 2.4G WiFi)
Switch ON the WiFi in 5 GHz frequency band. .  (Keep selected to enable 5 G WiFi)
Note: for the Dual-band Speedport router you will get two SSID names for 2.4Ghz and 5 GHz bands. You can use the same SSID and password for both bands or also can use different names and passwords for each band.
Name and encryption
 2.4 GHz frequency band
WiFi Name (SSID) – Change the WiFI name for 2.4Ghz as per your choice name.
WIFI name visibility- visible
5 GHz frequency band
WiFi name SSID – create a WiFi name for 5Ghz as per your choice.
Encryption Type – WPA2 (Very secure)
WiFi key- create a strong WiFi password mix with word, number, and special character.
Tips: Avoid using personal information for the Wifi keys such as name, mobile number, date of birth, and others. Always make a complex password that is hard to break but easy to remember.
After SSID, WiFi key settings press the Save button to apply the configuration.
You may disconnect from WiFi if using wireless connection access settings. Connect again with a new WiFi name and password as configured.
Apart from login into speedpot router settings using speedport.ip if you facing an error while accessing IP 192.168.2.1 or speedport.IP not working. Follow troubleshooting steps to fix speedport.ip not accessing from a web browser.
Fix Speedport.IP Not Working
There are many reasons could be that blocking speedport.IP while accessing from a web browser. You can fix Telekom speed port access problem with troubleshoot step by step.
Related Post