Login D-Link DSL-224 VDSL/ADSL WiFi Modem
D-link DSL-224 VDSL WiFi modem used by Airtel broadband internet line and other internet providers. D Link DSL224 300 Mbps Wifi modem with rj11 DSL port and used the internet over the telephone line. It supports 4 LAN 10/100 LAN port and 1 DSL port for internet connection. If you have airtel broadband internet connection and D-Link DSL-224 ADSL2 modem installed that is also called Airtel Zerotouch modem to specify by Airtel. You may be looking to login Airtel zero-touch VDSL modem to change default WiFi SSID and password.
However, Login D-Link VDSL router installed with Airtel internet line need to connect either wifi or wired connection from Ethernet ports. This user manual will assist you to step by step login and Setup D-link DSL-224 VDSL Wireless modem with default admin login settings. Default login settings also printed to router sticker and a quick user guide comes with box.
Step to Login DLink VDSL WiFi Modem
VDSL router installed by internet providers so you can directly connect to LAN port or WiFi connections to access DSL router settings page.
Connect LAN cable from Modem LAN port or Use wifi connection to connect the router using wireless connectivity. If your internet connection is Airtel zero touch then default SSID name will be Airtel Zero-touch and wifi password- Airtel@123.
You can also use the WPS button to connect without a password from a Laptop or mobile.
The telephone line should connect to DSL port so keep It.
Change Computer LAN Network IP settings into DHCP mode.
D-Link AC750 Dual Band WiFi Repeater Mode Setup
Default Login Settings for D-Link DSL-224 VDSL modem
DSL-224 default login IP address and username password printed to router sticker.
Default Login IP Address– 192.168.1.1
or 192.168.0.1 for router.
Default username– admin
Login default password– admin
192.168.1.1 &192.168.l.l Admin Login Password
Access router web interface to the browser
Once you have completed the configuration and connectivity part now open the web browser and access http:// 192.168.l.l or 10.0.0.2 for the non-airtel user.
After a few seconds, you will get a login window asking for a username and password.
Use default login settings as printed to the router or use admin for both.
How to Find Your Router IP Address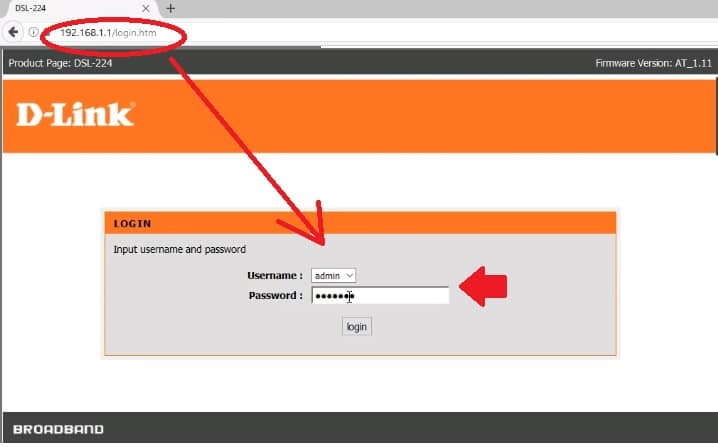 Press the Login button to access the settings page.
Once you successfully login to the router settings page now you can change Wifi settings, login password, port forwarding, bandwidth control, and other configurations.
How to Fix WiFi Signal issue using Old WiFi Router
Change WiFi SSID Network name
DSL-225 VDSL modem configured with default WiFi name and password that easily available on the internet and support site.
Go to Setup-Wireless Setup
Wireless basic
SSID- Airtel_Zerotouch (default SSID name, change this SSID to new WiFi name as per your choice)
Channel Number– Auto (if only one wireless device using at the same location keeps auto channel mode else use 1,6,11 channel number if multiple wifi devices running nearby.
Radio Power– 100% (Radio power is the range of WiFi signal transmitting you can control range as per area size.)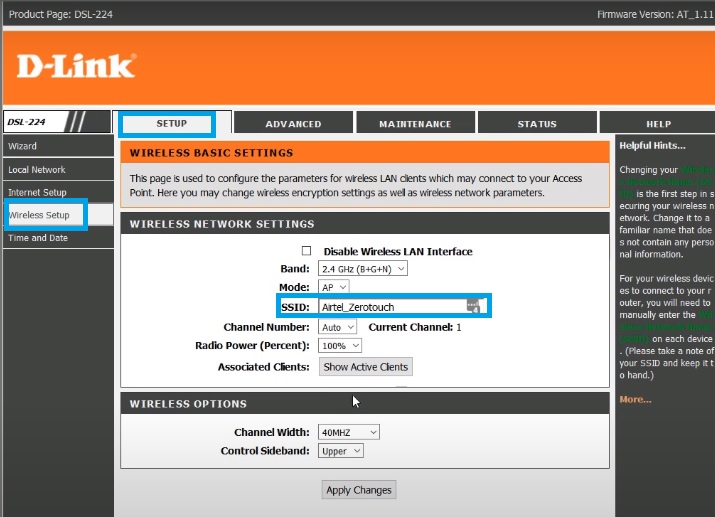 Associated Clients– Show Active Clients (this option show mobile, laptop and other wifi device connected to wifi router)
Apply settings and go to the WiFi security option to update the default password.
Change Default WIFi Password
Wireless security settings come under the wireless setup option.
Go to Setup-Wireless Setup- Wireless Security
SSID Type- Root (if using multiple wifi name use VAP0, VAP1 one by one to setup password)
WPA Authentication mode- Personal (pre-shared Key)
Pre-shared Key format- Passphrase
Pre-Shared Key: airtel@123 (change this default wifi password with new strong wifi key)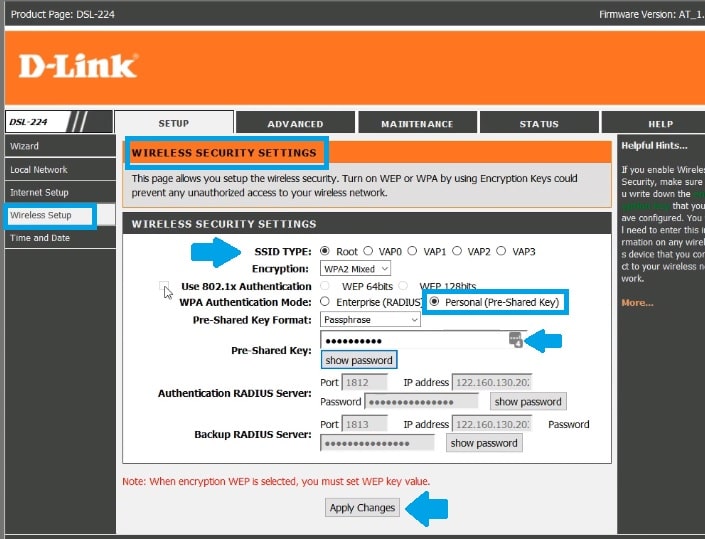 Press the Apply Changes button to save settings. If you using wifi network to connect with the router then your mobile, laptop, and other wifi devices will disconnect from the WiFi network. Connect again with a new WiFi name and password.
Change D-Link VDSL Modem Login Password
Also updating the login password highly recommended to protect router access from unauthorized users.
Go to Maintenances tab
Change the login password.
Old password- admin
New password– Create a new login password
Confirm New password– Confirm new password to avoid any mistakes.
Save settings and login router again with newly updated password.
D-Link DSL-224 VDSL/ADSL modem Troubleshooting
You must read the troubleshooting part if you facing any trouble while accessing the router settings page and not sure what is wrong.
 D-Link VDSL Modem Login IP Address Not working
Default login IP address not accessing or site cant reach is a common error while access router settings and some went wrong due to network configuration and other issues.
If you are unable to login to your modem IP address then follow the steps below to fix login error.
Make sure the default login IP address printed to the router sticker you are using to login router and default Login IP not changed already.
Computer LAN network IP settings should be in DHCP mode to get IP automatic from the modem DHCP server.
Use ipconfig command to know the LAN IP address of your modem.
Open command prompt and type "ipconfig" and press enter key. See the default gateway IP address that will be modem la ip address.
If you forget login username and password or not sure login IP address changed then make factory reset router.
Note: making router to default mode will erase all configuration and your internet stop working. only use reset option if you have configuration backup file and you have configuration settings detail to configure again.
Factory Default D-Link DSL224 VDSL Router
Making router using reset button called hard reset process that needs to physically access modem so you can execute reset process.
Locate a small reset button nearby LAN ports.
Turn on Modem and press and hold the reset button for 10-15 seconds until the power led blink.
The router will be rebooting and this process may take up to 5 minutes so wait until the process finished.
Now try again with default login credentials printed to router label.
Related Post