Reset Suddenlink Router If Forget Login Password
Suddenlink Router login and making a factory reset both are important tasks especially when you want setup the router yourself and you are not sure how to start it. In the previously published article, we covered how to log in Suddenlink router and cable modem for first-time setup.
Making a Suddenlink router reset probably needs either router not performing after a long run and needs a refreshment or you forget the login credential and are unable to login Suddenlink router to change the wifi name and password or any other configurations.
There are two ways to access the Suddenlink router If you forget the admin password after making a hard reset from a button or using a soft reset. There are two ways to reset the Suddenllink modem or wireless router if you want to restore factory configurations.
If you want to change the Suddenlink wifi password and SSID but you forget the admin password after making changes during the first-time setup then the only way to access the router settings is factory reset the Suddenlink router and configure it again from fresh. Follow the Suddenlink reset guide to restore factory settings using the hard reset and soft reset methods.
How to factory reset the Suddenlink router using a Web interface?
Resetting a Suddenlink router using a web interface is also called remote reset Suddenlink router because it does not require to be near the router physically and you can just access it from any PC or laptop within the network.
If you are facing any stability problems with your Suddenlink router but you able to login settings then you can use soft reset to refresh router settings and clear the log and fix bugs. Follow the steps to reset the Suddenlink router password as well as other settings to default factory settings.
How to Find Your Router IP Address
Power ON the Suddenlink router if it's switched off.
Connect from your mobile, laptop, or tablet using your Suddenlink wi-fi name and password.
Use a LAN cable from the modem to the LAN port if you want to use wired connections.
Open the web browser and access the Suddenlink Login IP address http://192.168.0.1 and use the default username "admin" default password "password" or cusadmin/password if you already changed the login password use the same password. If this login credential does not work just find the default login username and password for your Suddenlink modem.
Go to "Utilities" or the "Configuration" tab from the top menu as per your Suddenlink Modem Model number.
Go to "Factory default" settings and press the Factory default Reset button.
The modem will ask for confirmation if you really want to reset your Suddenlink modem. Press Yes or OK to confirm reset.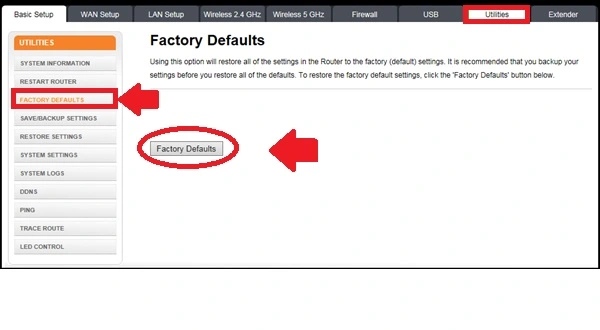 The Suddenlink modem will reboot and take a few moments to restore to default settings.
Login Suddenlink modem with default settings and restore the configuration back if you have saved it before making the modem reset.
After resetting complete, log in modem again and configure it manually as per your internet settings. If you forget the Suddenlink admin password after changing the default password and are unable to login settings then follow the hard reset process.
how to Hard reset the Suddenlink router to factory settings?
Hard reset factory reset is a physical process that can not perform remotely. You must be near your Suddenlink router to perform a hard reset using the reset button. If you are able to access Router physically then follow the steps to reset your modem.
Turn ON your Suddenlink Modem or router using a DC adapter.
Locate a small reset button hole beside the Ethernet port.
Use a needle to press the reset button from the reset hole.
Press and hold the reset button for 10 seconds and release it when the led light turns off and turns on again.
The modem will reboot and take 2-3 minutes to restore the configuration to default mode.
After the reset process finishes you can access the modem using Suddenlink default login IP address and username and password printed to the modem.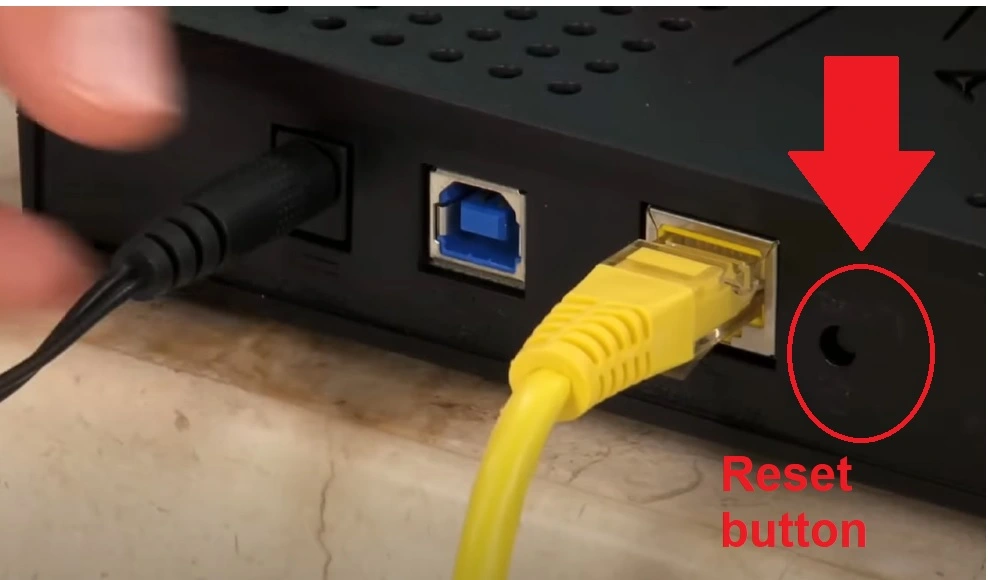 Making Suddenlink Modem a full factory reset will erase all configurations that you have configured for your wifi network such as WiFI name, Password, Content filtering, port forwarding, and website block all will erase. You need to set up all configurations again as per your internet configurations.
If you unable to process the configuration for your Suddenlnk or not sure how to configure it agian then just contact Suddenlink customer care to get detail of your itnernet settings to setup it again.
Related Post