Talktalk Router Login Guide with Default Settings
Login Talktalk router is simple as much as login any other brand router. Talktalk used a Huawei, Sagemcom, D-Link, or any other powered router that default login IP address 192.168.1.1 for most of the brands. Login guide for TalkTalk router Huawei HG533 or HG633 is the same so if you have anyone model you or any router using for TalkTalk internet connection just follow steps here. TalkTalk Wifi router login IP address, username, and password also printed to router sticker that mostly same for all Talk Talk routers.  You can manage your network from Talk talk my account login web portal where you can get all the details about your Talk Talk internet connections. You required either a wired or WiFi connection with Talktalk router to access settings from the web browser.
Get default login settings detail printed to router sticker to sign into router settings. You can also get Talk Talk login default settings from Talk Talk official support site if you are not sure about your Talk Talk router information. You need a LAN cable, Router, DC adapter, and a PC laptop or mobile device to login Talk Talk router web interface.
Talk Talk Router Default Login Username and Password
Find default Talk talk IP address, username, and password printed to router sticker. The default login password is not the same as the default WiFi password for Talk Talk router. Default password different for each router so get login password printed to sticker.
Default Router IP Address Username and Password All Brands
Talk Talk Login IP address- 192.168.1.1
Default Username – admin (same for all)
Default password– admin or find unique login password printed to router sticker underneath the removable settings card on the back of your Wi-Fi Hub.
Right down the login credential for your talk talk router and follow further steps to access settings from the browser.
Access TalkTalk WiFi Router Setting
You need a connection with the router or modem to access settings from the browser. You can use a wired LAN cable connection or using WiFi connection that wifi SSID and password printed to your router that might differ for each router.
After successful login, you will access talk talk router control panel where you can find Internet, Wireless, and other settings options.
Settings up talk talk router first time need to configure Internet setting as per internet type from Static, PPPoE or DHCP can get details from internet providers. After WAN settings change the Wireless SSID and password to protect your internet connections. Follow the steps below to update wireless settings.
Change WiFi SSID and Password
TalkTalk business and home router preconfigured with default Wireless SSID network name and security key that printed to sticker so always update wireless settings before use on the internet.
Go to Wireless Network Settings – Wireless Settings
Enable Wireless Network Frequency Bands
Enable Wireless 2.4 GHz keep box selected.
Enable Wireless 5 GHz- keep Check box selected.
2.4 GHz Frequency Band – TALKTALK86AA56 (change this 2.4Ghz default SSID as per your choice.)
5 GHz Frequency Band – TALKALK86AA56 (change 5Ghz Default SSID with new wifi name)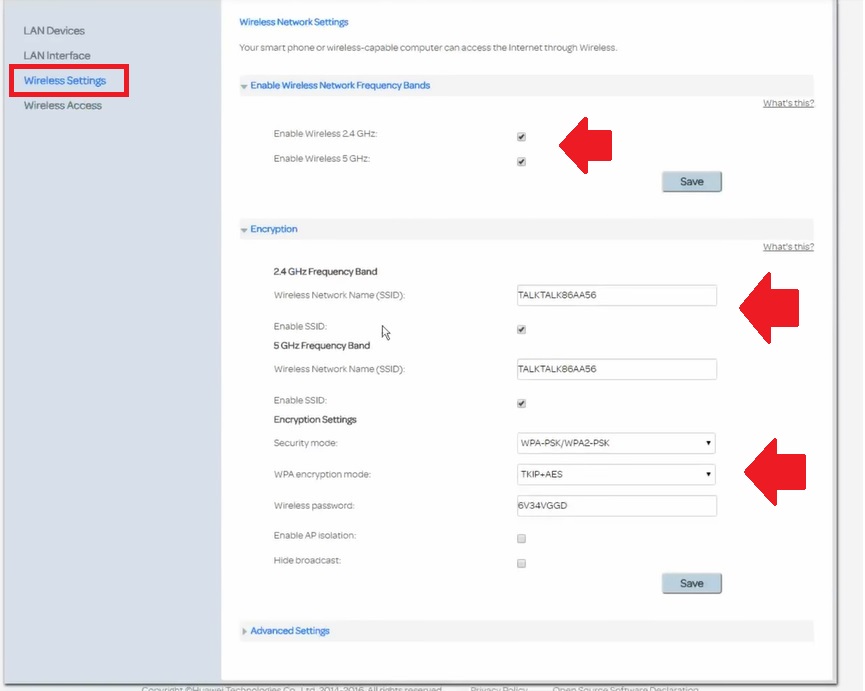 Encryption Settings
Security Mode – WPA-PSK/WPA2-PSK
WAP encryption mode – TKIP+AES
Wireless Password- create a strong password for your wifi network.
Press the Save button to apply settings.
You may disconnect from the router if using a Wifi connection. Connect again with a new wifi name and password for further settings.
After Wireless settings do not forget to update the router default login password to secure router web interface access.
Change Talk Talk Admin Password
Admin login password available on router sticker for every router brand and model. Router login password settings are available inside management options. Follow steps to update router default talk talk password.
Go to Management – System- Admin
Administrator Settings
User: admin
Password: Create a new login password.
Confirm Password: confirm login password again.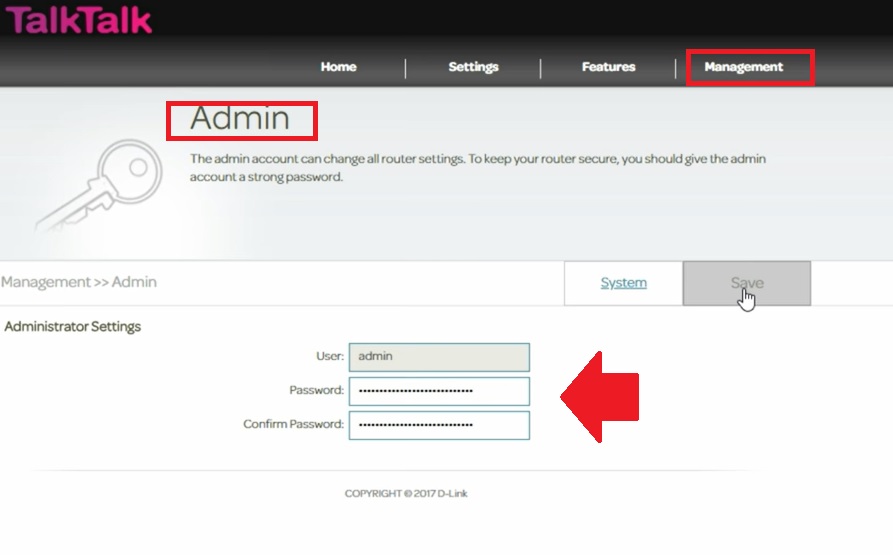 Press the Save button to confirm settings. The router will take a few seconds to change settings. Keep router login password in a safe place and avoid write on router sticker.
Related Post