Synology Router Login-192.168.1.1:8000
Synology a well-known brand in NAS devices and used worldwide. In this article, we have covered a simple and easy sinology router login user guide to access and setup Synlogoy AC1200, 2600ac dual-band as well as single-band Router. Synology router preconfigured with default Synology login and wireless settings so you need to set up it before connecting to the internet. If you have a new Synology router or already installed with your internet connection then this manual will help you to login Synology router manager and configure as per your internet connection types such as Static, PPPoE, or Auto mode (DHCP).
You need to connect wired or wireless connection with Synology Router RT2600ac, RT1900ac, and any other sinology router model to configure the first time. To access the sinology router manager you need default sinology login settings that printed to sinology wireless router sticker and a user guide included with the box. Unbox your sinology router and follow the steps to setup and log in the first time.
Synology Router wired or Wireless Connection
The first step is a connection with the router and WiFi access point either using wifi or wired LAN cable.
Connect Power Adapter comes with Synology router and turn on.
Internet cable from DSL modem or internet provider side will connect to Synology WAN port.
Connect LAN cable to router LAN port for wired connection.
For wireless connection Default WIFI name is "synology_router serial number" and the default Synology default WIFI password "Synology".
Go to computer, Laptop LAN settings, and make sure it is in DHCP mode to get IP from the router DHCP server.
How to access WiFi Router settings using WiFi and Wired?
Synology Router Default Login Settings
You can find Synology rt2600ac default login URL/IP address and username password for the first-time setup. In every router sticker default login credential is printed for the first time.
Synology Default IP – 192.168.1.1 or http://192.168.1.1:8000
Default Login URL– http://router.synology.com
Get ready with login settings and follow the steps to setup Synology rt2600ac as well as rt1900ac dual-band wireless router.
Login Synology Router Web Interface
Open a web browser (Internet Explorer, Chrome, Mozilla) and access sinology login IP http://192.168.1.1:8000 or URL router.synology.com and wait to load the router manager login page.
The first time there is no login username and password configured.
Press the start button to setup a login username and password for your Synology router.
Set up the Administrator Account
Username- admin (create a different user name as per your choice)
Password- create Synology login password
Confirm password- type again login password
Password strength- make a password strength with a strong green status.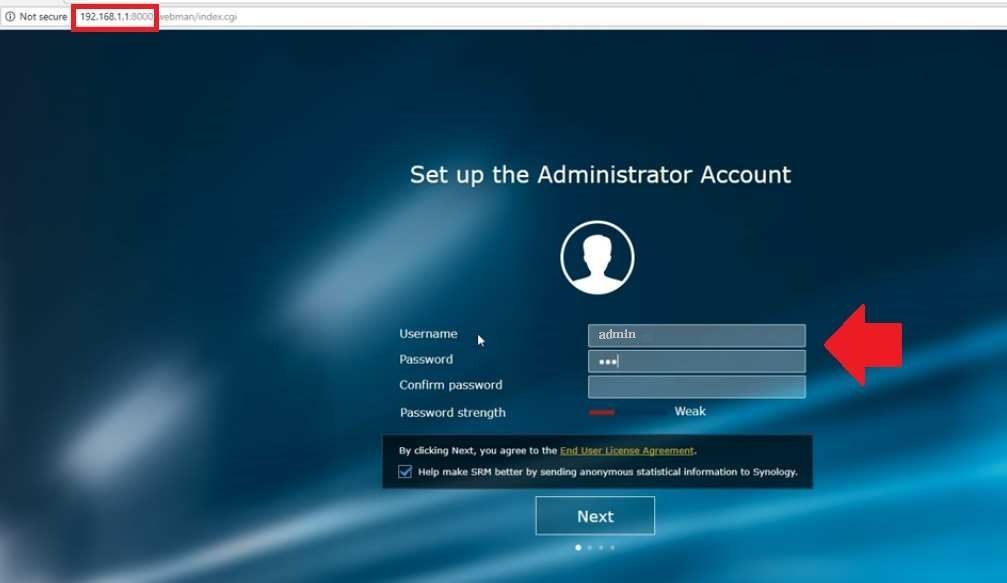 Press the Next button to proceed with the wireless configuration for your router.
In the next step, you get wireless settings where you can change the default wifi SSID and password as per your choice to make WiFI more secure.
Setup Your Wi-Fi Network
Name (SSID)- Create a New WiFI name for your network
Password- Setup a WiFI password for your WiFI.
Confirm password– provide the password again to confirm. (avoid using personal information such as name, date of the birth phone number, or address in WiFI security key)
Password strength– strong (use a difficult password to make strength strong and the network more secure.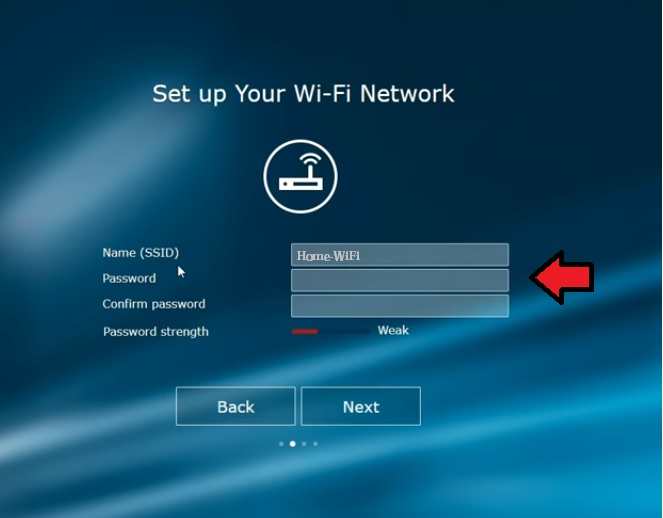 Press the Next button to proceed with Operation mode and WAN internet settings as per your internet type from Static, DHCP, or PPPoE.
Set UP YOUR Operation Mode
As the Synology rt2600ac and 1900ac support router mode and Access point mode so you can decide whether want to use it as a router or a bridge Access point.
Operation mode- Wireless Router
External access to SRM- enable this option if you want to enable remote access login in your Synnology router to access from the internet.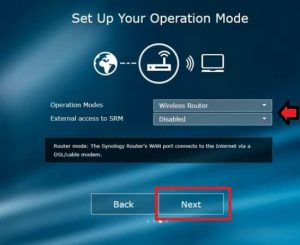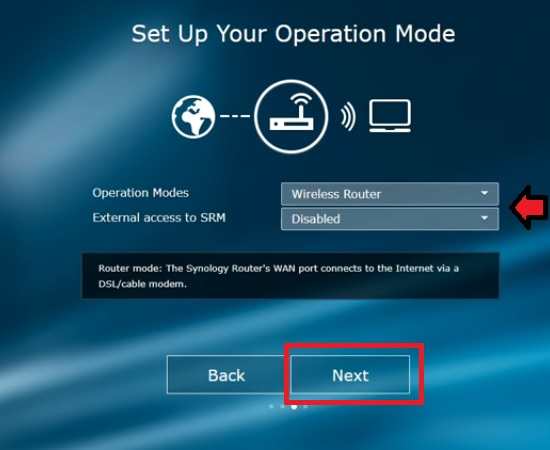 Press the Next button setup WAN internet settings as per internet type
Set up your internet connection
Internet connection– Auto IP (DHCP mode) , Static IP or PPPoE . Select the internet connection type as per the detail provided by your internet service providers.
Press Apply button and wait while the router saves settings and reboots. After reboot check, you should get a new wi-fi name and password showing in your mobile and laptop WIFI.
If you are trying to access your old sinology router and facing any login issue or default login IP address not working or get an error site can't reach or failed to connect WiFI or internet then you may factory reset your router to restore into default settings.
How To Reset Synology
Making a reset Synology router will restore Synology router configuration to factory mode and required to set up again to work with internet connections.
Steps to reset Synology Wireless Router
Locate the Synology reset button beside the Ethernet port.
Four Second -Press and hold the reset button for 4 seconds to reset the password of the admin and administrator with Equal privileges.
Ten Seconds– Press and hold the reset button for 10 seconds to factory reset all configurations to default mode.
The Router will reboot after resetting the process and take a few seconds to restore to default settings.
Follow the steps above to access and start the sinology router manager setup wizard.
This is a simple step-by-step configuration manual to login and setup Synology RT2600AC and other wireless router models using default login settings.
Related Post