How to Login Huawei WiFi Router?
Huawei manufacture network product range wired and wireless with fiber devices. Login into the Huawei wifi router required when buying a new router and set up for internet connection the first time. Every router is pre-configured with default login settings that are also printed to router label and available on the user manual so it's strongly recommended to change default login settings. Huawei N300 and WS5200 1200Mbps Wireless Router login steps are the same so if you looking to access the Huawei broadband router to change the SSID name or password then read the full guide.
Login router web interface allows you to change your Wireless password, Network name, login password, and setup security features such as content filtering, Mac access list, and bandwidth control feature. You can find the default login for the Huawei router backside label to access router settings the first time.
Steps to Login into Huawei Router with Admin settings
Access into the router control panel needs to connect with the router either wired or wireless.
How to access WiFi Router settings using WiFi and Wired?
Default Login Credential for Huawei Router
Although default settings are available on the user guide or router label with serial number and Mac address detail of the device.
Find the default login IP Address settings below.
IP Address                                                 Username                     Password
192.168.1.1                                                       admin                               admin
192.168.3.1   (WS319 300Mbps)                  admin                             admin
192.168.100.1   (Huawei HG8245 )             admin                           admin
192.168.1.254  (Huawei HG659)                admin                            admin
Huawei AR Router default login settings
IP address: 192.168.l.l
Username– admin
Password[email protected]
Access Huawei Web interface system
Open a web browser and access http:192.168.1.l or 192.168.3.l as per router model default login IP address.
After a few seconds login page will load asking for a username and password to authenticate the router. Use default login settings as per printed router or supported model number.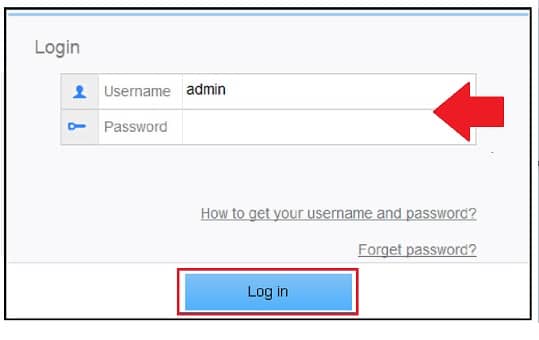 Once you logged into the router web management system you can update wireless settings and other configurations.
The next important step after Huawei login is changing default WiFi settings.
Change Huawei SSID Network Name and Password
Change default Wireless SSID network name to secure your internet from unknown access.
Go to My WiFi Option to manage wireless settings for the Huawei router.
2.4Ghz Wi-Fi – ON (button should be blue)
Wi-Fi Network Name – Huawei-RNY57M (change this name as per your choice to create a new wifi name)
Security– WPA2-PSK
Wi-Fi network password– wifi key (set a mix combination password for WiFi network)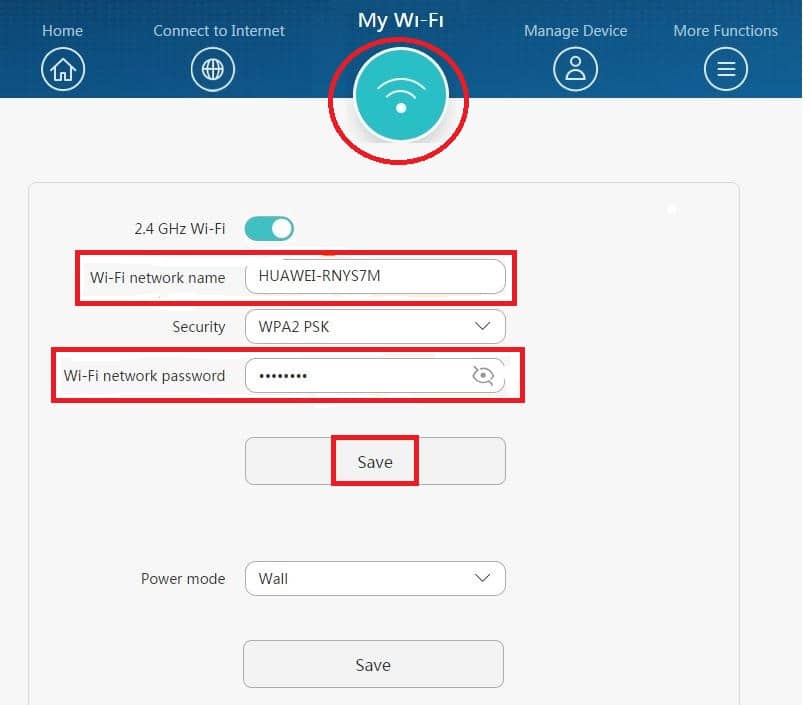 Press the Save button.
You can also change Power mode from Wall and press the save button.
Once the WiFi SSID name changes all devices connected to the router will disconnect. Connect again with a new name and password.
After saving settings the next steps are to update the login password to secure web interface access.
How to change Huawei Login Password?
A router configured with a default login username password that is mostly used by many different brands and models and easily guessable. It is strongly recommended always to change the default login password with your own password.
Web interface password change settings come under Maintain or manage device option in some models.
Go to Maintain – Account management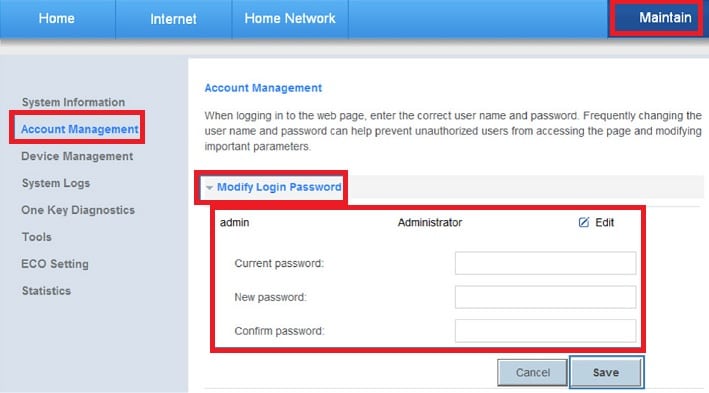 Modify Login password
Current password-  admin  or if you change already use same
New password-  create a new login password
Confirm Password- Type a new password again to confirm.
Password Tips- use mixed key combination passwords with special characters.
Avoid using personal information for passwords such as date of birth, name, mobile number, address.
Save settings and re-login the router with a new password.
Troubleshooting steps
You might be facing a login error while trying to access the Huawei modem, router, or OLT web interface due to a lack of technical information or maybe a network glitch.
Huawei Login IP address Not working?
If you are unable to access the login IP address for your router or modem then you may follow troubleshooting steps to fix the login issue.
·         Make sure the default login IP address you are using is printed to your router and not already changed. The common default login IP for Huawei routes is 192.168.l.1 and 192.168.3.l.
·         You Laptop/desktop LAN IP settings should be DHCP mode.
·         Make sure you are connected to the wired cable to LAN port, not the WAN port.
·         Confirm you are typing http://192.168.1.1  instead of typing the wrong http//:192.168.11 that is completely wrong and get error site cant reached.
If you still failed to access the router web interface using default settings then try reset router using the reset button.
Factory Reset Huawei Router?
Factory reset router can be using a software reset as well as a hard reset.
You have a way to get router access if you forget the login IP address, Login password after the change.
Steps to Resetting Huawei Router.
·         Locate a small reset button beside the Ethernet port or bottom side depending on the router model or casing.
·         Press and hold the reset button for 10-15 seconds using a needle or pin.
·         Release reset button when led blink and router rebooting start.
·         This process may take 3-5minutes so keep calm and sit back until router restores to default settings.
Try the same process again to log in to the router web interface.
Related Post