Teltonika Rut240 4G LTE router Setup and Review
Teltonika RUT240 is a powerful device designed for industrial M2M/IoT applications. It is a multi-feature router that works as 4G LTE router, WAN router as well as a firewall and failover router.
RUT240 and RUT241 is 4G routers that support WiFi and ethernet connectivity routers. You can use it as 4G router, as a WiFi router and failover router, RMS (remote management service) with a VPN service. Teltonika RUT240 router is an industrial-grade router loaded with all wired, wireless, and security features as well as radius server authentication, hotspot captive portal login, and bandwidth management and failover with multi-WAN internet.
If we go with the configuration part of the Teltonika RUT240 router then it gives you a web interface to setup the Teltonialk RUT240 4G router in a simple way. You can find the default login information printed to the Teltonika RUT240 router sticker to log in from the web interface.
Teltonika RUT240 Hardware and Software specifications
RUT240 LTE router support 4G,3G, and 2G network for mobile network.  RUT240 give wireless connectivity with a single band 2.4Ghz and can be used as an access point and station mode. You can use Teltonika RUT as a Hotspot gateway with a captive portal login page and customize themes with a wired connection as well as Mesh.
RUT240 can be used as a a wired WAN router, LTE router as well a dual WAN failover gateway to manage your multiple internets and let your network always up with multiple internet lines. You get 1 WAN and 1 LAN port and to use wired internet as mainline and 4G LTE as failover to a backup internet line.
If you forget your login password or want to reset the Teltonika RUT240 factory reset then you get a reset button on the back side of the router.
On the Software side RUT240 router gives full protection firewall, authentications, Attack prevention, web filter as well a Mac access list.  It supports Open VPN, IPsec, PPTP, L2TP, GRE, and many other VPN support.
Teltonika RUT240 Router Login from Web interface
To access the Teltonika LTE router you need to connect either using a LAN port or Wi-Fi to log in to web GUI from a browser. Before proceeding to login Teltonika 241 LTE router and another router you must need the default login IP address and username and password.
Teltonika RUT240 Default Login IP address- 192.168.1.1
The default username for the web interface– admin
Default Web Gui password- admin01
If you want setup RUT240 using the command Line interface (CLI) then find the default username and password for SSH login below.
Default SSH login IP address– 192.168.1.1
Default SSH CLI username– root
Teltonika Default SSH CLI Password– admin01
Teltonika Routers Connection and Login from Browser
The Teltonika routers support wired LAN connection, WiFi connection as well as 4G network. You can use a LAN cable or WiFi to log into the web interface from a web browser.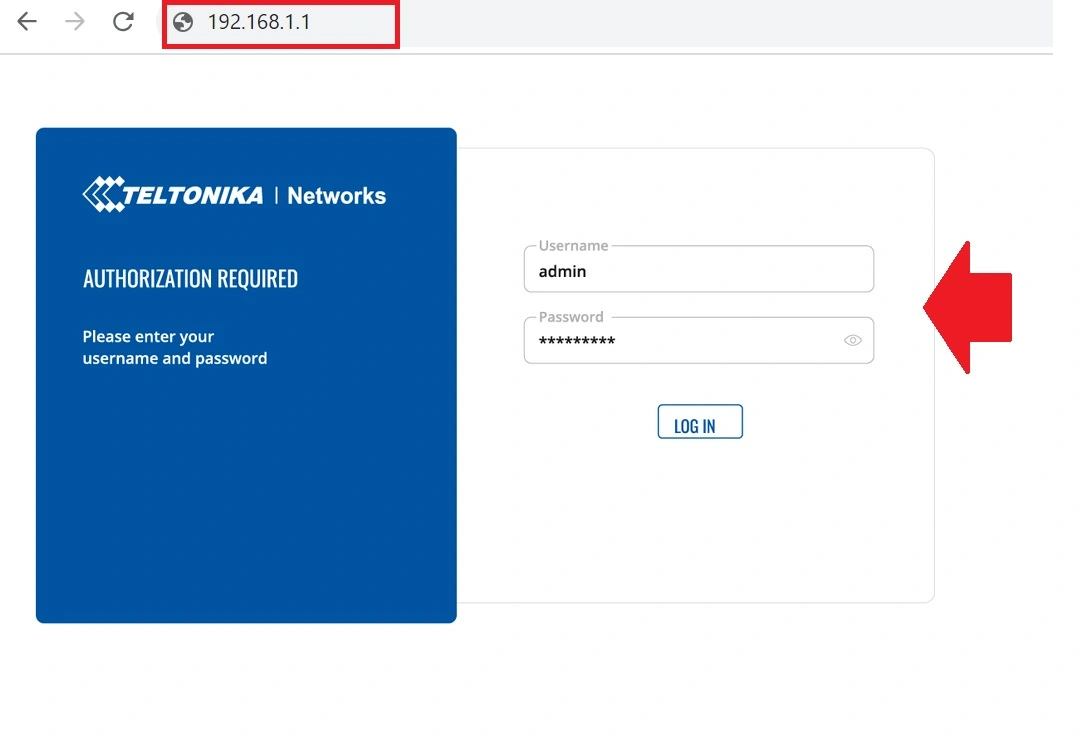 Now configure the WAN interface for load balancing, change the default wireless SSID and password, and setup firewall port forwarding and other configurations.
RUT240 Wireless SSID and password change
RUT240 router is configured with default wireless SSID and password and it is important to change before using for networks. Follow steps below to update the Teltonika LET router wireless password and name.
Go to Network from the left-side vertical menu.
Network- Wireless
Under wireless, you will get 2.4Ghz and 5Ghz Wireless settings for dual-band WiFi routers, and for single-band RUT240 B/G/N routers only 2.4Ghz wireless settings.

Press the Edit button to change Wireless settings as shown below.
Change Wireless SSID– RUT_240  to a new Wi-Fi name as per your choice.
RUT 240 WiFI Security – WPA/WPA2_PSK_AES
Passphrase- Create a new WiFi password for your RUT260 LTE router for both bands 2.4Ghz and 5Ghz If support dual band.
Save& apply button to confirm changes. You may be disconnected from wifi if using the default wifi name and password. Connect again to configure more settings for your RUT LET routers.
Final words
Hope this rut240 manual helps to log in using the web interface and using CLI. You can upgrade RUT240 firmware to keep it updated and bug-free. To set up failover you need two internet lines as well s you can set up OpenVPN to manage your multiple remote sites using a VPN tunnel from a centralized site. Enabling a firewall and attack prevention will help you to secure your network from spamming and other attackers. You can also download Rut240's complete configuration manual from Teltonika Networks' official website and visit Teltonika Wiki to get complete configurations.
Related Post