How to Reset Windstream Wifi Router?
Windstream wifi router losing internet connectivity or wifi signal not stable or might issues with the stability all are a common problem that usually comes when you're running a nonstop long time. Whenever you worry that your router not performing like before then it means it's time to give a fresh start and make a Windstream router reset or any other brand router you are using in your networks.
Probably making a router reset is useful if you are unable to log in to the router due to forgetting your login password or if the router not performing well or lot of bugs and instability in the internet. There are two ways to make the Windstream router factory reset from the web interface after login to settings and reset using the reset button that probably hard reset process when you can't log in to the Windstream router.
If you have installed Windstream Wireless Router, Windstream Cable modem, or DSL modem reset method for all Windstream devices almost the same only the login credential might be different for each model.
Reset Windstream router or Modem using a web interface is bit a long process that need to connect the router and also required a router login credential to access settings. But Making router reset a quick process but in the hard reset method you didn't get the option to save configuration backup so this process helps when you are completely locked out. Follow the method to reset the Windstream router to default login.
Method 1-  Factory Default Windstream Modem or Router from Web interface
Making Windstream reset from settings is a long process compared to resetting using the button. This method is also called Soft reset and it's a bit safe while you facing any problem with your router but you can log in to your router. Before making a router reset you get the option to download the configuration back before resetting your router or cable modem. Follow the steps to perform the Windstream Soft Reset method without losing configurations.
How to Find Your Router IP Address
Power ON your Windstream router if it's turned Off.
Connect using your WIFI name and Password as you configured for your Internet.
If you forget your WiFi password use the LAN cable from the Windstream LAN port to Computer/Laptop LAN Port.
Open the internet browser and access Windstream default Login IP http://192.168.254.254 to the URL bar.
Use default login username and password for Windstream is "admin". If you update the admin password use the changed password to access your Windstream router.
Go to Advanced Setup- Restore to default or  Management- Restore default. The reset settings option can be changed for each Windstream router model that depends on the brand manufacturer such as your Windstream Router manufacturer is Actiontec or Telus or any other.
Router Reset Option
There are four types or soft reset options available on Windstream Router as followed.
Restore WAN port settings- If you only want internet settings to default settings then use this option.
Restore Default Wireless Settings– If you looking just how to reset the Windstream wifi name and password and other Wireless settings only.
Restore Default Firewall Settings- If you have configured firewall settings and want to make it reset then use this option.
Restore Modem to Factory State- If you want to fully factory reset Windstream Router to factory resetting then use this option.
After resetting the modem or router restart and take a few moments to restore default settings. After resetting you can log in to the router again with the default settings as printed to the router sticker. If you want to change your Windstream wifi password but forget your login password and are unable to access settings then you can use the Hard reset method to restore full settings to default mode
How To Reset Using Reset Button?
Resetting hard reset using a reset switch is a physical process that needs to access the router physical access to press the reset button.
Note: Making a router using the reset button will erase all configurations and restore to default factory settings your internet will stop working until you set up the router again.
Follow the steps to reset Windstream Wireless Router and cable modem.
Find a reset button on the Windstream router beside the LAN port.
Power ON the Router and wait until its properly boot.
Press and hold the reset button for 10 seconds and monitor the LED lights.
Router LED lights will suddenly turn off and turn ON again which means the router will restart after finishing the reset processes.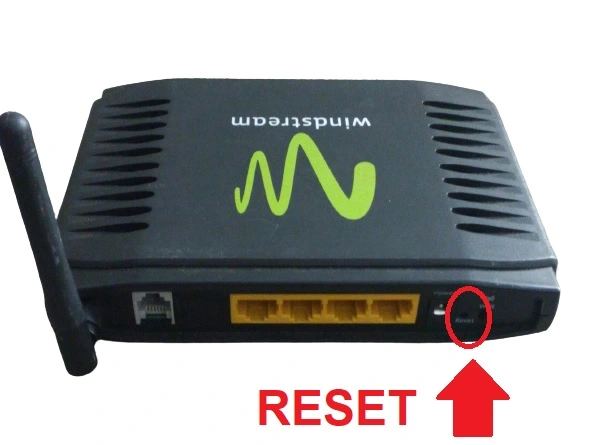 After the reset process completes you will see the Default Windstream Wifi name and default login IP address and the username and password will work.
Login Again as followed above steps and setup again. If you have the configuration back just restore the configuration back to save manual setup time.
You can use this reset manually to factory default your Windstream DSL modem or Wireless broadband router as well as the Docsis modem of any brand manufacturer. Only login IP address and username and password might be different for each manufacturer.
Also if your problem does not fix after resetting your modem then you should raise a complaint to Windstream customer care or replace your modem.
Related Post