How to Login Wow Router and Modem First time
WOW (WideOpenWest) is a popular and larger internet service provider company based in United State. The Wow provides broadband internet, Cable television, and landline telephone to residential and business customers.  This article guide steps to step Wow Router login for first-time setup and configurations. The Wow internet and voice service support Docsis modems that are compatible with many brands of cable modem such as Motorola, Arris, Ubee, Netgear, Technicolor, and many other brands those manufacture cable modems.
If you have installed a WOW modem from the WOW installation team or you have to buy a new cable modem for your WOW internet service and looking to setup it then follows the guide. Default login settings for the WOW modem depend on the modem brand name and model name.
If your modem is already configured and the internet working already but still default wireless SSID and password using then you should change the default settings by following this login guide. You need to connect the WOW modem using WiFi or a wired connection from a Lan port to change the wireless WiFi name and password as well as enable security features such as MAC access list, Content filtering, parental control, and other configurations. Follow the steps to log in WoW modem from a mobile or laptop device.
Default Login settings for WOW internet modem
Default login settings might be different for each wow modem that depend on the manufacturer of the modem compatible with WOW internet. There are many different brand modems that are compatible with WOW internet service and the default login for each modem can be different.
Wow Modem Brand Name
Default IP address
Default Username/Password
Arris surfboard
192.168.0.1
Admin/Password
Motorola MG8702
https://192.168.0.1 i
admin/ printed to sticker
Netgear Docsis 3.1 Modem
http://routerlogin.net or http://192.168.0.1.
admin/password
TECHNICOLOR WIRELESS

GATEWAY – CGM4231

192.168.0.1
Create a username and password

For first time
Get the default login username password and default WIFI name and security key printed to the router sticker which can differ for each brand model number.
Steps to Login WOW Modem Web browser
Login WOW modem and Router need to connect either using a wired cable or wireless connection using the default WIFI name and password printed to the sticker. Follow the steps to connect and access WOW modem settings from a web browser.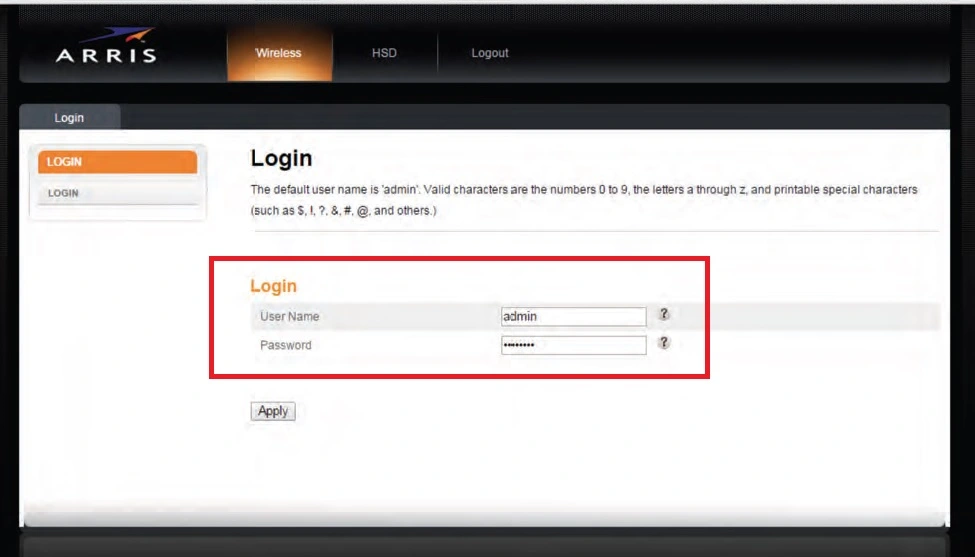 Change Wireless Name and Password in WOW modem
The Wow Wireless router and cable modem with wifi preconfigured with a default WIFI name and password that is also printed to the router sticker and it is highly recommended to change it to protect your network. The WOW modem wireless settings options may vary on different brands such as Motorola, Arris and others brands so you can find wireless settings options.
Go to the Wireless tab from the top menu as shown below image.
You will get 2.4Ghz and 5Ghz wireless settings if your WOW dual modem for Wow single band modem only 2.4Ghz settings available.
Go to Wireless- Wireless 2.4Ghz and 5Ghz one by one to change WIFI SSID.
Wireless– Basic Setup
Wireless Network name  (SSID)– ARRIS  (change default SSID and create new wifi name as per your choice)
TX power – High.
Channel  – Auto
Security Mode- WPA2-PSK (AES)
Pre-shared key– create a Wow wifi password here and use a stronger WIFI password.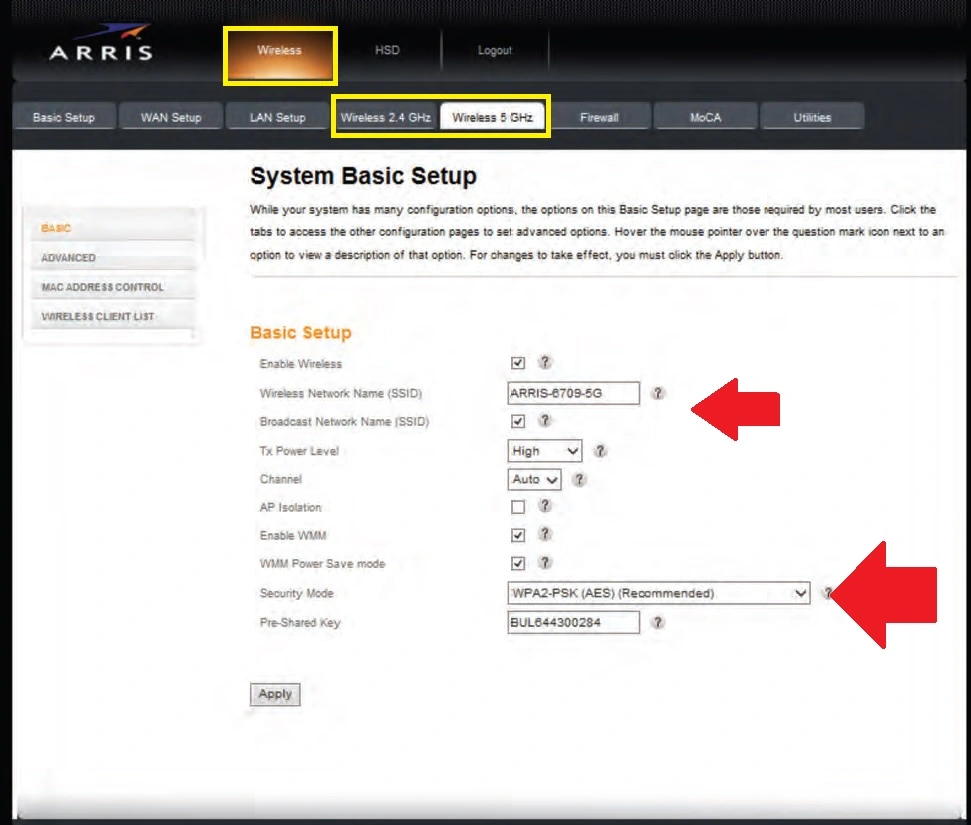 Press Apply button to save settings and you may be disconnected from Wi-Fi after update WIFI name and password. Connect again with the new WIFI name and go to the Wireless 5GHz option to change 5G SSID name and password.
Apart from updating wireless SSID and password to protect your WIFI internet, there is also important to change the router's default login password to restrict access from the user who is connected to your Wow internet.
How to Change WOW Login Password?
Changing the WOW modem login password is a bit simple than changing wires settings once you logged into the modem control panel and get all settings access. Follow the steps to change the admin login password for the wow modem.
Go to the Wireless tab from the main menu.
Wireless- Basic setup
Login Settings
Change password-
Old password-  "admin" default
New password- Create a new admin password to access router settings.
Repeat New Password- provide a new password again to confirm.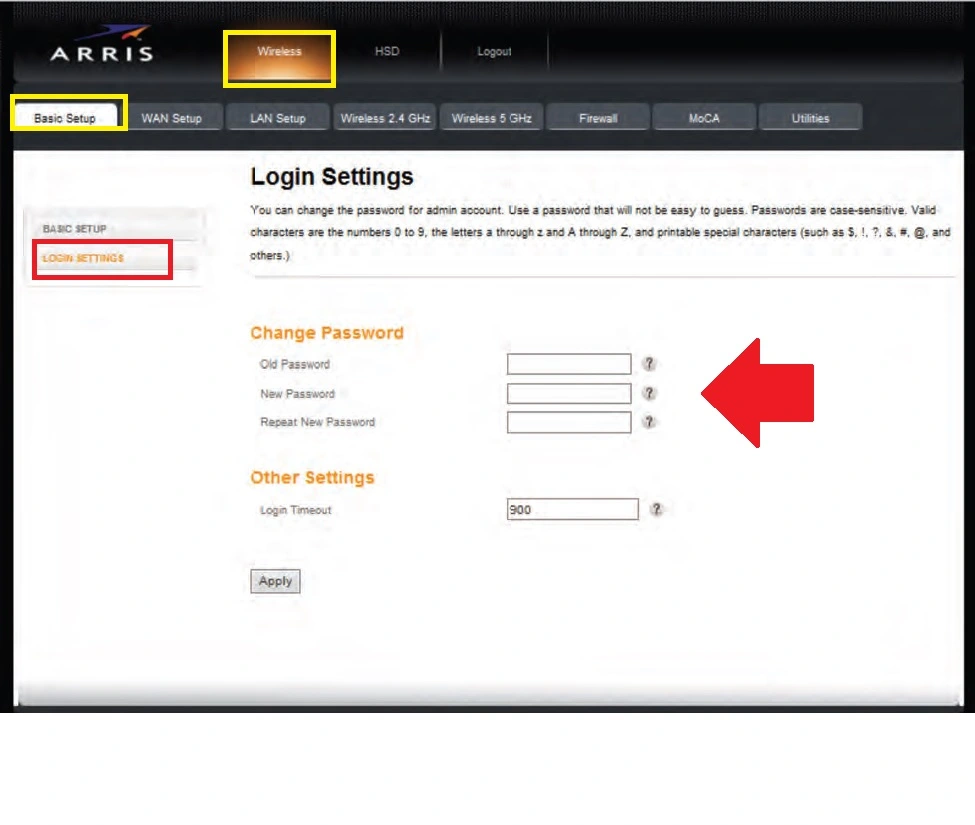 Other settings
Logout timeout –  900 sec
Logout time out is a security option that auto-logout your router if no activity for the time you have set in settings. The default is 900 sec you can change it as per your choice to add more security layers.
Save settings and enjoy a secure internet experience with your WOW internet without worrying about misuse of your WiFI network.
Related Post