Login Netgear C6300 AC1750 WiFi Cable modem
Netgear C6300-100NAS Ac1750 Dual-band WiFi cable modem compatible with Cablevision, charter, Time Warner Cable, Cox, Spectrum, and Optimum cable internet providers. C6300 wifi cable modem with 1750Mbps combined wireless speed 2.4GHz 450Mbps + 1300Mbps in 5 GHz.Netgear C6300 DOCSIS 3.0 GIGABIT WIRED and wireless speed suitable for gaming and HD video live streaming.  If you have any of the above service providers and a C6300 cable modem installed at your home then you will get a complete user manual to login to Netgear 6300 DOCSIS cable modem.
This article contains a simple Netgear c6300 manual to log in and changes WiFi SSID name and password. After login into the Netgear cable modem control panel, you can set up security features such as Mac filtering firewall, content filtering, port forwarding, and upgrading the firmware to keep your modem bugs free. You need to connect the C6300 modem either using a wired or wireless connection to an open web interface to the web browser.
Steps to Login into Netgear C6300 Docsis Cable modem
C6300 is a multi-LAN port cable modem with 1 coaxial connection port. The coaxial cable should be connected to the Cox port.
Connect LAN cable from Modem LAN port to PC/Desktop LAN port for wired connection.
For wifi connection get default WiFi SSID name and password printed to modem label.
Power modem with DC adapter comes with box and follow further steps.
Laptop/Desktop LAN IP address settings should in DHCP mode.
Netgear cable modem Default Login Settings
Default login credentials printed to modem sticker with the login IP address, username, and password details.
Netgear default login IP Address– 192.168.0.1
or URL– routerlogin.net
Default login username- admin
Default password- password.
Once you are successfully login to router settings now follow further steps to change Wireless settings and update the default WIFi security key.
Access Web interface to the browser
Open web browser and access http://routerlogin.net or 192.168.o.1 to the URL bar and press enter key.
After a few seconds login username and password, pop-up windows will be asking for a login modem.
User default login settings as printed to router sticker.
Change Wireless SSID Network Name and Password
Go to the Wireless option from the Basic menu.
1: Wireless Network(2.4GHz b/g/n)
Name(SSID)- NETGEAR75 (change this name with your own wifi name)
Channel- Keep auto or use 1,6, or 11
 Security Option- WPA-PSK/WPA2-PSK
Passphrase– jaggedcomet006 (change this default Netgear wifi password with new wifi password)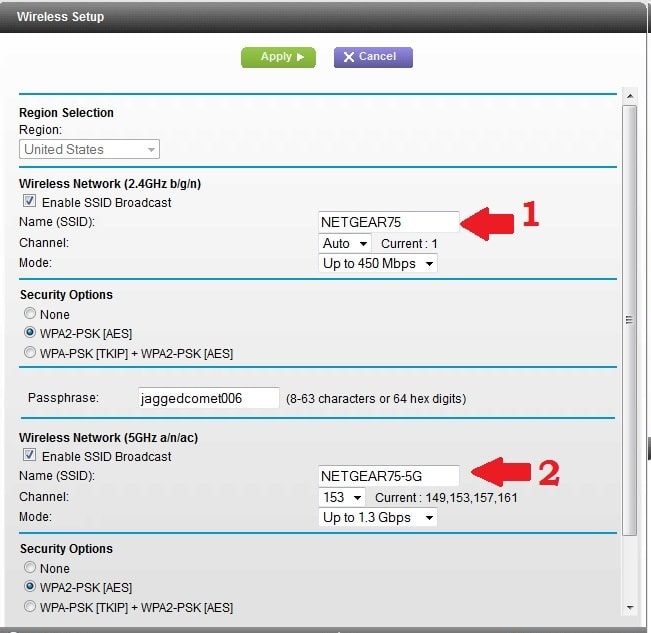 2: Wireless Network (5GHZ a/n/ac)
Enable SSID broadcast
Name (SSID)- NETGEAR75-5G (change SSID name for 5G band)
Security Option– WPA2-PSK_AES
Passphrase– create a password for the 5GHz network name.
Press the Apply button after all configurations. If you are connected to wifi connection you will get disconnected after updating wifi network name and you have to connect again with a new wifi name and password.
Netgear C6300 Troubleshooting
If you facing any login issue with the Netgear cable modem or Login IP address not working for you then you may follow troubleshooting steps to fix login errors.
Netgear AC1750 Cable Modem Login IP Not working
If you are unable to access login page for your cable modem or taking a too long time to respond then it seems some network configuration error or another network glitch. follow the steps to fix the login error.
Make sure the default login IP Address printed to the router label not already changed to different IP series.
PC/Laptop LAN Network IP settings should be in DHCP mode.
If still facing login error and not sure if the default login IP address and username password already changed then try reset Router to default mode.
Factory Default Netgear C6300 Cable modem
Locate a small reset button beside ethernet ports in the modem.
Press and hold the reset button for 10-15 seconds and release when router led blink and rebooting start.
this process takes 2-3 minutes to finish reset to default and restore into factory settings.
Note: Reset to default mode will erase all configurations so make sure you have a backup configuration file and you have internet settings detail to configure the modem again.
Related Post