Ziply Fiber Login and Setup Automatic Payment
Ziplyfiber is an American-based telecommunication company that provides Internet and voice service to homes, small business as well as enterprises. Ziply founded in 2020 is a fast-growing internet service provider and slowly expanding its network to different states. This article complete manual for ZiplyFiber login and registering for an online Ziply account for the first time.
If you are a Ziply fiber internet subscriber then you must need to know Ziplyfiber login, Ziply password change and Ziply fiber bill payment, and other services as you need to do it every month to keep your Ziply fiber internet secured and bug-free.
You are required to log in to Ziplyfiber to change your Wireless SSID name and password as Ziply uses different manufacturer GPON / DSL modems for last-mile connectivity.  Your internet might be installed with a Ziply Arris modem, Ziply Frontier GPON Fiber modem, or can be a different brand.
Ziply Fiber currently providing different Fiber internet plan from 100Mbps upload/Download speed to 2Gbps download/Upload speed that depends on your requirement. If you looking to subscribe to Ziply fiber internet plan then you can start with a 100Mbps plan with free installation and $10 off If you pay for 3 months at once. You can upgrade your Ziply 100Mbps plan to 300Mbps or higher plan any time whenever your internet speed requirement increases.
How to Login Ziply Fiber Account?
If you have an old user of Ziply Internet service then you must sign up for a Ziply account during subscribe your plan to buy and monitor your plan details.
If you new user and not sure how to buy a Ziply fiber internet plan then you can follow the steps below to subscribe to Ziply internet plan. Make sure Ziply service is available on your location you can confirm from Ziply's official website for the availability of internet service currently.
The benefit of subscribing to Ziply is a fast process and paperless process to buy a new internet or voice plan. Also using Ziply plan you can review your Ziply internet usage and billing details and Ziply fiber pay bill online as well as remind of dues dates and pending bills that help to avoid late fees or disconnection of internet service.
If you existing user just use your Ziply user id and ONline password registered to the ZiplyFiber login account.
For first-time users follow the steps below.
Step- 1  Create Ziply User  ID/ Password
Visit https://ziplyfiber.com/register for Subscribing internet plan for the first time.
For new users create Ziply user ID and provide all your information such as Name, Email ID, Phone number, and complete address.
Step-2  Identify Yourself
The next step identifies yourself using  Two methods provided by Ziply Team while installing your internet service.
Bill Telephone number
Billing Account number
Step 3-  Authenticate
Now final steps to Authenticate that you have 3 options to authenticate as given below.
Last 4 digits of the Credit or Bank account Number.
Send a 4-digit Access code.
ZiplyFiber Account billing PIN
Use one of the ways to authenticate that you want to use and complete your Ziply online login account where you can review your internet plan and billing details.
How to Pay Ziply Fiber bill online?
zippy fiber login pay bill is an easy and fast process without visiting to Ziply office to pay bills.
You can either pay bills every month manually or the smart way is automatic bill payment using a Credit card or Bank Account. Follow the steps to make a Ziply fiber Bill online using a Credit card or Net banking.
Visit Zipply Fiber My account website.
Login to your Ziply account using your user id and password.
Go to My payment – Make a payment.
You will get detail of all your pending bill amount and due date on this pay along with the Pay button.
Click the Pay button and proceed with the payment steps and method you wish to use to pay your Ziply bill using a Credit card or Bank account and finish the steps.
Fix WiFi Extender keeps Losing internet
Steps to Setup Automatic Ziply Payment
If you setup the Automatic payment option then you do not need to worry about the monthly payment and no reminder is required as it's an automated process that detects the bill amount from your linked Credit card and bank account automatically on or before the due date.
Login to your Ziply Account.
Go to My Payments- Signup for Autopay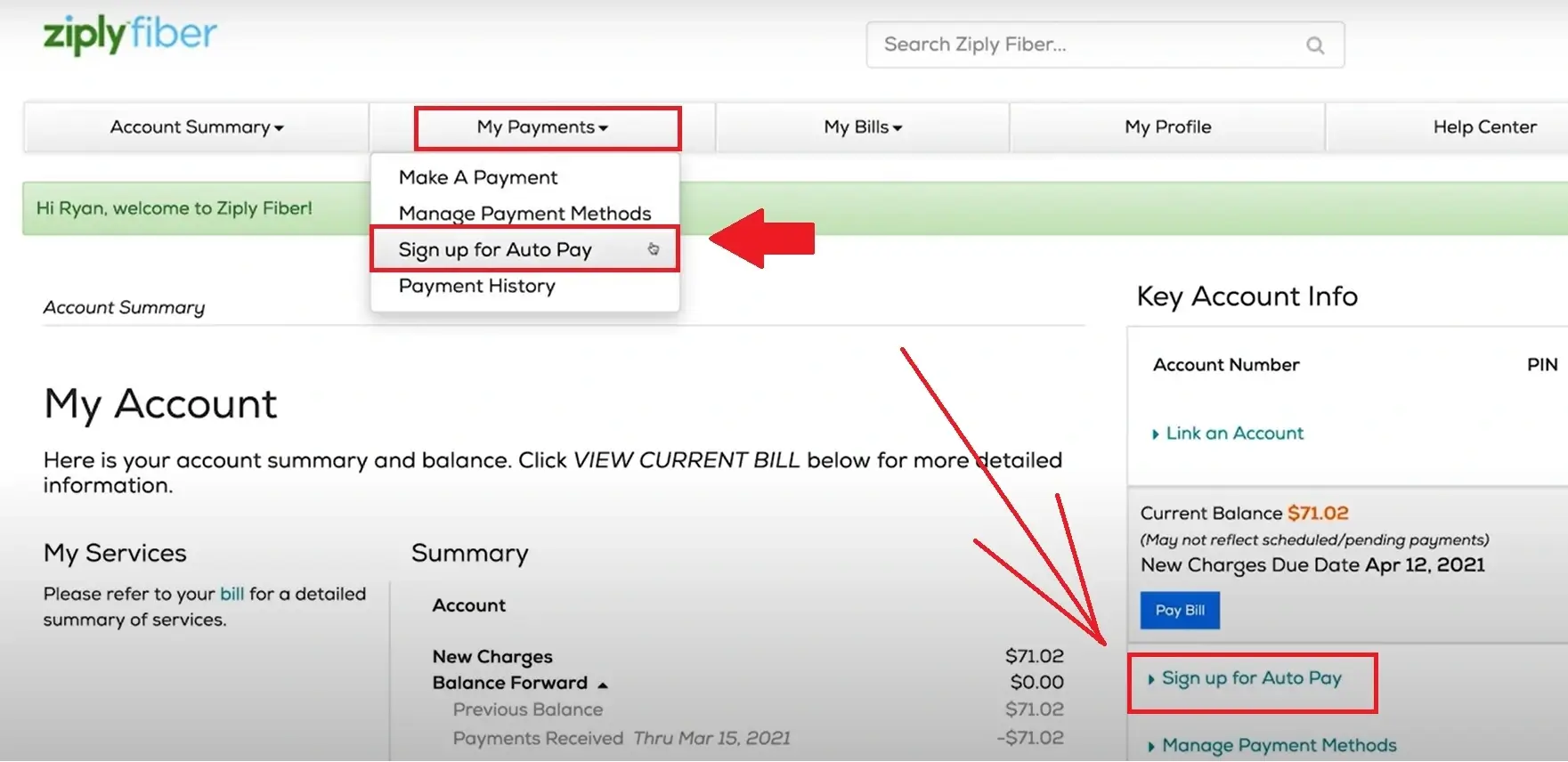 Payment Method- choose the payment method from Card or Bank account.
Payment to be applied– Choose how many days before you wish to apply your payment automatically from 1 day to 10 days before the due date.

Press Continue and you will get confirmation of  "you have successfully signed up for auto pay".
Enjoy your Internet without worrying about pending bills every month after the autopay is set.
 Now if you looking to change your Ziply Fiber Router password or WiFi name then follow the steps to change your Ziply Password.
How to Change ZiplyFiber WiFi Name and Password?
Ziply Fiber use Arris, Frontier, or other brands of GPON fiber or DSL modem but the steps to any brands that using in Ziply internet service will be the same. Follow the steps to change your Ziply password in a few steps.
Connect your laptop or mobile device from WiFi SSID for your Zipy Fiber router.
Find the Default SSID and WIFI password printed on the sticker along with the Access code that is required to make any changes.
You can also use a LAN cable connection from the modem to PC for your Ziplyfiber Login.
Open the web browser and access ZipyFiber Modem Login IP address http://192.168.254.254 to the URL bar.
The user's default username and password are printed to the sticker to log in to your Zipy modem.
Go to Wireless settings from the Top menu.
Wireless- Basic Settings
Change WIFI name- Zipy wifi name (change wifi name here as per your choice.
Channel- Auto
WiFi Security– WPA/WPA2_PSK_AES
Passphrase- Change Ziply default wifi Password
Save settings and if the router asks for an Access code to confirm settings, then find your Ziply access code printed on the modem sticker.
You required an Access code to make any changes in the configuration of your modem so you must keep safe your modem access code printed to the sticker along with default login credentials.
Final Word
This is a simple manual for Ziplyfiber login and creating a Ziply account the first time as well as changing your wireless settings and setup automatic payment for your Ziply internet plan to avoid late fees and internet disconnections. If you facing any trouble while setup your Ziply account or making a payment or any other problem you can contact Ziply fiber customer service to raise a complaint regarding configuration or Ziply fiber outage.
Related Post