How to Reset Belkin Router Password?
Belkin Router reset either single band N300 or Dual band AC750 as well as Ac1200 11ac router required if we forget a password or there is any droppings in wifi signal as well as router performance. Before going to Belkin wireless router reset to factory default, we will suggest following the Belkin login manual to try access your router if you are unable to access it due to a wrong password or an Invalid login IP address.
Make any router to full factory reset using the reset button erase all configuration from the router and restore to factory settings. You are only advised to use the hard reset method if you are locked out and not able to access the web interface due to forgetting the login password or username. Before using the hard reset method follow the below reset methods to safely recover your Belkin wireless or login password without losing configurations.
There are two ways to reset a router using the Reset button as well as from the web interface called Soft reset. The soft reset method is a safe way to restore your configuration and you can backup settings before resetting the router so you will not lose any configuration and no manual configuration is required after resetting the modem.
How To Reset Belkin From Settings?
Making router full factory default from settings is bit easier and safer way to restore configuration without losing configuration.
To reset Belkin router from settings you are required to login to the web interface from mobile, PC, or laptop using a wired or wireless connection.
Before going to reset your router if you forget the wireless password then you can only reset the Belkin Wireless password without making full factory reset.
Follow the steps to Reset the Belkin Router without the Reset button and without losing configurations.
Connect your Belkin router using Wireless if you are able to use wifi.
If you forget the Wireless password just connect a LAN cable from the Belkin LAN port to PC/Laptop LAN.
Open the web browser and access Belkin Login IP address http://192.168.2.1 or http://router and use the login password as you changed or if default leave it blank.
How to Find Your Router IP Address
Note- if you forget your wireless password and just want to reset your Belkin Wireless password then follow the steps below.
After login go to the Wireless tab option.
Change your wireless password and no need to factory reset your router.
If you facing any issues with the router and want to reset your router to fix bugs and other issues then follow the steps.
Note- before making a reset go to  Utilities- Save/ backup settings.
Download the configuration file and save it in the drive to restore after resetting your router.
After downloading the backup file now follow the steps to reset Belkin AX3200 and RT3200 Wifi6  router or single band router.
Utilities- Restore Factory Defaults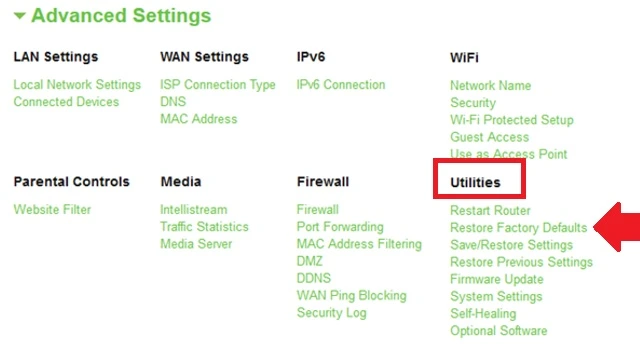 Press the Restore "Factory Default" Button and confirm Yes or OK when the popup asks.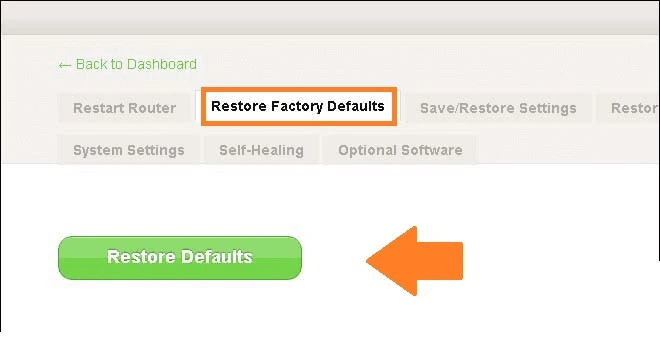 After the factory Reset Belkin router will restore to default settings and you can log in by default login credential and restore your configuration backup that you saved before making the router reset.
How to Factory Reset Belkin Router using the Reset button?
If you forget your login password and can't log in Belkin router from the web interface then you can use the Reset button to restore the configuration to default but in this, you will lose all configuration so you have to restore the configuration backup if you saved it before or use the manual configuration again as per your internet connection.
Steps to Reset Belking Router Using Button
Power on your Belkin N150, N300, or other router that you wish to factory reset.
Find a small reset button beside LAN Ports.
Use a paper clip or needle to press the reset button from the reset hole.
Press and hold the reset button for 15 seconds.
The router will automatically restart after completing reset process and restore to default settings.
Login to your Belkin router again with default settings and restore the configuration backup file if you saved it before.
If you don't have a configuration backup then just manually configure your router as per your internet settings.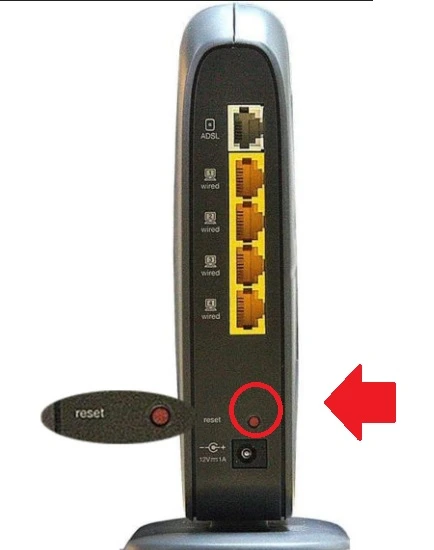 Both the reset way work with Belkin N150 WiFi router, Belkin N300 WiFi router as well as WiFi 6 and WiFi 5 router.
You can use this Belkin Reset manual in pdf to save for later so you can use it when you are required to reset your router.
Some common issues related to Reset Process.
There are many different issues that come with the reset process or also with a wireless router as given below.
Belkin router reset itself to factory settings
If your Belking router reset itself make sure your router reset button is damaged or continues pressed due to any glitch or issue so you can check your reset button to fix reset problems.
The Belkin router reset button not working
Belkin router reset button not working can be wrong reset timing or reset button damage or disabled from settings.
Make sure you are using at least 15 seconds to reset the Belkin router. If still not resetting then it might damage or break down.
no internet afyer Belkin router reset
Resetting the router restores to default settings and erase all configurations so you have to setup your router again to work with the internet. If you try to connect internet without configuration again then you will face No internet issue with the Belkin router.
Related Post