Belkin.Range | Belkin Range Extender Setup
Belkin Range extender available with single-band n300 as well as 11ac dual-band AC1200 for high-speed wifi internet plan extend. You can boost WiFi range and internet speed in the area with no signal or no coverage using a Belkin WiFi repeater that is compatible with any brand access points and routers. This post helps you to setup a Belkin range extender if you have Belkin AC750, Belkin AC1200, N600 as well as Belkin N300 Single-band wifi repeater. You can setup Belkin extender device either using a wired LAN connection or wirelessly through the default extender SSID.
You required a Wireless Password for the existing wifi network to join the Belkin repeater to extend the same network in the area not getting Wi-Fi coverage. You can access the Belkin setup wizard either using an IP address or Belkin.setup login URL. Unbox your range extender and plugin into the wall socket near the wifi router you want to extend the network to get a stronger wireless signal.
Steps to Setup Belkin Range Extender
Unbox range extender accessories if want to set up the first time and follow the below steps one by one.
Plug Belkin Repeater device to power outlet nearby WiFI access point or router you want to connect to boost signal range. Make sure you are getting a good signal range from the wifi router you want to extend.
If using LAN connection make sure PC/Laptop TCP/IPv4 LAN settings in DHCP mode or use static IP- 192.168.206.2.
Go to Laptop WiFi or Mobile WiFi and connect Belkin.setup SSID for wireless connection or use LAN cable for wired connection.
192.168.1.1  Admin Login Password
Start Setup Wizard for Belkin Range
Open web browser and access http://belkin.range or use Belkin Default Login IP http://192.168.206.1 and press the enter key.
You will get Belkin range extender setup page and term and condition to accept an automatic software update.
Check the box for I Access the End User Licenses Agreement and Automatic firmware update.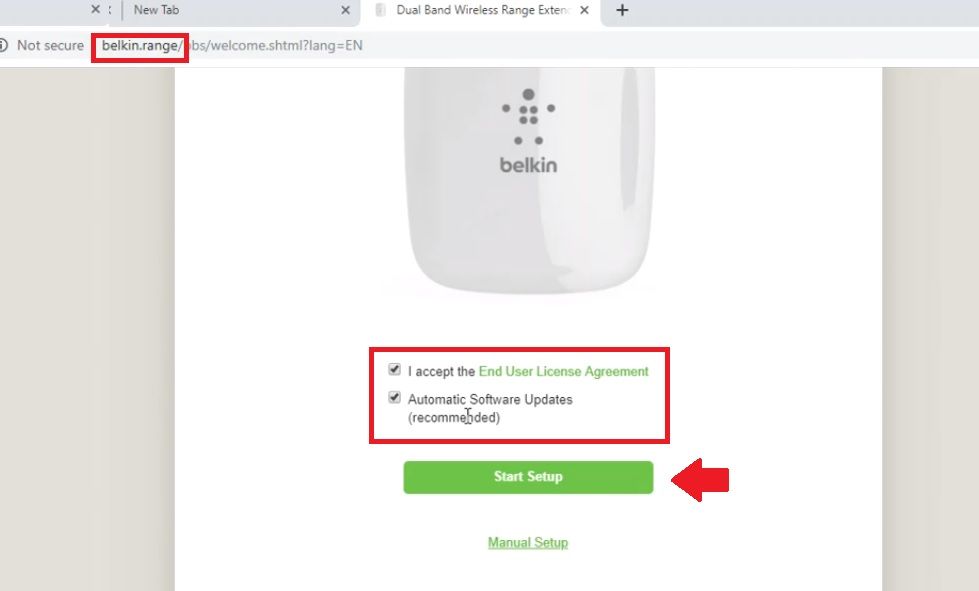 Press the Start Setup button and wait for a few seconds until the repeater device scanning for the network running nearby.
Select your WiFi SSID name from the list. If your Range extender N300 or a single band then you will get only a 2.4Ghz SSID.
Select WIFI SSID and Press the next button for providing a WiFi key for the host network.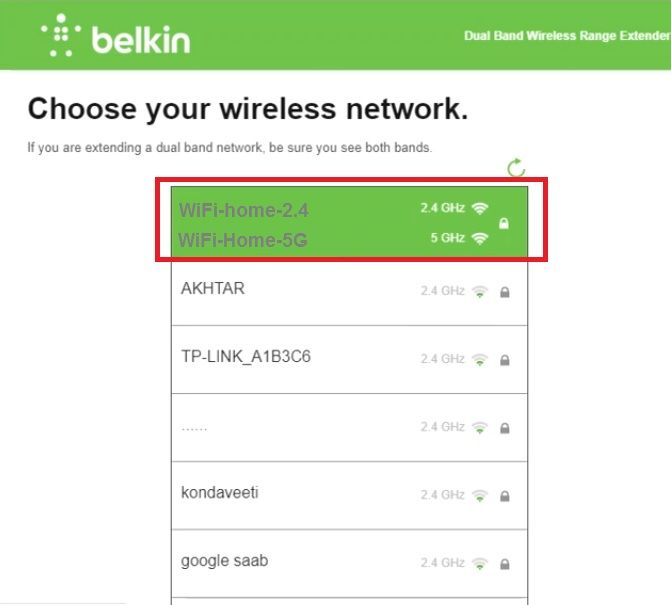 Provide Wireless Security key for an existing wifi network to allow connection from Belkin range extender device.
Make sure the password is correct otherwise Belkin extender does not work internet.
Enter the network password and press the Next button to configure the extended network name and password.
Setup Extended Network SSID and Password
You can use the repeater extender network name differently or the same as existing as per your choice. If using the same name make sure the wifi password is also the same as an existing network. Using a different password will not auto-connect while moving to the host router.
If your range extender is the asingle band you will get only a 2.4 GHz extended network option.
1: Your extended wireless network
2.5 GHz extended network
Network name– wifi-home-2.4_ext (Create network name as per your choice)
Password– create a password for the extended network.
Security Mode– WPA2-Personal (recommended)
2:  5Ghz Extended Network
Network name- Belkin-5Ghz-Extended (create wifi name and password 5Ghz)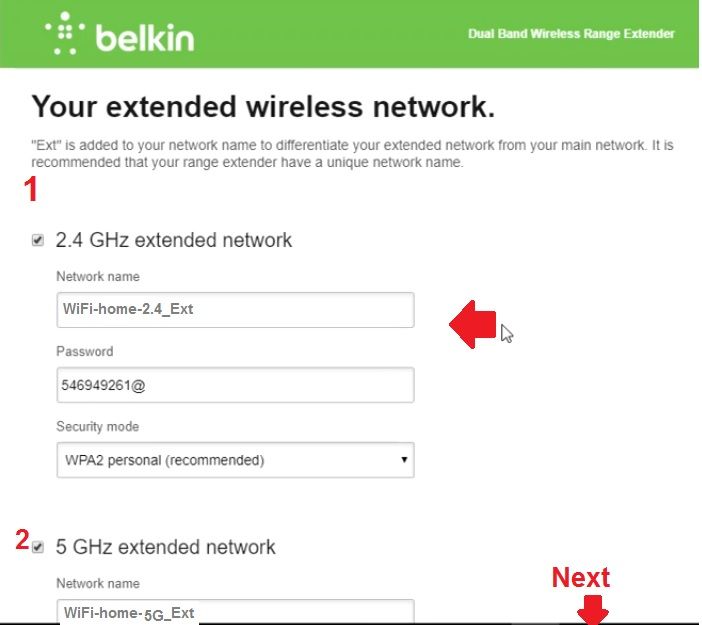 Press the Next button to get the best placement for the range extender device where it can get a strong wireless range from the main wifi router.
Spot Finder will provide you with suggestions to adjust the extender's location to get superior performance and signal.
Create Belkin Login Password
In the final step, you will get "secure your range extender" to create a login admin password for your Belkin repeater device to secure access.
Create an admin password
Enter 1-128 characters (create strong login password with Alfa numeric combination)
Enter admin password again (provide the new password again to confirm)
Add password hint (option)
The password hint will give you a hit to remember login password.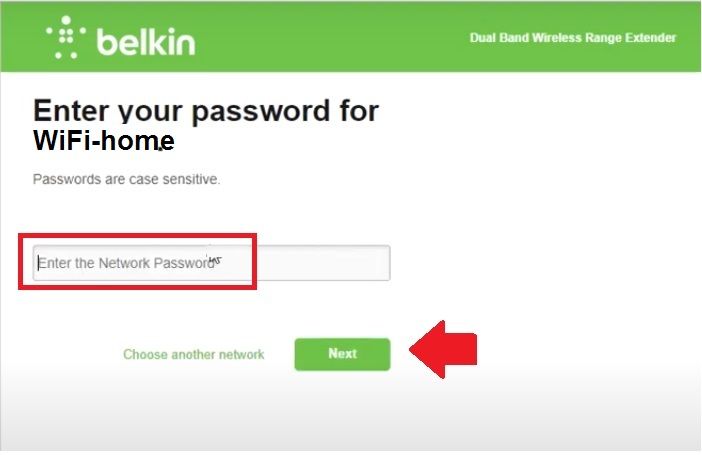 Press the Save button to finish the Belkin configuration wizard.  Go to mobile/laptop wifi connection and check for extended network name should show. Connect extended network with the password you create and enjoy seamless wifi connectivity in every area.
Related Post