How to block User in D-Link WiFi Router?
Block internet access in D-Link Wi-Fi routers for wired users as well as WiFi users. D-Link provides Wifi router and DSL routers for broadband internet connection for last-mile connectivity. It is a popular and trusted brand for home as well as official networks. D-link router software is loaded with all the latest features to provide a secured network. D-link Wifi router is the best home router and easy web interface to setup without any highly technical expertise. You can login d-link router yourself to change the login password, Wifi password, and name as well as other configurations.
You may always use a WiFi password to secure your internet from unauthorized access but you can also enable a mac access list to block unknown users in the network. ACL (access control list) not only gives you the power to filter wired computers, but you can also restrict internet access for specific users. In earlier posts, we have provided a user manual to setup d-link as repeater mode to boost WiFi signals. Now, this post will help you to enable mac access list to block the user to access the internet only. Blocking mac addresses only restricts internet access and the user still can access and share local networks. If you have a d-link dir600, D-link DSL router, or dual band wifi router you can use this user guide to block mac addresses for specific users to access the internet.
Steps to Enable Mac Access List
D-Link router web interface login required to set up mac address blocking.
Connect DLink wifi router using wired or wifi connectivity to access the web interface.
Default Login D-link IP address 192.168.0.1
Default username: admin
Password: admin or Blank or 1234   depends on the models.
Open a Web browser and access http://192.168.0.1 or http://192.168.1.1 DSL login IP and wait until the login page is loaded.
Use the default username password to log in or if you already changed the password use the same to log in to your router.
Once you login to the router control panel now follows the steps to block users.
Block Wi-Fi users to Connect WiFi
Blocking users in d-link dived into two parts.
Restrict wifi devices from connecting wifi networks or block internet access for wired as well as wireless users.
If you want to deny wifi users such as a mobile, laptop or any other device to connect wifi network then you need to enable ACL (access control list) under Wireless.
Block Mobile device to connect wifi.
Go to Wireless- Advanced Wireless
Enable ACL (access control list)
Check the box to Enable wireless access control mode.
Mac Address: 00:23:2b:15:98:1b (add the mac address of the user's mobile or laptop device you want to disallow to connect wifi)
You can get a user's mac address from the DHCP client list or manually check the mac address from the device.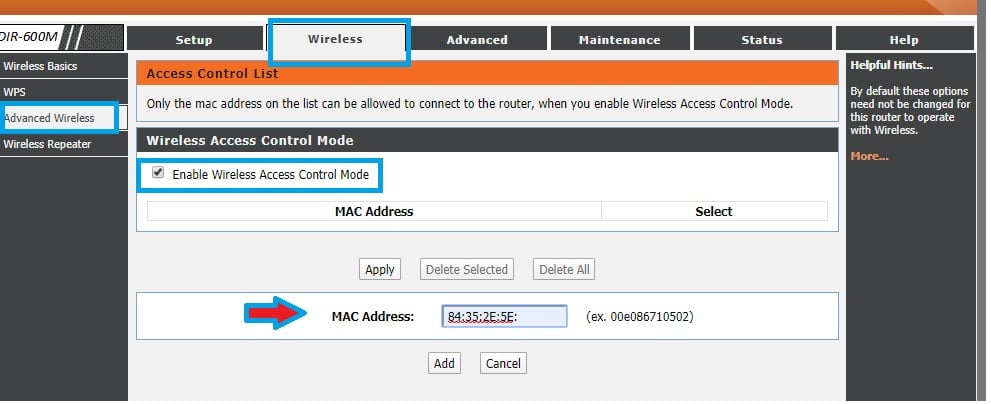 After creating this list mac address added to the list can't connect to WiFi internet.
Block internet access for LAN and WiFi user
You can block only internet access for specific users in the network without local sharing blocking.
Restrict internet access for LAN and WiFi user needs to enable Mac access list under network options.
Setup the mac filtering option Go to the Advanced option in the d link router.
Advanced= Network Filter
Turn Mac Filtering ON and Allow– The only users who can access the internet those are added to the mac access list.
Turn Mac filtering ON  and Deny Computer listed to access the network– User added to the list can not access the internet.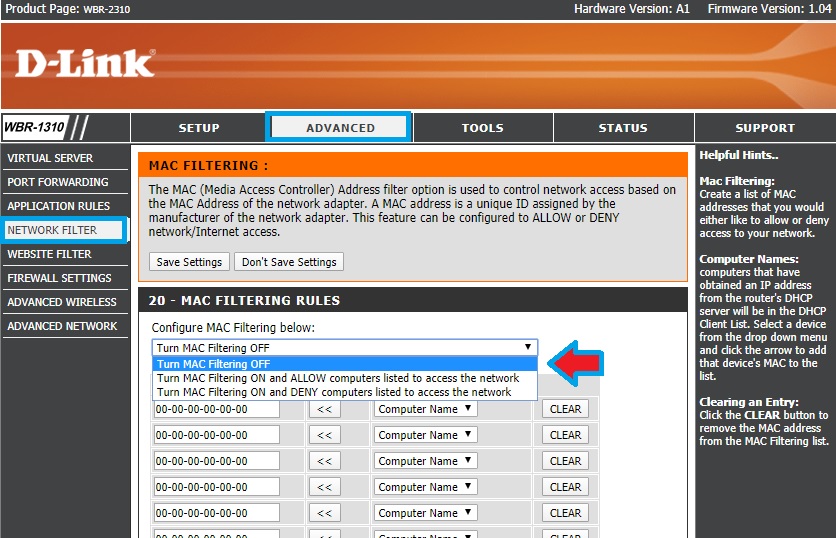 Select Deny's option to block specific users to access the internet.
If a user is connected to the internet you can pick the user's mac address from the DHCP client list option and add to the mac list.
You can add manually mac address for specific mobile, laptop, or computer to block the internet.
Once all mac addresses are added save settings to confirm the list. This is a D-link WBR-2310 WiFi router mac filtering option.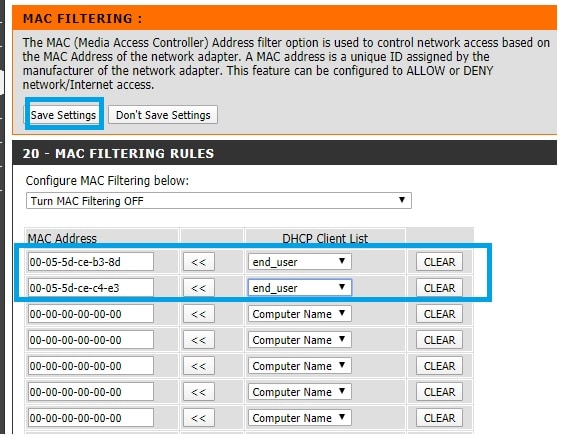 After saving settings check if the specific user's internet is disconnected or showing limited or no internet connectivity.
Also, confirm local network sharing still working and that you can access computers connected to the network.
Related Post