192.168.1.1 How to login 4G hotspot router?
4G hotspot router is a portable sim-based Wi-Fi router and also called pocket Wi-Fi router. 2G,3G now 4G technology working for voice and internet service for which make everything possible with smartphones. Every smartphone supports the 4G network now and soon it will be upgraded to a 5G network to get more internet speed experience in the phone.Login 4G hotspot router help you to change default SSID name and password to keep your 4G router secured.
Every Telecom company provider 4G service sim and also the 4G portable device to use a single internet plan with multiple users. The best use of portable hotspot routers is sharing one internet plan with all family members without buying separate 4G internet plans.
There are a number of 4G hotspot manufacturers available in the market such as Huawei 4G, T-Mobile Hotspot router, Airtel 4G hotspot, Alcatel 4G router, JioFi, and Netgear LTE 4G portable router, and many more. Usually leading OEM used 192.168.1.1 default login IP for the 4G router to access the control panel.  The method of login all routers are the same and this article will provide a simple user guide to login 4G hotspot router with default IP address and login settings.
The most 4G router comes with pocket size and there is no Ethernet port available so login settings need to connect using Wi-fi setting with default login username and passwords.
Connect 4G hotspot Router to PC
Telecom providers lock 4G routers with their SIM and service and OEM provides 4g hotspot devices for all sims without locking. You can connect the portable hotspot router using WiFi only as most of them come without LAN ports. So make sure you are using a mobile or Laptop and computer support Wifi connectivity.
You need a default WiFi password to connect the 4G router from the Computer or mobile.
How to find 4G Hotspot Default settings?
Every router's default credential is printed backside of the router or under the battery.
You can also find default login details from the manual that comes with the device.
Remove the hotspot router back cover and remove the battery. See the sticker printed with the default WiFi name and Login IP address and username password details.
Now put the battery back and power on the portable router.
Go to Laptop/Computer /mobile WiFi and see the default SSID name showing as printed to stickers
Use the default WiFi password to connect the router the first time.
Default Router IP Address Username and Password All Brands
After connecting to WiFi now login router.
Here are some common default login IP addresses and username passwords used by most 4G router companies and OEMs.
Default login IP- 192.168.1.1 or 192.168.8.1
Default username: admin
Default login password: admin or password or 1234
Another way to find the default IP address is to open the Command prompt in windows.
Press the Windows key together.
Type CMD and press the OK button.
Now in the command prompt run the commands given below.
"ipconfig"
See the Gateway IP Address 192.168.1 1 (this will be the login IP Address of your 4G router)
 Accessing Default Login to 192.168.1.1 IP address
Now open the web browser in mobile or computer and access http://192.168.1.1  and http://192.168.8.1 for the Alcatel 4G router and wait until the login page loading.
For the T-mobile 4G router login, you can use "http://mobile.hotspot".
Use username and password as per the above combination.
Mostly admin used for username and password for most of the bands 4g routers.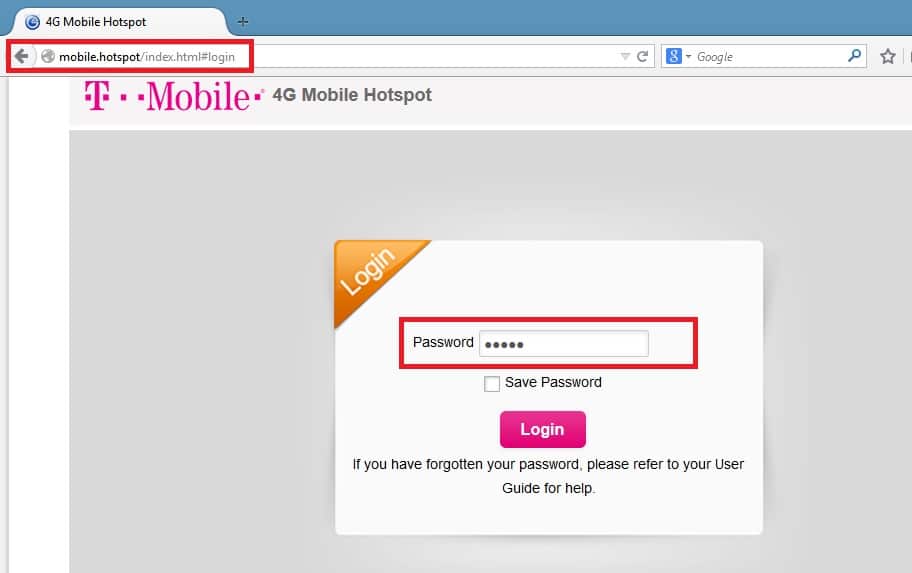 Press the Login button and access the router control panel to configure Wi-Fi and other settings
Change 4G Hotspot SSID name and Password
Once you are inside the router settings page then you can change the wi-fi SSID name and WiFi password.
Go to Wireless option
Wireless Basic Settings
SSID: Change SSID for Wi-Fi name (this name will show in the device to connect from WiFi)
Wi-Fi Security: WPA2-PSK
Key: WiFipassowrd (set a strong combination password)
Tips: Never use personal information for WiFi name and password.
Do not use the date of birth and phone number or address as a Wi-fi password.
Keep change the WiFi password after a few months.
Save settings.
All mobile and WiFI devices will disconnect after change the Default WiFi name and password.
Go to wifi and connect with a new Wi-Fi name and password again.
Change 4G router Login Password
Login password is also important to change from default to protect 4G router.
Find settings – System from the menu.
Change password or Modify password.
Old password: admin or password or anyone you use for login.
New password: create a new password
Confirm Password: type new password again to confirm.
Save settings and log in with the new password.
Use a strong password and keep safe with you. In case you forget you need to factory reset 4G hotspot router to access settings again.
Problem login 4G hotspot router
Facing any trouble while connecting the 4G hotspot router then read the Question and answer section to fix it.
Q: 4G hotspot Default IP Address Not Working!
If your hotspot router default login IP not working or showing page cant not found it seems there is a network configuration issue or IP address mismatch.
Fix: Make sure you have your Wi-Fi IPv4 LAN settings in DHCP mode.
Confirm if firewall not enabled in Windows PC or Wi-Fi not showing limited or no internet error.
While accessing IP Address to browser URL bar make sure you are using not using https://192.168.1.1  or typing mistakes such as 192.168,1.1, 192.168.l.l., 192.168.1
If everything looks good but still the hotspot page not working, then make a reset to the default router.
How to Factory reset 4G hotspot Router?
Factory default hotspot router using the reset button needs to use the reset button which is available in the hotspot router.
Warning: While making a factory reset router all configurations will be erased.
Find the tiny hole or reset button in the portable router.
Remove back cover and fins a small hole for reset router.
Use any needle to press and hold for 5-10 seconds until the router reboot.
Wait for the finished rebooting process.
Go to mobile wi-fi and see if the default Wi-Fi name shows.
Connect with default Password and try access again as follow above steps.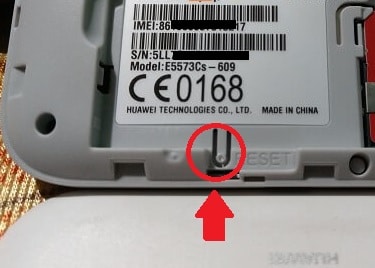 Related Post