How To Reset Talktalk Router If Forget Login Password?
Before proceeding to steps of How to reset TalkTalk router if you didn't try login your TalkTalk router or you may unable to access talk talk router using default login settings just read our previous article cover on how to login TalkTalk router with default settings. You seem facing a login issue or forgotten login password that is unable to access talk talk router settings and you looking user guide on how to reset the TalkTalk router if can't log in settings.  There are two ways to reset talk talk router using soft reset and hard reset. Soft reset a safe method to reset the router if you can log in to router settings but hard reset help you to get access using default settings if you forget the login password and cannot log in settings.
Resetting talk talk router hard reset need to near router physically and soft reset can done using remote access because it's a software reset.  Try making router login using last changed password or default login password printed to sticker to avoid making reset. If you still need reset talk talk router because nothing work then follows steps to make factory restore router settings.
Soft reset Talk Talk router from Settings
Resetting the talk talk router from settings required to access the web interface and login into the control panel. You need a TalkTalk router login username and password to access settings so make sure you have login password if you changed the talk talk admin password already or if using default then find the login username password printed to the router sticker.
Note: Before making Router reset make sure you have downloaded the configuration file from the Backup/Restore option to restore configuration after reset to avoid long time internet downtime.
·       Steps to Reset TalkTalk super Router HG635/633.
Connect Router either using Wired LAN cable from Router LAN port to PC/Laptop LAN port.
Or use WiFi to connect the Talktalk router using WiFi SSID and password.
Open a web browser and access login IP address http://192.168.1.1 to the URL bar.
Use default talk talk username password: "admin/admin" or if you already changed admin password use same.
You will access TalkTalk router control panel where you can see the Internet, Wireless, and other settings options.
Go to the "Maintain" option from the right top corner as shown below the image.
Maintain- Device management
Factory Restore– Apply Factory restore option to reset router into factory mode.
You will ask to confirm that you are sure to reset router settings. Press Yes to continue and wait a few moments until the router restores settings to default mode.
How to Find Your Router IP Address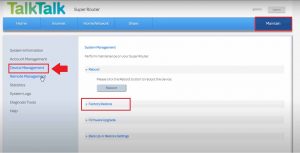 This process may take 2-3 minutes until resetting into default mode. You can ping the default login IP address to confirm the router successfully reset to default settings.
Login router with default settings and setup again.
If You can not use the soft reset method because forget the login password and can not access settings then you have another way is hard reset to restore settings into default mode.
Hard reset Talk Talk router using the Reset button
Hard reset is a tiny reset switch process that takes only a few seconds to reset settings without needing any connection and login with the router. Hard reset is specially designed for a fail-safe recovery method in case you are unable to access router settings. Hard reset a physical process so it can not execute remotely. If you can access the router physically then follow hard reset steps as given below.
Steps to Hard reset Router using the Reset button.
Power ON your router with a DC adapter as supported.
Locate a tiny reset button or a small reset hole for pressing the reset button near ethernet or beside. Location can be varied for each Talk talk router model and brand.
Use a needle to press the reset button.
Press and hold the reset button for 10-15 seconds and monitor Led lights.
The router will automatically reboot after finishing the reset process.
The reset process takes a few minutes to restore the router into factory mode so wait until the process finish and the default IP address starts to ping.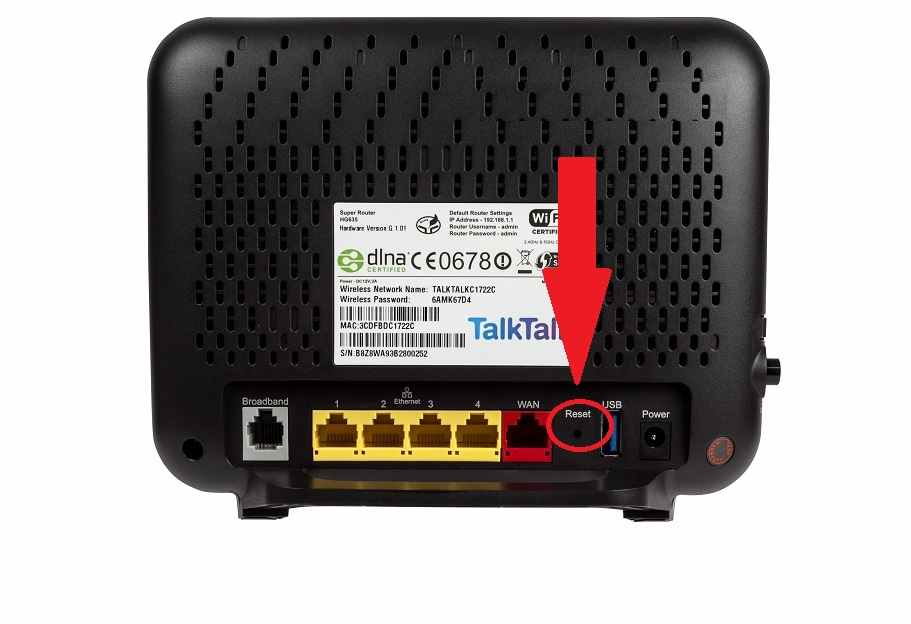 After reset the router just use default settings as printed to the router sticker to login and restore configuration backup if you had downloaded the configuration before resetting the device. You can also use manual configuration if you didn't download backup and you have internet settings details.
Related Post