How to Reset Arris Modem and Router?
There are many situations comes when you have to reset the modem because locked out due to forgetting login credentials or unable to access the router web interface due to several reasons. Using broadband internet over or coaxial cable all need a WiFi modem or router to turn cable internet into WiFi but how to login settings if forget the login username and password? If you have an Arris cable modem installed in your internet connection and can't access the web interface and looking for the user guide to reset Arris modem to restore it into factory default mode. There are two ways to make Arris modem using the web interface and the reset button. Making modem factory default from web interface called soft reset that required login router settings and reset from button called the hard reset that does not require to log in.
In this article, you will get a simple user manual to reset the Arris modem and router if forget your login password or getting connectivity issue with your wifi or wired internet. Resetting Arris modem is a simple and fast process that helps you to access router settings if you can log in to the modem web interface. follow the steps to step Arris modem factory reset from the web interface and reset the switch.
Note: Making router, modem factory default will restore router settings into default mode so if you know internet settings for your router or you may have configuration backup file then only make router reset. If you have no configuration detail for setup router again will disconnect your internet permanently until the modem, the router configured again.
Factory Default Arris Modem from the Reset button
A reset switches a fail-safe way to access router settings if you change your password or forget. The primary method you can use the recovery option to recover login password but a lot of cable modem does not support the recovery method so you can use the reset button to restore settings. This method will work for Arris WiFi cable modem, Arris Docsis cable modem without WiFi as well as the Arris WiFi router and Surfboard modem series.
Steps to Reset Arris Router and modem using the tiny reset button
Turn on the Arris Modem and wait until completely boots up.
Locate a small reset hole in Arris modem and router.
Use a needle or paper clip to press the reset button.
Press the reset switch for 5-10 seconds and release the button when LED lights suddenly turn off and turn on again.
The modem will automatically reboot and take a few minutes to restore to default mode.
Check Arris default Login IP 192.168.1.1 should start ping and set up the Arris modem with default settings.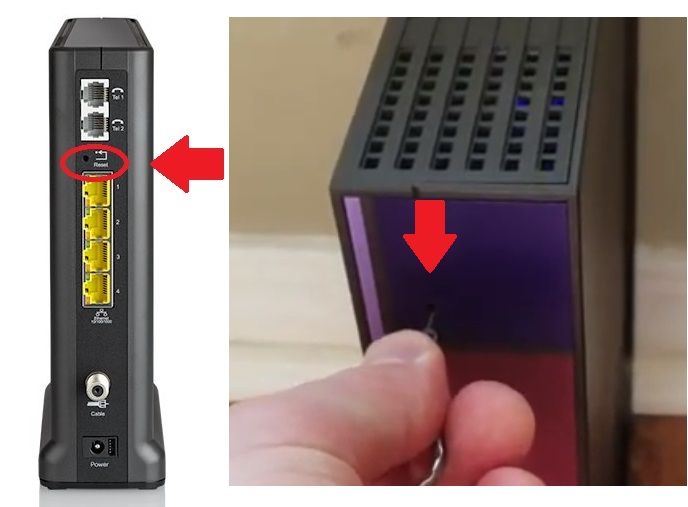 This method calls the hard reset method to factory default Arris DOCSIS modem without login to settings.
The next way to reset the Arris modem is a soft reset that requires login modem settings and you can take a configuration backup before factory reset the router or modem.
Arris Modem Reset from the Web interface
Factory reset Arris surfboard Docsis gigabit dual band wifi modem, as well as single-band wifi modem, are the same method so you can use this method if you have any of Arris Cable modem or WiFI modems.
Resetting the Arris router from the software needs router login settings to access the control panel.
Arris Default Login IP– 192.168.1.1, 192.168.0.1, 192.168.100.1
Default Login username/password– admin/ admin, admin/Motorola, admin/password
Login IP address, username, and password might be changed for different Arris WiFI modems and cable modems as well. The best way to find modem login IP address and username password Is to check the modem sticker for details.
Note: Make sure you have saved configuration backup to restore settings after factory default.
Connect Arris modem either using Wirec LAN cable or WiFI network if mode supports WLAN.
Open the web browser and access the default login IP address http://192.168.0.1,   or http://192.168.1.1 http://192.168.100.1 or default IP as supported by your Arris router. If you changed the default gateway IP use the same IP address.
Go to the "Configuration" tab or system Tab depends on the model.
Restore Factory Defaults
Press Yes option for confirmation of making the modem reset to default.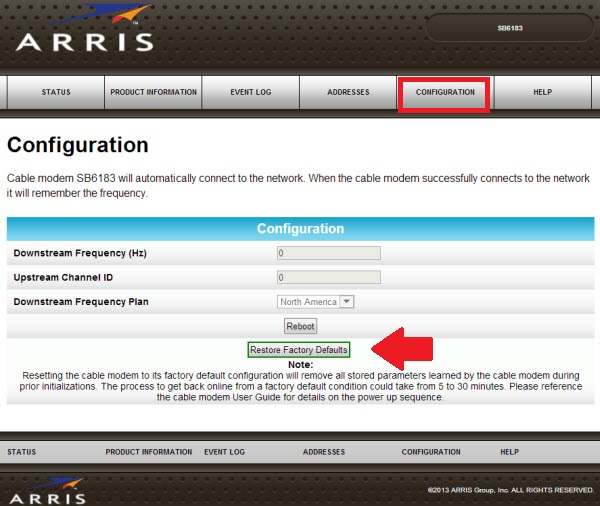 After few seconds arris router reset process starts and the router will automatically reboot and take a few minutes to restore settings into factory mode. Check default IP address should start ping after making the default.
After resetting login Arris modem and restore the configuration backup file if you have a backup so your internet can start work again or configure manually for WAN and Wireless settings.
Related Post