How To Reset Fios Router If Forget Login Password?
Probably Reset button help you to regain access to the router if you forget the login password or are unable to access the admin page. But the reset button also makes your router factory reset that might stop working until the router is set up again as per internet settings. Using of the reset button depends on its use or misuse. this article will help you to reset the Fios router if you are unable to login settings or the router not performing or may face a connection disconnection problem. The FiOS router reset process is simple as making a factory reset Verizon router for any manufacturer.
There are two ways to reset Fios Router either login method from the web interface or without login using the reset button which is also called the hard reset method. Making factory Reset Fios modem using login method required to access web interface that you need login username and password. Using Hard reset does not require a login and usually use this method when you forget login username and password and are unable to access the web interface.   Get ready to make resetting FiOS router from settings and from the reset button.
Soft Reset FiOS Router if Forget password
Soft reset also called software reset that means making router factory restore from settings that are required to login router web interface. A soft reset is usually used to make a router-modem reset if the router gets any connectivity issue or any misconfiguration. A soft reset is a safe way to factory default FiOS router because you can download configuration backup before restoring to default mode helps you to reconfigure the router by restoring the configuration from the backup file. You can make the Fios router remotely using the soft reset method if you are able to access the router from the network and you want to reset settings.
Follow steps to factory reset Fios Verizon router from a web interface.
Connect Fios router to Power Adapter and wait until booting.
Connect your Laptop/Desktop or mobile using Wired LAN cable or WiFI Name and password.
Open web browser and access FIOS login IP address http://192.168.1.1 or Fios Login USR com.
Use Fios default login username and password "admin/admin" or "admin/password" and login to settings.
Note:- Before making settings to default save configuration file backup to restore post factory reset to configure router again without manual process.
Go to the Advanced- Utility tab from the settings menu.
Select Restore factory default – Select option and apply settings Router will be restored to default mode.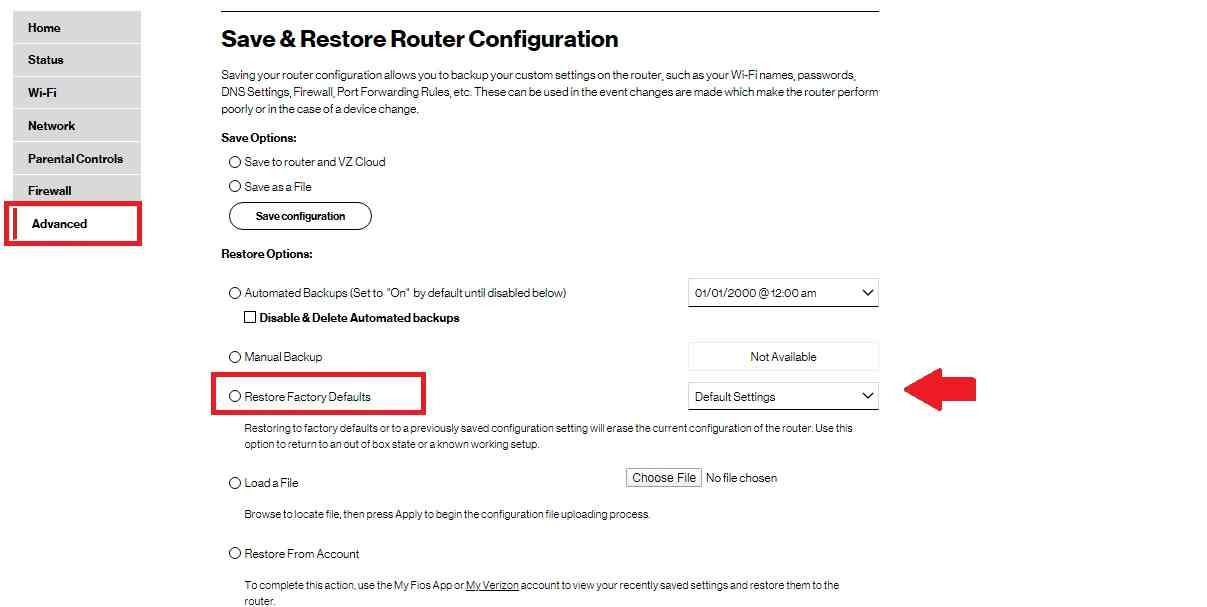 After factory reset, reboot Verizon router automatically and it takes a few minutes to restore configuration. Access router again with default settings and restore configuration file.
If you forget the router login password after updating the default admin password and are unable to access settings to make a reset from settings then you can use another way is a hard reset.
Factory reset Fios Router using Reset button
Hard reset is a fast way to reset router settings if you can't log in to router settings or forget the admin password. Hard reset cannot be done remotely so you have to be available physically near the router to execute hard reset process. Follow steps to factory default Fios router settings to default mode.
Note: Making router default mode will erase all setting such as WAN settings, WIFI SSID, password and other configuration so you have to configure again as per your internet settings to start internet again.
 Power ON router and wait a few seconds until it's boot up.
Locate a small reset switch near the ethernet port. The location might differ for each Verizon FIOS router model.
Use a needle or paper clip to press the reset button.
Press and hold the reset button for 10-15 seconds and keep monitoring the power LED light and other led lights.
After executing the reset command and resetting FiOS router will automatically restart the FiOS router and takes about 2-3 minutes to restore settings to default mode.
Ping FiOS default IP address and log in again with the default username, password printed to your Fios Modem sticker.
After factory default router, if you have settings backup then just go to Advanced-Utility option to restore configuration or setup manual configuration for Internet and Update Wireless name and password again.
Related Post