Opticover Wifi Extender Access Point Mode
Opticover Wifi extender is used to boost the wireless signal from your existing Wifi network without using the physical wired cable. Opticover Range extender can work as Signal booster, Access point as well as Router mode. Opticover repeater device gives you one physical ethernet port that let you use the repeater device to router as well as access point mode if you do not want to use it as a signal booster. Opticover N300 and AC1200 dual-band or AC750 750mbps range extender device support Repeater mode as well as Access point mode. Opticover Range extender deice design for boost wireless signal range in no coverage area but it can also work as router or AP mode that depends on your requirement.
In an earlier article, we covered how to set up Opticover range extender device to increase WIfi range in dark spot areas without connecting a physical cable from the main wifi router. There is a simple way to use Opticover repeater as Access point mode to work as a normal Access point using a LAN cable from the Router. You can change Opticover repeater mode either using the mode switch button physically available on the device besides as well by changing the mode from the web interface after login into the Device. Follow the steps to use Opticover wifi extender access point mode to use a wired connection from the internet router to the Opticover Ethernet port.
How to Use Opticover Range Extender as AP Mode?
Setting up Opticover extender device as AP mode is quite a simple step and you can use the repeater device as AP or router mode using a physical LAN connection. You can use optic over 2.4g signal band as well as Dual-band 5.8G range extender as an Access point using this user guide.
Change Range Extender Mode to AP mode
The first step is to change the repeater mode to range extender mode either using the physical mode button available on the router or using the web interface login from settings.
Connect the Opticover repeater to the power socket near Your host router and turn it on.
Locate the Wireless Mode button beside Ethernet and move the button to AP mode to change from Repeater to AP.
Connect Range extender using Wifi connection or LAN cable from Extender Ethernet to PC/Laptop LAN port for configurations.
Open a Web browser and access Opticover default login IP http://192.168.188.1 or use URL http://ap.setup to access settings. or find IP address printed on the sticker.
Use the default login password and username and print to your Opti cover device. Default password admin or password.
Go to the Wizard option and select AP mode from the Operation mode option to change Mode from settings.
In the next steps, you will ask to change your Wireless SSID and Wifi password. Follow the below steps to setup WiFi settings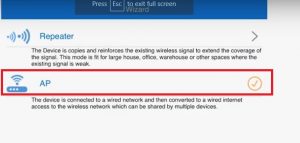 Setup Wireless SSID and Password for Opticover AP mode
To use WiFi extender as AP mode need to configure Wireless SSID network name and password after changing Wireless mode. Follow the steps below once you changed Repeater mode to AP mode.
Wi-Fi Setup
WiFi SSID– Create a WIFI name for Opticover WIFI SSID.
Security Type– WPA/WPA2 Mix
Password– Create a Stronger Password for your WiFI networks.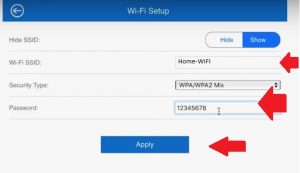 Press Apply button after setup Wireless settings. After applying device will take a few minutes to reboot and you will get a new WiFI name as you configured for your Opticover AP. After configuration connects the internet cable to Opticover Extender Ethernet ports.
Connect Opticover To the internet using LAN port
To use Opticover Extender Access point mode need to connect the physical cable from the internet to Extender Ethernet ports.
Connect Opticover device to Power socket in the location you facing a signal problem.
Connect a Cat6 LAN cable from the Main internet router LAN port to Opticover range extender Ethernet ports.
Check if LAN Led light starts blinking at both sides of the router as well as the extender device to confirm the physical connection.
Go to your Laptop or mobile WiFi and scan for WiFI name as you configure it in the Opticover device.
Connect WIFI name and use the Security key configured in Opticover and enjoy internet in the no coverage area without dropping internet speed and signal range.
This is a simple way to use WiFI range extender as WiFI Access point mode to use a Wired connection using Ethernet ports. Using a Wired connection lets you have stable speed compared to range extender mode no need for any feasibility between router and extender device because it's physically connected. You can use any brand Range extender as AP mode using this manual if the range extender supports Multi wireless mode.
Related Post