Synology Router Reset If Forget Password
Synology Router login and setup for the first time earlier published. In this article, you will get complete steps to reset Synology Router if forget the login password, or router not performing, or unstable network or connectivity. Synology Router reset is possible with two methods one is soft reset and the second is hard reset.
Resetting the Synology router fixes many bugs that come due to the long-running of the router without maintenance. You can use a reset router if you facing any issues with WiFi or internet connectivity as well as if you forget your login password and are unable to log in the web interface to change any settings.
A soft reset is the best and safe way to factory reset the Synology router using SRM (Synology Router manager) if you are able to access router settings but facing any connectivity issues with your wifi and wired internet.
Using the Synology router reset button to make a hard reset is a physical process so you have to be near the router to factory restore using the reset button that is physically available on the router. Follow Synology router reset steps for a Soft reset as well as a hard reset.
Factory Reset Synology Router from SRM control panel
Synogloy Reset uses a login method called soft reset that needs to access SRM from a computer or Laptop using a wired or wireless connection. There are many different Synology router models used by Sinology such as RT6600ax, WRX560, RT2600ac, MR2200ac, and RT1900ac and can be reset using SRM.
How to Find Your Router IP Address
This is a soft reset method that is required to access router settings from the web interface. After the factory reset Synology Wireless router login again and restores the configuration backup file.
If you forget the admin login password for the Synology router and are unable to login SRM then you can use the hard reset method to restore your Synology device.
How to Hard Reset Synology Router if Forget password?
Hard reset method is a physical process that needs to access the router physically to press reset switch. This method will not give you the option to take the configuration back so if you don't have configuration backup you must do manual configuration to work with your internet plan. To get your internet configuration you can contact your internet provider or if you already have settings you can proceed with a hard reset sinology router now.
RT6600ax      – Static green
WRX560       –    Static green
RT2600ac     –    Static green
MR2200ac   –   Blinking blue
RT1900ac    –   Static green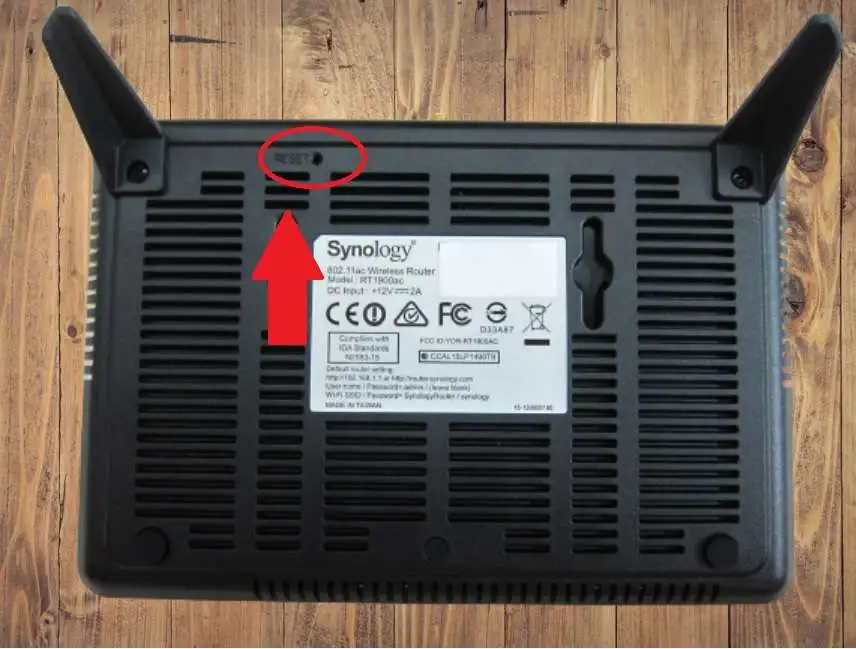 Once you get the above color LED glowing on your router it means the reset command is complete and you can login the router with the default Login IP address and create a new username and password and set up it again
Final Words
Making the router reset either using button or from settings is a smart way if your router not performing like before or it may be got bugs due to a long-running time. Making reset sinology refresh its configuration and clear all router cache and make it fresh and bug-free. Sinology router manager is an easy and simple web interface that lets you set up and restore your configuration with simple steps.
Related Post