Tenda O3 Outdoor CPE Universal Repeater Mode
Tenda O3 Outdoor 2.4GHz CPE device for Point to point as well as work as Access Point mode. Tenda O3 V2 wireless device support multi wireless mode such as Access Point, Station, Universal Repeater, Repeater, WISP. O3 Outdoor CPE device can use AP as well as Client mode. It comes with an inbuilt patch antenna and 2 10/100 Mbps Ethernet port and 150Mbps Wireless Speed.
The best thing is Tenda O3 CPE device can be used to extend the WiFi range to boost wifi signal in no coverage area. This user guide will support you to set up Tenda O3 V2 as Range Extender mode configuration with Non-tenda Wi-Fi AP device. To configure Tenda Outdoor CPE as Repeater mode need to connect physically with a computer or Laptop to access the settings page.
Tenda O3 Connection and Default Settings
Tenda O3 having 1 LAN and 1 PoE Ethernet port.
Connect PoE adapter out port to O3 PoE port and LAN port to PC/Laptop LAN port for login.
Power on the Device and proceed for configuration.
Tenda O3 V2 Default Login settings
Default Login IP Address Tenda O3 is 192.168.2.1
The default username and password is "admin"
Open Web browser and Access http://192.168.2.1  and login Tenda Outdoor CPE.
Username- admin and password- admin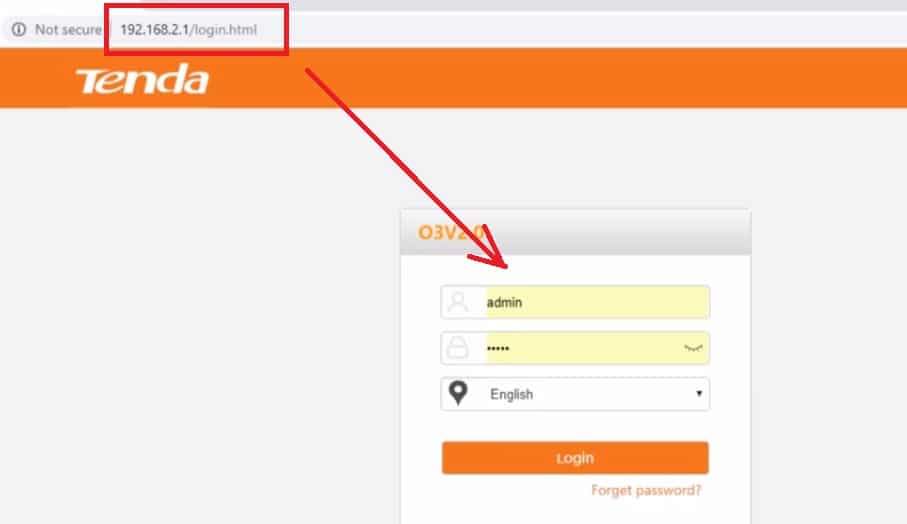 Select Language and press the Login button
Setup Universal Repeater Mode in Tenda O3
Universal Repeater mode work to connect a non-Tenda brand AP device from the Tenda device.
Universal repeater mode turns the Tenda CPE device into a Wireless signal booster to increase range for long-range distance.
Once login now go to the Quick Setup option as shown below image.
Select Universal Repeater and press Next button
In the Next step, the O3 device will scan for Access Point running nearby.
Make sure you know the WIFI name and password for the Access point you wish to connect from the Tenda Repeater device.
Wait for the scanning process and see the list of all wifi name. if you did not find your AP name rescan and wait.
Select the AP name from the list and press the Next button to the provider WiFi password.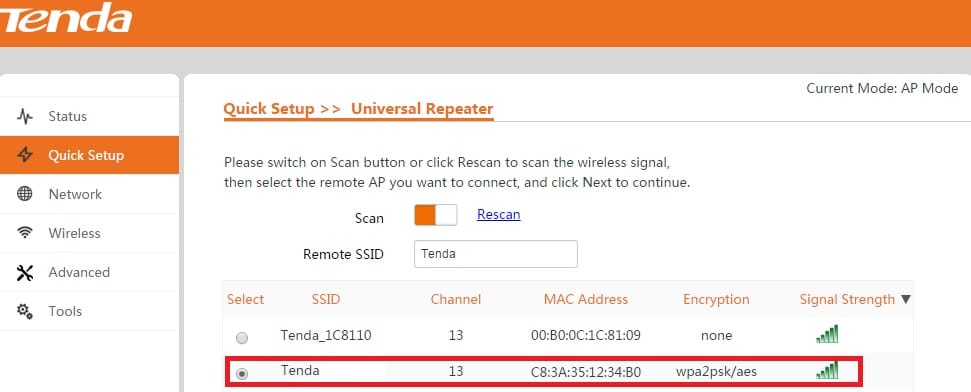 Do not change Channel because it auto gets from the Access Point device.
Security Mode: WPA2-PSK
Encryption Type: AES
Key– ap-password (type password of the Access point you want to connect Tenda repeater)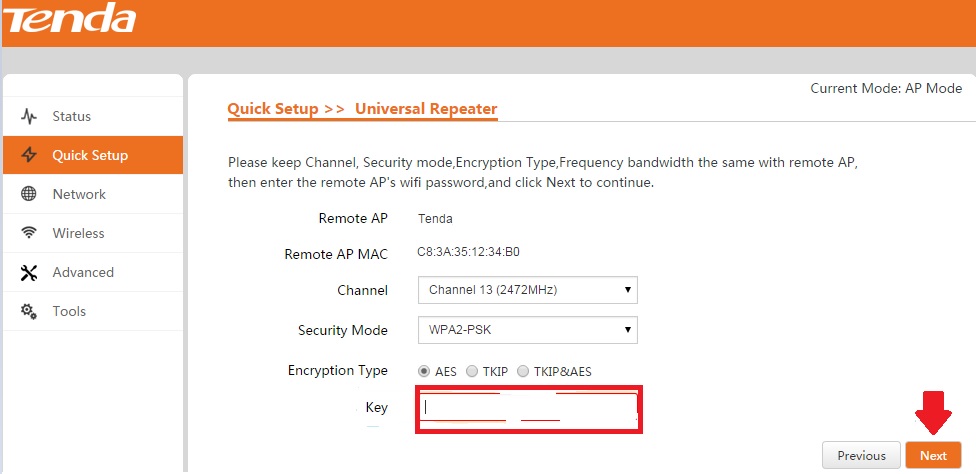 Press the Next button to proceed the next step for the change the LAN network.
Change LAN IP Address
Always change the default IP address to secure your network. Change Tenda O3 universal repeater IP address to the same series IP address of the Access Point device so you can access without changing IP Address.
IP Address: 192.168.1.l00 (my internet IP series 192.168.1.1)
Subnet Mask:255.255.255.0
Default Gateway: 192.168.1.1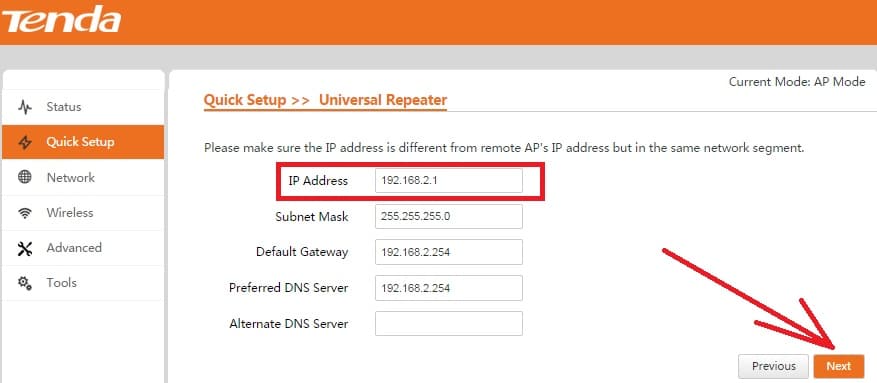 Press Next button
All configuration finish now press the Save button to confirm the configuration.
Wait until Tenda O3 rebooting and reopen the device with change IP address to confirm Repeater connection status.

This is the simple configuration manual for tenda O3 Outdoor 2.4Ghz CPE.
If you face any issue while connecting the Tenda O3 device to PC/Laptop than read the Below Question answer.
Q: Tenda O3 Outdoor CPE 192.168.2.1 IP not working?
Answer: if your Tenda router IP not working for you its looks like there is a configuration issue or IP changed in the device.
Make sure you have use 192.168.2.10 IP Address to desktop/Laptop LAN ip address in static mode to access Tenda default IP address.
Check if Proxy enables in your computer or any antivirus or firewall block IP address access.
If still not working Make factory reset Tenda CPE device.
Q: How Factory reset Tenda O3?
Tenda O3 factory default using the reset button and need a login from the web interface to make a soft reset.
Locate a small Reset button beside Ethernet ports.
Press the reset button for 3-5 seconds and release button when CPE rebooting.
After rebooting Tenda O3 will be restored to default settings and the 192.168.2.1 IP address start work.
Related Post