How to Set up a tp-link extender to Boost WiFi Signal
Setting up range extender to extend wifi range to every area. TP-Link range extender setup bit simple and can set up using the WPS button as well as the web interface. Using a WiFi range extender you can extend the existing wifi network to a larger area where no signal issue facing. Configuration methods are the same for TP-Link TL-WA850RE, RE205, RE450, and other extender devices.
Range Extender device also called WiFi booster to boost wifi range for a larger size house without laying physical cable. TP-Link dual-band range extender setup gives you more wifi range as well as speed. To setup tp link extender with any brand router need to access the settings page. In this tutorial tp-link n300 wi-fi range extender device used to create configuration manuals. You can follow the same steps for tp-link ac750 dual band wifi range extender as well as an AC1200 range extender. Range extender device simply works as a repeater to connect the main WiFi network and extend the network with a new WiFi name.
Setup Range Extender with WiFi connection
We will set up a TPlink extender without a physical wired connection using Wifi connectivity. The default WiFi SSID and password come with repeater sticker as well as manual comes with accessories. To set up WiFi extender with wifi connectivity required default login and wifi settings details. Get the detail from the box manual of your range extender device.
How to access WiFi Router settings using WiFi and Wired?
TP-Link wall socket Range extender can directly plug into a power socket as shown below image.
Connect the WiFi repeater device directly to the power socket and power it on.
Wait for the device to boot and show the default extender signal.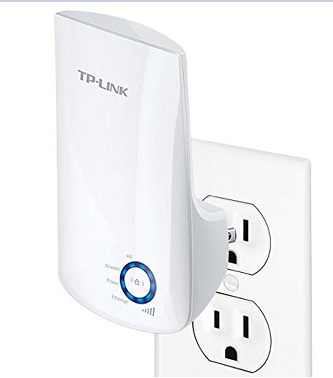 Go to the Laptop WiFi signal and connect Range extender WiFi Name.
TP Link range extender default WiFi unsecured so a wifi password not required.
Just click on Range Extender SSID.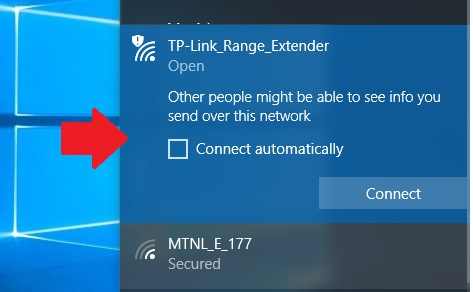 Once a Laptop is connected to the Range extender now access the settings page.
LAN IP Address Configuration in Windows and Mac PC
Login TP-Link Range extender Device from the Web browser
The login method is a way for tp link extender setup without wps button. In this method, you need to scan the network and connect it manually using the wifi password of the existing wifi networks. follow steps below
To access Wi-Fi booster settings open a web browser and access tp-link default IP http:// 192.168.0.254 or default login URL http://tplinkrepeater.net
Default TP link extender login username: admin
TP link login Password – admin
Use the same and click the Login button to enter settings.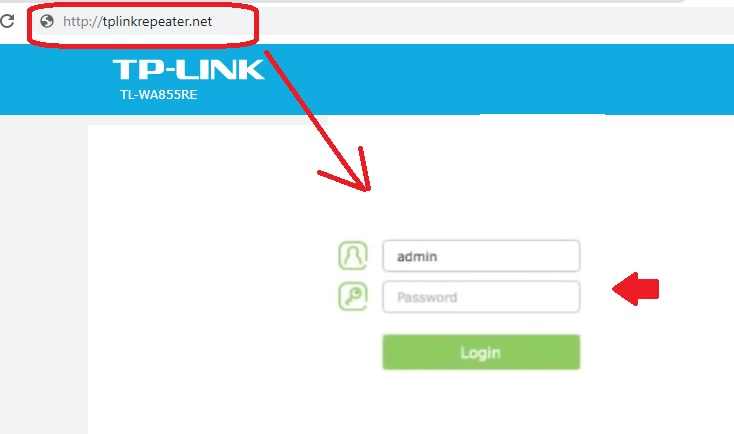 Setup TP-Link Range Extender to Connect with Host WiFI Router
Now the first steps to set up range extender is connect wirelessly to the main host Wi-fi router.
To Join Network from Repeater device Go to Wireless- connect to Network.
Click the Wireless Scanner button to search the host network name.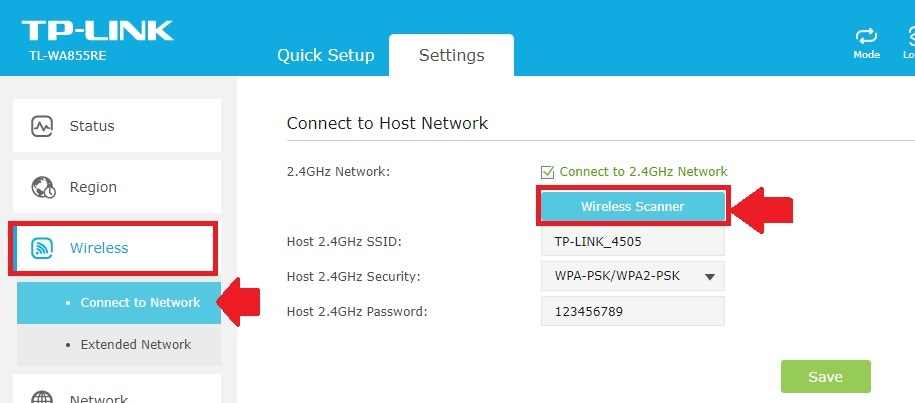 Select your Main WiFi name from the list or rescan if not find your Wifi name.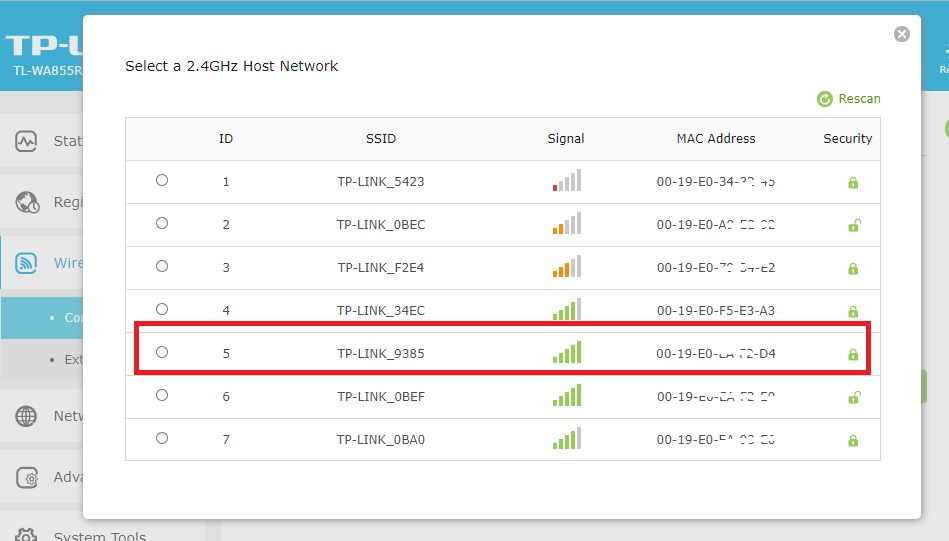 Once WiFi name selected type WiFi security key to allow connection from extender device.
Host 2. GHz Password: type password of Main wifi Router.
Click the Save button to apply settings.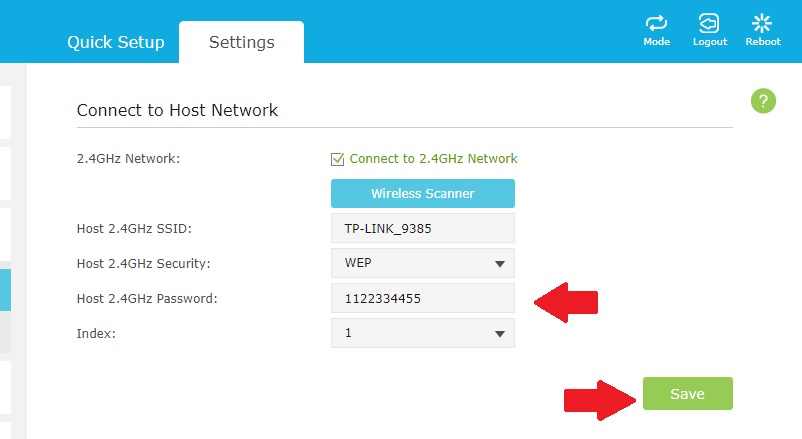 After Connection with host network now setup extended network for extender router.
Setup Extender WiFi Name for Repeater
You can use the same WiFi name as running in the main wifi name or also can use a different name for repeater SSID.
Wireless- Extended Network
Extended 2.4 GHz: Enable ( check the enable box)
Extended 2.4 GHz SSID: type the new name for Repeater signal or click copy host SSID to use same WiFi name.
Click the Save button to apply settings.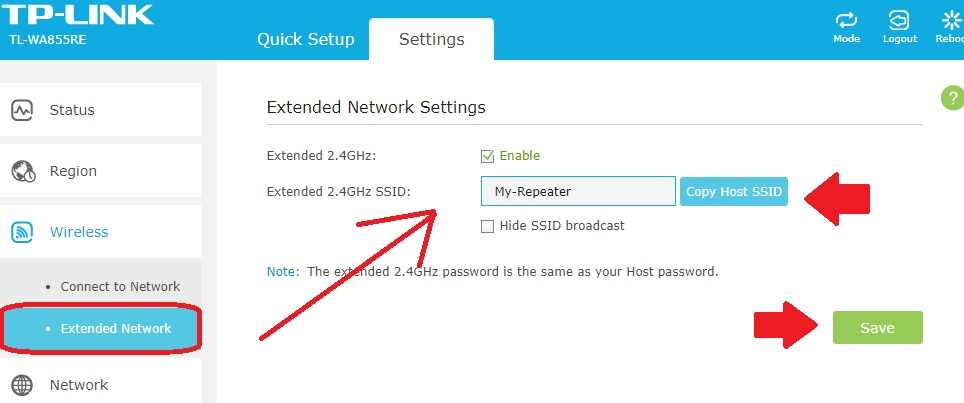 Increase Extender Range to boost WiFi signal
To increase WiFi signal in the larger area always enable the maximum range of extender device. To increase signal range of TP-Link WiFi extender device follow steps.
Go to Advanced Settings- WiFi Coverage
Click the Max option to increase the signal range to 100% for device capacity.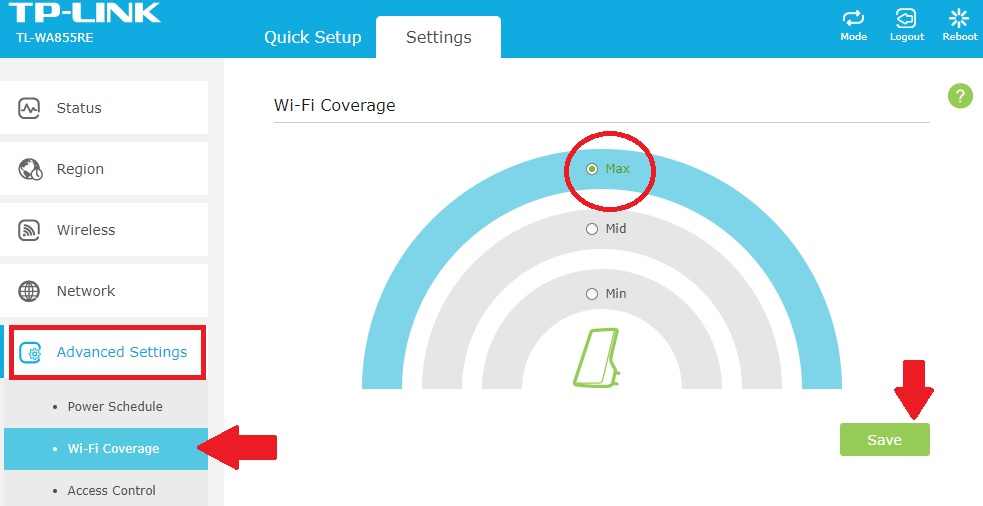 Click the Save button to apply settings.
How to turn wired IP Camera into Wireless camera
Setup Schedule Power Off for WiFi Range Extender
To power-saving enable power off schedule mode when wifi not in use. You can set multiple days and timing as to saving power and unusual running of WiFi repeater device.
Go to Advanced settings- Power Schedule
Power off Time: Set the time of sleeping or When WiFi did not use to auto turn off Repeater device.
Days: Select the days when you want to set the scheduled power of the booster device.
Click the Save button to apply changes and enable power-saving mode.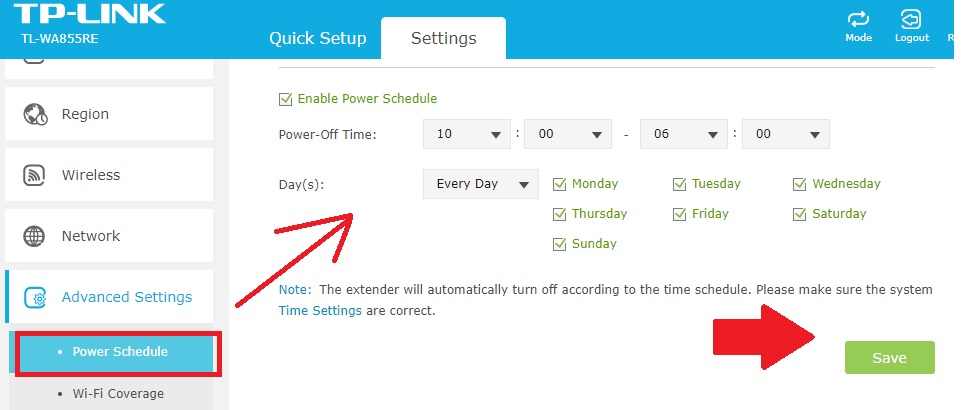 WiFi Range extender configuration is done now find the proper placement for repeater device. To get maximum performance and long range wifi signal coverage.
Do not cover the extender device inside any box and under the table to get long-range signal connectivity.
Related Post